Fishing for likes on social media might reel in sizeable rewards for brands and retailers, but navigating its waters can prove deadly too. This is an evolving and volatile area, where only the trailblazers and innovators survive.
On social media, brands and retailers are always one false move away from a code red.

Take Warburtons. Earlier this year the brand kicked off a campaign prompting customers to get experimental with their crumpets and share under the hashtag #CrumpetCreations. All seemingly run of the mill stuff, but someone at Warburtons didn't do their homework and if crumpet-curious customers clicked the tag they would be taken to a wealth of videos, pictures and messages from a kinky, animal costume-wearing subculture on the internet known as 'furries'. Probably a bit more experimental than the baker was hoping for.

Sometimes even the most well-meaning of interactions with your own fanbase can turn sour, as Waitrose discovered to its cost a few years ago when it ran a 'fill in the blanks' idea across its social channels, inviting customers to complete the sentence "I shop in Waitrose because…" Underestimating the creativity of the Twitterati didn't go well for the retailer, which was savaged for its posh reputation. One user, who racked up plenty of retweets, wrote: 'I shop in Waitrose because Clarissa's pony just WILL NOT eat Asda Value straw.'

Laughter at the expense of a brand is one thing. But sometimes mistakes on social media can turn far uglier. Like when Dove came under fire in 2017 with a Facebook campaign that showed a black woman peeling off her t-shirt to reveal a white woman beneath.
The campaign outraged many, who interpreted it as whitewashing, and Dove was forced to issue an apology on Twitter for 'missing the mark'.
It was an obvious own goal. Would the campaign have passed internal vetting procedures if the brand had used conventional media? Possibly. But undoubtedly the speed at which social teams must create and publish content on social to be effective would have contributed to the blunder, while the opportunity for instant public engagement and feedback only heightens that risk.

Even more worrying is the fact that even the most diligent of digital marketing teams can be caught short, in particular when their brands are popped in the middle of problematic user-generated content by computer algorithms.
Social in numbers
3.2bn people are using one or more social media channels around the world, says We Are Social
2 hours is the average time spent using apps each day on smartphones globally
£2.4bn the estimated amount spent on social media advertising in 2017 in the UK, according to Statista
96% of the people talking about a brand online don't follow it on social media
Last year an investigation by the Wall Street Journal found ads for global fmcg companies were being automatically pre-rolled on highly offensive YouTube videos. Examples included a Coca-Cola ad which played during a video of Michelle Obama with a racist song dubbed over the audio, and ads for Snickers and Budweiser that ran on videos created by terrorists with the intention of radicalising potential ISIS recruits.

Mars, M&S and Lidl were among a flurry of fmcg advertisers that hastily pulled ads from the channel as YouTube execs promised stricter controls.

One channel that has managed to avoid this flak, however, is Snapchat. When it comes to concerns around 'fake news', the app only shows news from selected publishers and its display format separates ad products from user-generated content. Any user content that is deemed to be unsavoury or potentially harmful won't come to light for the app's users because the content feeds are curated by the team.

"Even though we don't consider ourselves a traditional social media channel, by proxy the focus around these issues fell on us," says Snapchat head of CPG Adrian King.

"We had to be very proactive about discussing the measures we have in place. We have community reporting and computer vision technology to track potentially controversial content and we have a trust and safety team in place. We're protecting ourselves in the moment and following that moment as well."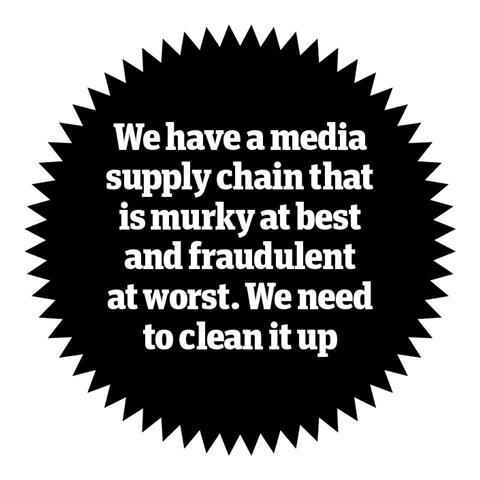 There's also the argument though that there is a gross lack of transparency when it comes to tracking success measurement on social media ads, which means that even when brands avoid the myriad pitfalls, the effort may not be worth the return.

During a speech at the IAB's Annual Leadership Meeting last year, P&G chief marketing officer Marc Pritchard said: "We serve ads to consumers through a non-transparent media supply chain with spotty compliance to common standards, unreliable measurement, hidden rebates and new inventions like bot and methbot fraud.

"We have a media supply chain that is murky at best and fraudulent at worst. We need to clean it up, and invest the time and money we save into better advertising to drive growth."

Pritchard put his money where his mouth was and moved $200m from the P&G digital marketing spend, and though he didn't reveal which brands saw a cut he says "several big players" have had spend reduced by 20% to 50%.

"The big problem seems to be around measurement," says We Are Social strategy director Jenny Barthe.

"A key issue we encounter is that brand trackers and econometrics are not set up to monitor social media contributions, which makes it difficult for agencies to go beyond reporting of engagement and time spent. We're also looking at influencer measurement as this is still a fairly unregulated area."

The channels have been listening to the concerns of power players though and are promising change. You can't walk down the street without being confronted with Facebook's latest redemption campaign 'Here Together' in which it makes clear it's taking a stand against fake news, fake accounts and the misuse of customer data.

Facebook has also overhauled the order in which users see messages appear on their timeline - prioritising posts from friends and family ahead of messages from brands and groups. But this new order has played havoc with organic reach and is forcing brands and retailers to spend more to be seen.

"It's infuriating," says Candy Kittens digital marketing manager Max Maharajh. "On Facebook posts that we used to pay £20 to boost we're now paying £40 and we're reaching the same number of people. It all stacks up against the small brands."

It's about to clean up its act on the data front too. Facebook revealed to The Grocer that it's planning a new product that its industry manager for retail Maureen McDonagh calls "the holy grail from an fmcg perspective".

The tech will allow retailers to track Facebook promotions and see how effective they actually are in physical stores.

"We'll be working with grocery retailers to digitise shopper marketing," says McDonagh. "It's currently only available in the US but it will be coming soon to the UK."

All of which could result in a social media landscape where shoddy, poorly pitched content from digital marketing 'gurus' have fewer and fewer places to hide. And crucially where the innovative use of social channels, creative content and game-changing moves of our 10 biggest 'influencers' across fmcg will truly be brought to the fore.
Here's our pick of the 10 most influential people in fmcg social media right now.
---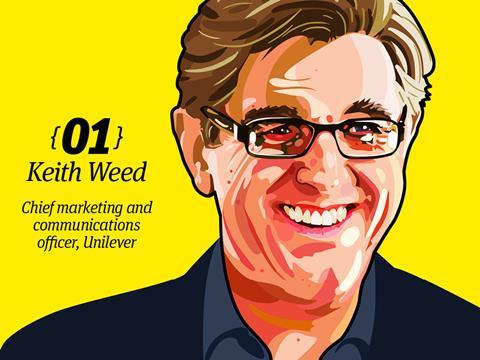 He who pays the piper calls the tune. And in social media few come equipped with bigger bundles of cash to plough into platforms than fmcg giant Unilever, the world's second biggest advertiser. At the helm is Weed, responsible for the huge $9.5bn (£7.4bn) annual budget reserved for marketing its portfolio of products - a third of which is believed to be spent on digital channels.
He is also an increasingly influential figure when it comes to dictating the direction of travel for how social media is policed and how platforms work with advertisers. Rarely has that been more apparent than in February, when an indignant Weed took to the stage at the IAB Annual Leadership meeting and threatened to pull all Unilever ads from the "swamp" of Facebook and Google, which he slammed as infected with "fake news, racism and sexism".
"As one of the largest advertisers in the world, we cannot have an environment where our consumers don't trust what they see online," he went on, addressing a rapt crowd at the conference in California. "We cannot continue to prop up a digital supply chain - one that delivers over a quarter of our advertising to consumers - which at times is little better than a swamp in terms of its transparency. […] Fake news, racism, sexism, terrorists spreading messages of hate, toxic content directed at children - parts of the internet we have ended up with is a million miles from where we thought it would take us."
Weed was not the first to voice such concerns, nor the only one. Only six months earlier, a report by global marketing network CMO Council revealed 72% of marketers were worried about ad placements, and 43% had experienced a problem in how their ads were viewed.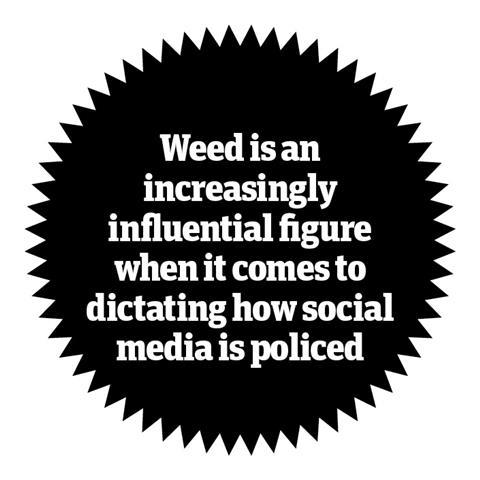 But it was Weed's public outburst, and the global media coverage that ensued, that proved the catalyst for change. Following his speech, social media platforms scrambled to insist they had cleaned up their act. Moderation practices were overhauled and a more sustainable digital infrastructure was promised.
Facebook cleared up its policy on brand safety and added an additional 3,000 content reviewers to its team, almost doubling what it had in place previously, while Google has said it's on track to hire more than 10,000 people to work on ad safety issues on platforms including YouTube.
Against the backdrop of the Cambridge Analytica controversy and advertising boycotts at YouTube, when paid-for ads found themselves side by side with videos promoting terrorism, arguably not all of this progress can be attributed to Weed specifically or Unilever more generally.
But social media experts agree Weed made a big impact, and say he was right to use his enormous buying power to demand change.
"It makes total sense for brands like Unilever to deep dive into safeguarding their brand," says Rory Knighton, founder of marketing agency Runaway Collective. "Trust for a brand is everything. Lose it and it's a Herculean task to build it back."
Undoubtedly public admonition by one of the world's most powerful advertisers will have echoed loudly in the ears of social media platforms the world over and sees Weed deservedly taking the top spot here.
---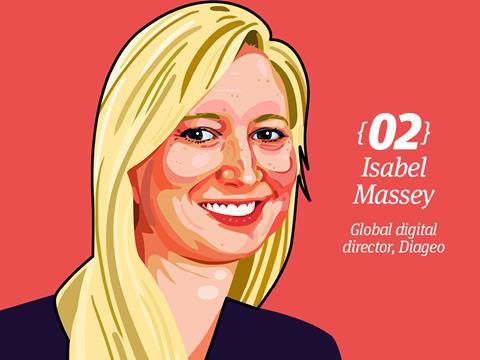 Promoted to this new role for Diageo in 2016, Massey now works with a team of 50 digital marketing and social media specialists for the spirits giant. And a giant it is. The global digital director commands a huge combined following of 72 million across brand and corporate accounts and oversees a strategy that uses social in subtle and innovative ways, forging creative partnerships with third-party publishers such as Lad Bible and building a digital fanbase that is not only huge, but hugely engaged too. It's "always been more about reaching people in an authentic way", says Massey of her approach. "The follower numbers just tell one part of the story."
Massey harnesses a multitude of tools and technology to make sure each message lands for Diageo. A recent campaign that used social listening tools to target London commuters is a case in point. The team issued targeted offer codes for a free Gordon's G&T at local supermarkets to perk up travellers, and just when the sun hit its peak on a weekend afternoon used dynamic ads to tempt online consumers to pick up a cold drink. "The weather is critical for us - our campaigns are three to four times more effective when they're based on weather triggers," adds Massey.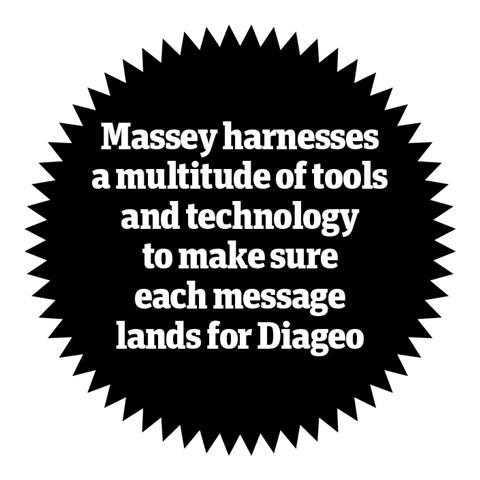 Not that all efforts at innovation have gone so smoothly. In February Diageo was rapped by the Advertising Standards Authority for sponsored content it ran as part of a Captain Morgan campaign on Snapchat. The ad, which was a sponsored AR lens, showed a captain's hat on the user's head and clinking rum glasses. Although Diageo had applied an 18-plus age filter, the ASA ruled that the nature of the ad appealed to children and the age filter wasn't enough to block them from accessing the content. Diageo pulled all the ads. Snapchat sprung into action, too. Before the ASA ruling was even announced, the platform said it had introduced more options for age targeting.
"We constantly have to evaluate the value of a social channel against its inherent risks," admits Massey. "They're constantly evolving their offering so we need to review them and see if it is still effective for us. We're applying as much caution as we can."
And an occasional mis-step is surely a sign of a brand owner pushing the boundaries of what social can deliver, something Massey and her team have proved themselves to be doing time and time again.
---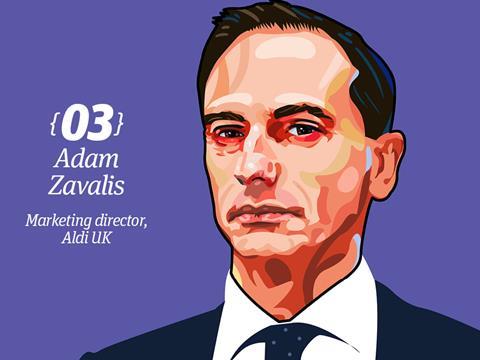 Zavalis doesn't exactly rock the boat on social. You won't find anything particularly controversial or edgy appearing on any of the Aldi feeds, despite provocation being a tried and tested strategy for some rivals. Yet the retailer has achieved huge engagement from simply nailing the basics better than competitors, ranking higher than Waitrose, Morrisons, Asda and Lidl on a Brandwatch influence scale commissioned exclusively for The Grocer that calculates an 'influence' score according to various engagement metrics.
Zavalis makes sure all the content shared across social plays to Aldi's strengths, flagging up innovative own label, low prices and its limited-edition Specialbuy ranges, while tapping into consumers' love of nabbing a bargain and sharing it on social. The direct and honest style is tied up with playful (but not sickly) writing paired with a consistent graphic style, ensuring the retailer draws in a wealth of engagement from its very active follower base.
---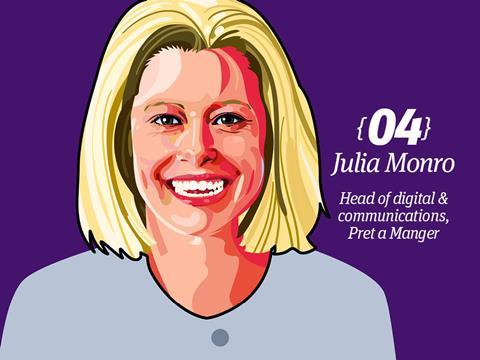 On a daily basis retailers are faced with customer complaints on Twitter and Facebook. And only some retailers manage to strike the right tone in responding. Which is one of the reasons why the team at Pret, led by Monro, stand out. Monro has artfully managed to take the repetitive but crucial task of responding to feedback and turned it into an opportunity to create content that flags up the chain's core principles of sustainability, transparency and investment in people. In fact, the idea for its Veggie Pret pop-up in 2016 began with an idea 'crowdsourced' from online followers - and it has since developed into three permanent outlets. All thanks to the responsive social media audience cultivated by Monro.
Monro has also managed to create a soundboard across Twitter and Facebook for sustainability concerns, with customer feedback prompting Pret to roll out paper straws and introduce a discount on reusable cups (now at a market-leading 50p after customers requested it on Twitter). Her team also reacted swiftly to negative comments about its wooden cutlery,promising to introduce a new compostable plastic version next year.
---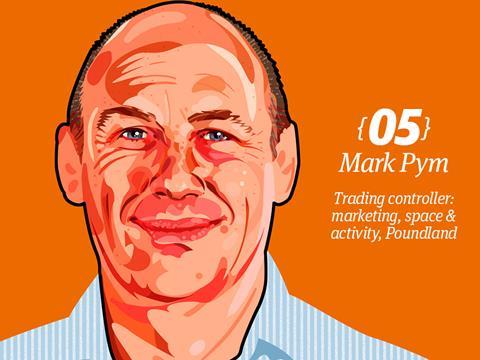 Pym joined Poundland a little over a year ago but in that short time has managed to entirely shake up the brand's online tone of voice, wielding a divisive approach to social media that has won plenty of plaudits - and plenty of attention too.
Take its recent 'Elf Behaving Badly' Christmas campaign, which showed a toy elf shot in a series of compromising situations, including in a hot tub filled with naked dolls and straddling another while dropping a teabag on its face. Unsurprisingly, the campaign earned Poundland huge engagement and attention, both online and off. Not all of it was positive, with some accusing the campaign of being in poor taste, but that didn't seem to deter Pym. "The love on Facebook has been overwhelming, and that's because it connects with our shoppers," he said in a statement. "We're proud of a campaign that's only cost £25.53 and is being touted as the winning marketing campaign this Christmas!"
His approach to social has fed through to store level too, with a raft of edgy new products being listed, such as naughty garden gnomes and Christmas cards with the slogan 'It's beginning to look a lot like who gives a sh*t'. Pym's style may have its critics, but when a social media strategy fuels its own range of irreverent NPD you know you're doing something right.
---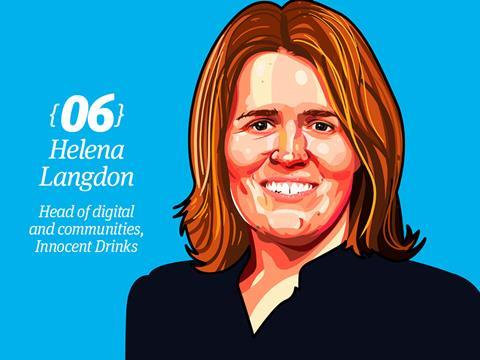 If imitation is the sincerest form of flattery then Innocent Drinks must have been blushing for years. Its chatty and decidedly non-corporate style is held up as the pinnacle of good social media practice. Since 2013, the person behind that iconic voice across its social channels has been Langdon.
Having worked her way up the ranks to head up Innocent's digital department, Langdon's remit now even extends to customer service, after it became clear so much of it is dealt with via Twitter these days.
Innocent's much-imitated style isn't to everyone's liking and some argue it's starting to feel a little dated. "Ten years ago it was refreshing but millennials are shying away from brands that are trying to be their friend," says Rory Knighton of Runaway Collective.
But there's no denying Innocent is still one of the best-loved grocery brands on Twitter, with 284,000 followers engaging with its offbeat content about National Penguin Awareness Day, The Great British Bake Off and, occasionally, smoothies.
---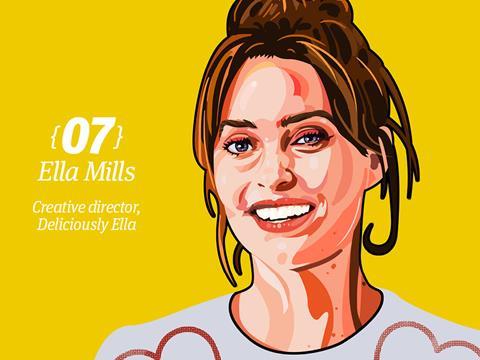 Mills is a powerhouse on social media. Her following of 1.8 million and intricate curation of #inspo foodie feeds have seen her platform grow from a simple cookery blog into a towering online empire of plant-based influence.
In fact so successful has social media proved for the blogger that in 2016 the 'queen of kale' leveraged her legions of fans to bring the Deliciously Ella brand to grocery aisles with a range of energy ball SKUs. Her product portfolio has since been expanded to include oat bars, bircher mueslis and granolas.
The social landscape has changed unrecognisably since Mills first began posting recipes for butternut squash curry back in 2012, with legions of self-styled foodie influencers clogging up Instagram feeds these days. Yet Mills continues to hold her own, outliving many of her imitators to craft a stable following and a business with considerable clout.
---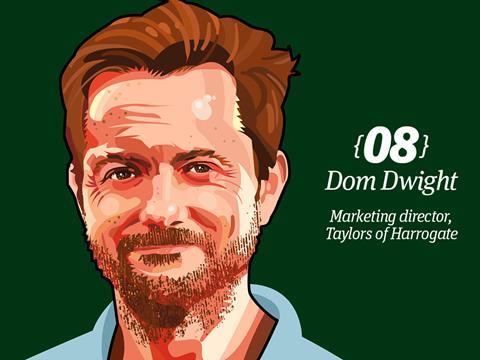 Belying its size, Taylors of Harrogate-owned brand Yorkshire Tea was rated as one of the most influential brands on social media in our Brandwatch report, harnessing a comforting and cosy relationship with its fans online and leveraging its northern provenance to create truly impactful social content.
Marketing director Dwight commands that social media voice across a combined audience of nearly quarter of a million, and is responsible for a brand masterclass in how to use social for clever, creative marketing. In a recent promotion for its new Biscuit Brew, Dwight orchestrated a video shoot featuring 5,000 biscuits lined up like dominos, which satisfyingly tipped over through an obstacle course before dunking into cups of tea.
---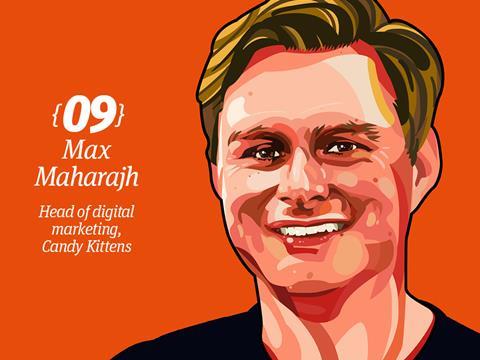 With a background at viral news website Lad Bible, Maharajh treats Candy Kittens' social media platforms like a publisher, creating interesting content relevant to its youthful target market. And his tactic is working. The brand has racked up an impressive combined following of 187,000 across its channels.
For the small team Instagram is its "crown jewel" though, says Maharajh. "We use Twitter more for customer relations and Facebook is more for advertising but Instagram is great for that lifestyle aspect." To keep the feed tight, the brand has a policy to delete any posts that don't reach 100 likes within an hour. Most of its output on social is based around creative content relevant to its target demographic, which is subtly aligned with the brand's values rather than overtly selling a product.
---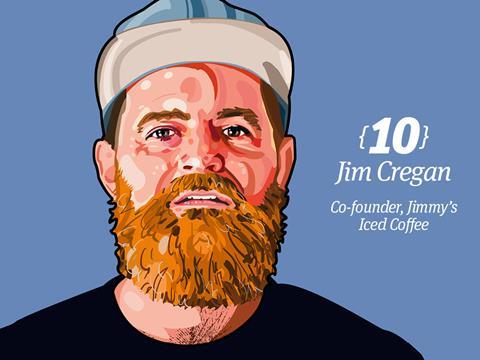 "When I started our Instagram I thought it should be like The Truman Show for a brand," says founder Cregan of his brand's approach to social media. "We should show more than just a product - let people look at how it's made and show the people who work here."
The response to this approach has been undeniably positive, earning the coffee brand an almost cult-like following that includes a successful line of merchandise, hats, hoodies and t-shirts worn by diehard fans. Its 'Keep your chin up' slogan has even filtered into a lifestyle ethos, with fans happily marketing the brand across their wardrobes, helped by a few 'professional brand enthusiasts' paid to spread the vibe.
"When people see a sponsored post on Instagram [from an influencer] they just say 'oh f*** off'" adds Cregan. "We get a better return on a long lifespan deal" by which influencers become long-term brand ambassadors. But though social has been a huge part of spreading the brand's story, Cregan himself is no fan. "If Facebook isn't here in 10 years I'll be a happy man."