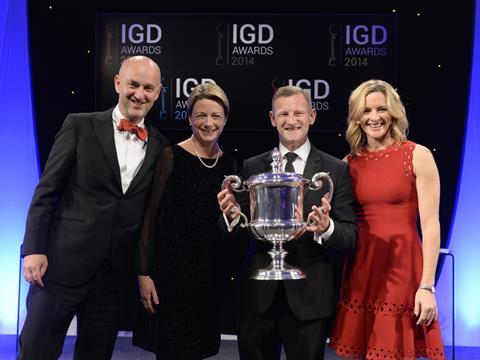 Marks & Spencer's executive director of food, Steve Rowe, is this year's winner of The Grocer Cup.
Rowe took home the award at the IGD Awards 2014, presented by Gabby Logan at the Park Plaza in London last night.
The cup, voted for by readers of The Grocer, gives recognition to business leaders in the grocery and fmcg food sector.
"It's a great honour to receive this award," said Rowe. "It is recognition for the truly exceptional M&S Food team who – every single day – look for new ways to excite our customers. They are continually looking forward, pushing boundaries to make sure that we are leading the way with food that is delicious, high-quality and innovative. I'm very proud to be a part of the team – and this award is for them."
"Our winner is low profile, and his division will always play second fiddle to the more glamorous fashion side of the organisation for which he works," said Adam Leyland, editor of The Grocer, in presenting the award. "But the results he's achieved have been fantastic. It's no exaggeration to say that his business unit sustained the retailer through some turbulent times. And it is still performing strongly, despite the wider turmoil amongst the multiples."
Rowe is the first retailer to lift The Grocer Cup since 2007. Since taking charge of M&S' food business in 2012, he has overseen a steep rise in the number of stores stocking the full range. He has been praised for making the business more agile and for simplifying decision making. M&S' food sales have delivered consistent growth in the last year.
Other names on The Grocer Cup shortlist this year included Lidl UK managing director Ronny Gottschlich; joint Aldi UK MDs Matthew Barnes and Roman Heini; Booker CEO Charles Wilson; and Müller UK & Ireland CEO Ronald Kers.
Marks & Spencer also took home the Employability Award and the Sustainable Future Award.
Meanwhile Tesco's new-look Watford store won Innovative Store of the Year Award, and the retailer also scooped the Health & Awareness Award.