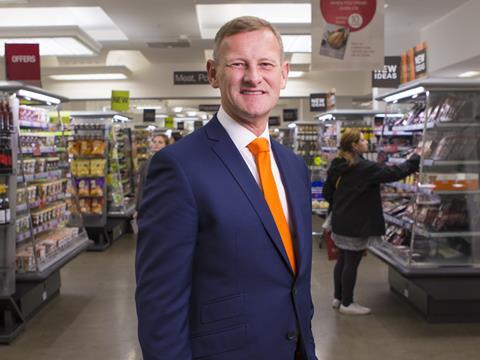 Steve Rowe is a whirlwind. I'm on a guided tour of the Bromley store with the executive director of food at M&S. His mood is characteristically upbeat. Darting around the fixtures, his energy and enthusiasm is infectious. And his rapid-fire speech is a volley of facts and ideas and excitement, as he purrs over the "stunning" products, revelling in the "outstanding" in-store theatre and "superb" visual merchandising, and all the other tweaks and details that are making his division such a success right now.
Rowe has every reason to be cheerful right now. Christmas is coming, the geese are getting fat, the stores are all primped and prepped, and sales momentum is strong, Amidst the harshest conditions anyone can remember in grocery, Marks & Spencer's food division is buzzing with excitement and optimism.
snapshot
Steve Rowe
Job: Executive director of food, M&S
Age: 47
Status: married, 4 children (2 boys, 2 girls)
Lives: Chislehurst
Education: Newnham School, Croydon
Career: My first job was at Covent Garden Flower Market. Joined Topshop in store management at 18. Moved to M&S in 1989 on the shop floor in Tunbridge Wells. Spent seven years in fashion from 1992, starting as a merchandiser for menswear. Moved to homeware in 1998. As director of home, beauty and new product development from 2004 I was the villain who introduced branded TVs. Promoted to executive board in 2008 my as director of retail. Added e-commerce from 2009-11. Have run the food division since 2012. Although I hadn't worked in food before, my house as a child was full of M&S innovation, with fresh-but-never-frozen lamb. It was like a homecoming really
Hobbies: Millwall FC season ticket holder, scuba diving, playing golf (badly)
Mantras: Plan for war, pray for peace. Keep half a step ahead of the customer. Small things, big impact. Sell through me not to me
Dessert island dinner: I veer from M&S extra-large Madagascan prawns with a fillet steak, to pie and mash
And that's when it hits you: the almost complete absence of red and yellow overhead signs, the shouty shelf barkers, the competing tickets crying for attention. It's as if we've entered a parallel sensory universe. Amidst the carnage of the supermarket price war, the impression here is of calm classiness, with muted, neutral tones - white, teal, navy, lime. Consciously so, of course.
"Our customers are telling us they're bored of seeing lots of red tickets everywhere. They want to see new, exciting things," he explains.
"Innovation, quality, freshness. That's what customers come to us for. But if you went back two years customers said they couldn't see it. Importantly now, not only have we got it, they absolutely see it. As we're pushing home new ideas across the store, all the time, we're talking about newness. We've got newness on every gondola end, in the chiller runs, and the folds over the tops, making sure that newness comes through.
It isn't just the signage that marks out the switch of emphasis. "What I'm trying to do is to stop talking about Simply Food per se. We should be clear. These are food halls. The origins of the name Simply Food was to try to excuse the fact there was no clothing in these stores. I don't need to do that any more.
"So we talk about M&S Food Halls. Where we've got a smaller offer - in a petrol station - it's Simply Food."
You can see this reflected all over the store: from the showstoppers - artisanal bakeries, delis, 'cold chain event zones', new wine displays - to the wooden strips on the shelving in the fruit & veg aisles, the white tiling in the pillars in the entrance, and new crisp typefaces.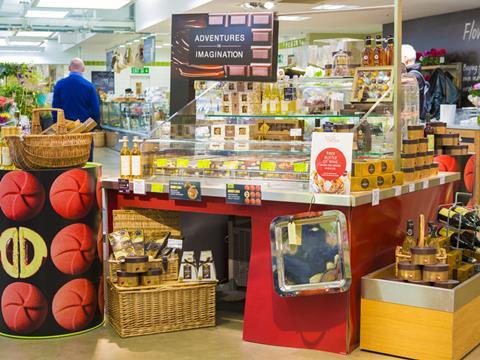 "We don't want to be a big supermarket. We want customers to enjoy the environment, so we've spent a lot of time on visual merchandising - separating ourselves from the supermarkets, adding some theatre, interaction, making our food halls feel more special, so it doesn't feel like a straight-line refrigerated supermarket."
While delis are not uncommon in supermarkets, the M&S delis are a step up, Rowe believes, showcasing new lines but also supported by chefs in new in-house kitchens cooking up "ultra-fresh, ultra-high quality dishes that you just can't get at a supermarket."
"What we're not going to get involved in is big butcheries, big fish counters. It's about offering added value product."
Rowe has also improved what he calls product handling, the emphasis on making the pack/product look and feel beautiful. "We moved away from big stacks of chocolate at half price. Last year we started to push our top-tier collections range. And doubled sales."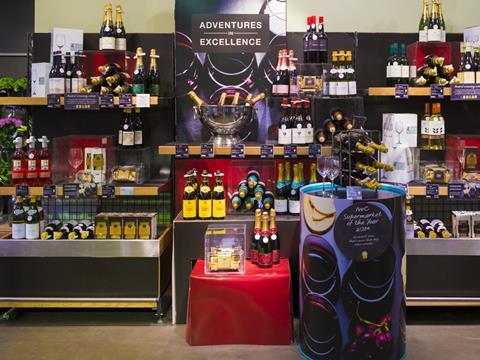 Costs
Nor have the improvements to the in-store environment come at an extortionate cost. Rather than ripping out fridges, M&S has freshened up the fruit & veg section with simple wooden crates - that are also purpose-built purposely so the plastic trays slot straight in. Similarly the wine event zone uses plywood fixtures and basically involves "a bit of cladding and converting."
"There's a real danger that everyone is spending their time looking over their shoulders at Aldi and Lidl. And missing the core purpose"
"M&S went through a phase where everything was incredibly expensive. But that pennywise mentality from Marc [Bolland's] days at Morrisons has washed through. You wouldn't dream of going to Marc with a proposal for a wine scheme that costs tens of millions."
As a result, M&S can afford to roll out these concepts across the estate. The wine zone is destined to be in 200 stores. There are chefs in 70 stores. And the produce refresh will be rolled out to every store in three months. "We've engineered the refurbishment to be low cost. We're not just cherry-picking the biggest stores. We've had a very clear programme since 2010 to upgrade every store by the end of next year."
Discounters
Switching its focus away from a full-basket shop has also set M&S in good stead when it comes to the discounters.
"There is a sizeable shift in trading. And frankly we are benefiting from that," says Rowe. "We are the top-up shop for most people. We are not the main shop. People come to us for something special, a treat. That doesn't change. If anything, that polarisation adds to that conversation not detracts from it, ie people can afford a treat from us more because they've saved elsewhere by shopping at the discounters."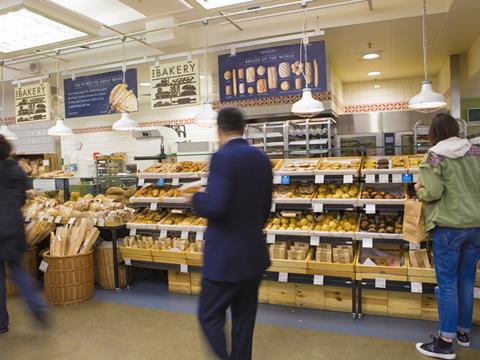 So what does the M&S exec talk about when the subject of Aldi and Lidl crops up? "To be honest, we don't talk about them an awful lot. We talk about what's happening in the market. It's prudent to keep an eye on the market, but we're very focused on what we're doing. There's a real danger that everyone is spending their time looking over their shoulders at Aldi and Lidl. And missing the core purpose. Our core is exciting our customers with newsness, innovation, quality, great environment. Frankly, we're just sticking to the knitting."
While only a very small percentage of the M&S catalogue is directly comparable, "where M&S don't add value," Rowe is very clear, "we're in the game. My bananas are the same price as Tesco, Sainsbury's, everyone else."
"What I won't do is drag my milk down to £1 for four pints. My milk is at £1.39. For two reasons. Number one: my milk is better than everyone else's: it contains more vitamin D and less sat fat. No 2, I intend to pay my farmers a fair and decent price. We are at the top of the payment tree. And we've not seen any decline in milk sales at all."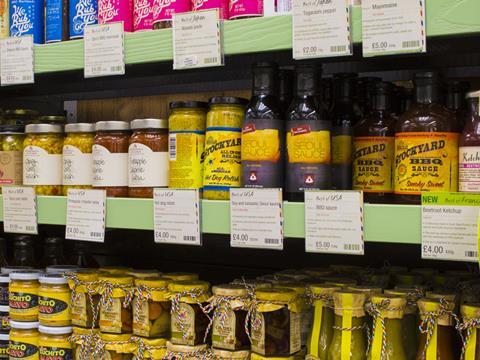 Not that Rowe is complacent. In our tour, the on-shelf signage talks about a milk match. "What we're not doing is ramming down people's throats our points of difference. I think that's a mistake, and we need to fix it." He's also learned the lesson from the mistakes M&S made in 2007, when it was "out of touch with the market".
"We will offer customers great value for great products."
Scale
One of the criticisms levied at the M&S food division is that it has a competitive advantage, but lacks the scale to leverage it.
Rowe disagrees. "While our total market share is around 4%, I'm the market leader in several areas, particularly within the cold supply chain, so I have scale where it's important to me, in ready meals, in breaded and coated fish, steak, fresh fruit.
"We found we had five different thicknesses of cucumber going into our sandwiches. It sounds fractional, but it's that level of detail we want to get into to create efficiency"
M&S has also demonstrated that it can grow its share. "In Norwich I have 1%. In Glasgow I have 9.5%. In Glasgow you can see how our model can evolve. A total of 29 outlets comprising a core food hall, two out-of-town full-line stores, a load of Simply Foods of our own, plus BP and SSP franchise stores."
Rowe confirms that plans to open 150 food stores over a three-year period to 2016 are slightly ahead of schedule, with over 50 opening this year.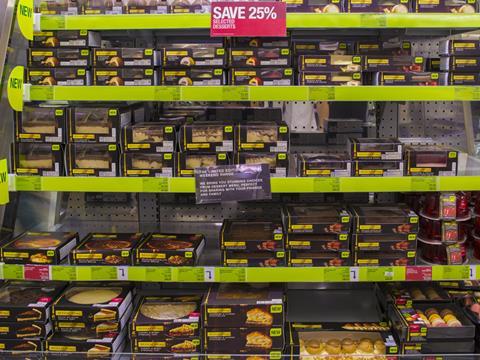 And he denies that M&S is engaged in a Tescotown-like space race. "We're being very targeted. If you went back to 2012, less than 50% of the population was within 10 minutes of an M&S food store. That's completely different, again, to the competition. It's not about owning towns. 41% of our customers are shopping for today or tonight. So location is important to us. But there is a ceiling to how many we want. This is not a race for space. Our model is well-established. the payback is quick. And what we also find is they continue to grow over a two to three-year period."
Rowe has also worked hard to maximise the opportunity through efficiency drives. And he credits predecessor John Dixon (now director of fashion) for doing a lot of the legwork.
"John did a fantastic job of bringing the M&S food division back from the point where people were talking about divesting it, to growth. At the same time, he did some heavy lifting to upgrade the food allocation system, which in 2008 was the same system I trained on in 1989. We had to change that. John put in a lot of great work there, so by the time I came in there was no burning platform. It enabled me to spend my time focused on the customer side, going to a load of listening groups and spending time in shops, which was brilliant.
Availability
This has brought a "step change" in terms of the focus on the customer. "The No1 thing customers talked about was availability. Although we had started on the journey, we needed to go faster. Last year we talked about 1% incremental change. Last year it moved 7%. And we've continued to drive that."
Addressing this has involved exploiting obvious inefficiency. "Not one single product was available in every store in the business. Even the biggest food section, in Newcastle, didn't run 49 of our products. So we've simplified the ranging, and essentially got more lines into more stores, with the average number of line facings increasing by 13%."
"I am absolutely in love with our handmade mince pies. They have been heavily eaten"
M&S is also delivering on the supply chain side. Rowe has promised to achieve 2% efficiencies per annum through value and volume optimisation programmes. "We're well into it," he says, with the consolidation of Avana Bakeries and Park Cake taking place in January, and work under way to move sandwich skillets into Greencore.
"What's great is we've done this without disrupting supply for our customers. And it's been hugely collaborative. Suppliers are incentivised to become more efficient. It's not just a smash and grab. And we've also been able to invest in margin to help our customers."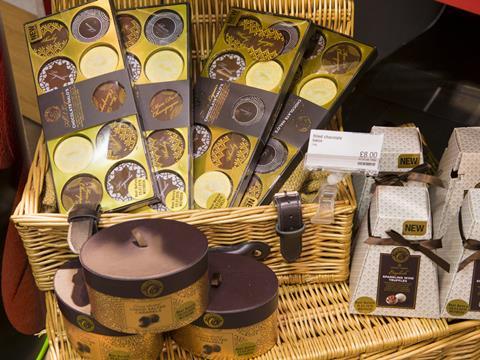 There's also been a lot of collaboration on the volume side. "We've got engineers working in collaboration with our suppliers looking at everything. We found we had five different thicknesses of cucumber going into our sandwiches. It sounds fractional, but it's that level of detail we want to get into to create efficiency."
Of course, for M&S, innovation is always the piece de resistance. And while Rowe has taken the odd trip to Texas - "working my way through some truck food" - for the most part he leaves it to his 36-strong team of developers, in whom he clearly has enormous faith. "I think we've got NPD to the right place. What's great is we don't see it stopping there."
He singles out the new frozen ready meals range, the gluten-free quiches, and the new Taste range as some of his recent favourites.
So what Christmas lines is he most excited about? Rowe is like a kid in a sweet shop. "So many things, too many to list. I am absolutely in love with our handmade mince pies. They have been heavily eaten. Our new desserts menu range is stunning. And we've got some great booze coming." So how come he's so slim, I ask. "I don't deserve to be. I've already eaten my seventh Christmas pudding this year."
how we innovate
You claim 20% of your range is new each year. Really? The 1,500 figure is genuine newness. Packaging and product upgrades are on top.
With all the churn, how do you avoid disappointment? There is a cycle to NPD. Not everything will be popular. And some change is good. Customers get excited by newness. When we have new phase launches in autumn and winter, we see an uptick in people coming through the door. They talk about discovery.
Where do you source ideas. Do you adapt them from trendy cook books? Our developers have a far better palate than me. We're out travelling. We eat in lots of restaurants. We pick up consumer trends through magazines and the internet. What we try and do is bring them to market in a way that customers get. We are also inspired by consumers. One idea from Bake Off was Kouign Amann [a cross between a Breton cake and croissant]. And we work with a very small group of suppliers. More than any other retailer it's a collaboration. It's not you make, it's not a Dragons' Den situation either. I tell suppliers to sell through us, not to us.
What's the innovation pipeline looking like? Surely at some point you're going to run out of meaningful NPD? No chance. The word is excited. My only frustration is I would like it all quicker.