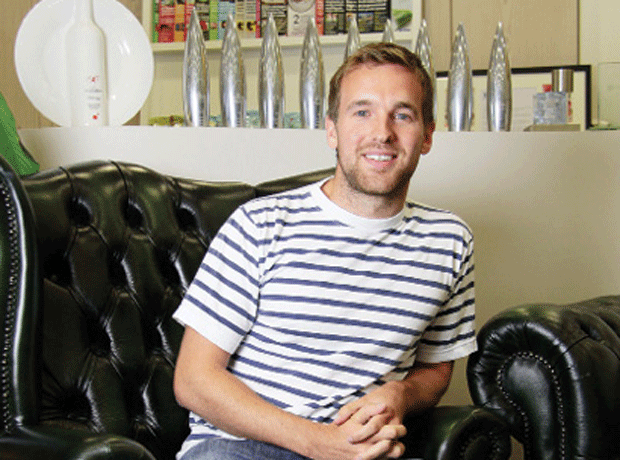 For centuries, it's been used in Japanese tea ceremonies and drunk by Buddhist monks. But while matcha tea sells in limited quantities in the UK, and is occasionally billed as 'the next big thing' for foodies and Health freaks thanks to its health giving properties, it's never hit the big time over here. That may be about to change, however.

Made from finely ground green tea leaves, matcha contains 130 times the antioxidants and nutrients of a traditionally strained green tea - or 20 times as many as other superfoods like pomegrantates. It also provides a natural energy boost from its caffeine content. However, the powder is incredibly expensive, at around £25 for 30g in high-end retailers, so few have tried it.

Until now. The new Vivid range of chilled matcha RTDs, created by 25-year-old entrepreneur James Shillcock, comes in three flavours - Lime Ginger & Honey, pear & Rhubarb, and Grape & Elderflower - and will retail at an affordable £1.85 per carton.

The startup is able to hit this price-point because each 330ml carton contains three-quarters of a gram of matcha per drink. It may not sound like a lot but Shillcock claims "nothing else offers the combination of health and functionality that Vivid does".
"Vivid is just so different from anything that's out there. It's an exciting new category"

James Shillcock
Shillcock, after training with Deloitte, developed a passion for green tea while backpacking through China, and discovered matcha while working for artisan tea company We Are Tea. Now, he wants to do for matcha what Vita Coco is doing for coconut water, and has already secured listings in Whole Foods Market, Planet Organic, and As Nature Intended.

And to think: his eureka moment came just nine months ago, as he was blending matcha with lime, ginger and honey in his kitchen. "My brother asked me to make him one and I thought - this product is so good it would be a shame not to do something with it," he says.

After fine-tuning the recipe, Shillcock took his idea to design agency BrandOpus in November, last year. With the design signed off, the first full production run of Vivid took place last month at a factory in Somerset.

"The beauty of it is we've overcome the two biggest hurdles to people drinking matcha - convenience and taste," says Shillcock. "Even people who don't traditionally like the taste of green tea will like this product."

Vivid is currently negotiating with two supermarkets and is looking to forge links with Google and Facebook - key channels for Shillcock's target market of tech start-ups and creative professionals.

"We're on the wave of quite a few trends," he says. "The ready-to-drink tea market grew by 45% last year." And Shillcock believes there's scope for further growth thanks to what he calls the "matcha movement". With EAT following the lead of Starbucks in the US in selling matcha lattes and coolers, Shillcock secured a six-figure sum in funding from high net worth individuals, and recruited a five-strong team from Vita-Coco, Mars, Cadbury and Innocent - as well as his father, a former finance director at Dune and COO at Molton Brown.

"I'm so excited about the next year," says Shillcock. "Vivid is just so different from anything that's out there and is going to bring in people who wouldn't necessarily buy a health drink, and also people who would never, ever buy an energy drink, because they think it's not healthy, so we can bring in people from both sides.

"It's an exciting new category - there's so much going on with matcha and it was only a matter of time before someone did this, so I'm pleased we're the first and can lead the category."