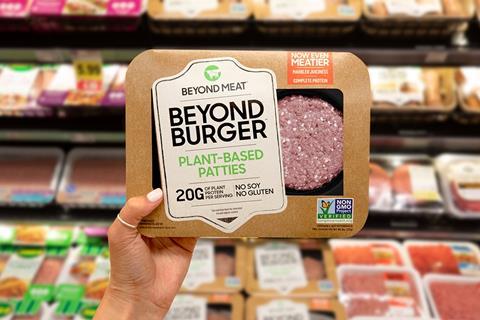 Beyond Meat's US IPO has captured the plant-based zeitgeist. Priced at $25 a share, it had already quintupled at time of writing and recorded the biggest first-day move of any IPO in decades. Its management confirmed sales will double this year to more than $200m. It enjoys an $8bn valuation, equivalent to 40x sales, despite making losses.
Before other startup founders get giddy with these kind of valuations, one has to consider the potential of this market. There will be big growth as plant-based meat goes mainstream, but the competition is charging over the horizon. Barclays research estimates the addressable market for plant-based meat could be $140bn within a decade, accounting for 10% of the global $1.4 trillion meat market (vs less than 1% today). It took plant-based milk about a decade to get to a low double-digit penetration rate.
Beyond's ambitions are not just in the US: its sights are set on both Europe and Asia, where the swine fever epidemic gives plant-based protein an unmissable opportunity.
Penetration will ultimately depend on how close the taste and look gets to meat (our client tastings suggest we are already close, but new iterations will be even better) but also, crucially, affordability – as well as lower sodium levels, to make it a truly healthier alternative.
Price points are high now, but will come down with scale. Interestingly, Beyond's long-term ambition is to price below meat. Competitor Impossible has raised financing and – though it's early days yet – the Impossible Whopper from Burger King is doing well in the US. All eyes are now on what McDonald's does in the space.
Don't rule out Nestlé making a big splash too. CEO Ulf Mark Schneider is determined not to miss the boat, and is going all-in on 'plant-based', backed by the largest food R&D budget in the industry, as well as impressive distribution muscle.
Its Incredible Burger will be in most European markets by the end of 2019, and is being trialled in McDonald's in Germany, with management saying it has the capacity to extend beyond Germany. Its Awesome Burger (organic and with no GMOs, which has been specifically developed for US palates) will be launched late summer.
Tyson also has plans in this category (it was an early investor in Beyond but exited before its IPO), which it will outline at its keenly anticipated upcoming investor day.
Competition in this nascent but fast-growing category is good news, as it will drive penetration, but market shares will likely be choppy and depend as much on who wins with quick service restaurants as at retail. Beyond has a first-mover advantage and is ramping production to capitalise on the opportunity. It also has powerful backers such as Bill Gates and Leonardo DiCaprio.
But it's very early days and the jury is out on who ends up leading long term. Right now the battle is plant-based beef, but other proteins – such as chicken and pork – are also on the menu. One thing is for sure: it won't be dull.