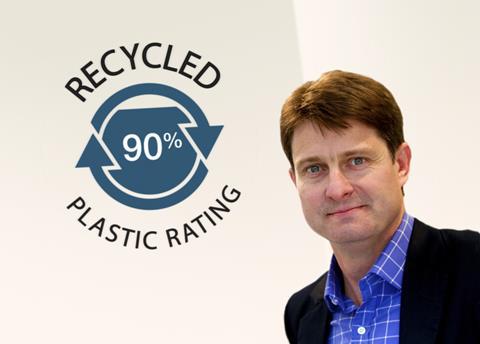 The developers of a new 'trust mark' for products packaged using recycled plastic are calling on the government to make it mandatory for fmcg products.

The Recycled Plastic Rating (RPR) officially launched today. Its aim is to combat public mistrust of environmental labels and claims.

The RPR labels are designed to show shoppers how much of an individual product's packaging is made from recycled plastic.

Labels will declare the percentage of recycled plastic content in the packaging, rather than state what might or might not be recyclable.

The driving force behind the scheme is entrepreneur and philanthropist Mark Jankovich, who owns eco-cleaning product company Delphis Eco. The company claims to be the first to pioneer the use of 100% high-density polyethylene plastic packaging from single-use plastic, which it did for all its products in 2017.

An official launch took place today at the House of Commons, ahead of Wrap's Recycle Week (23-29 September) and during environmental campaigner Greta Thunberg's Global Climate Strike (20-27 September).

Delphis Eco said it was making its case to Defra. It has set up a Change.org petition calling for government action.
Jankovich is understood to be in discussions with a host of household brands such as Innocent, Body Shop and Belu Water. The latter has just announced its move to 100% recycled packaging on water bottles and is going to adopt the mark.

The Grocer also understands talks have been held with Iceland, Waitrose and Bidfood about the scheme, which is part of an overall campaign to simplify eco-labelling.

A Populus survey commissioned by Delphis Eco in April found 79% of people support clearer labelling on plastic packaging to help them determine its impact on the environment.

"Having a rating which shows the amount of recycled plastic content in the packaging we buy will instantly give consumers the power to vote with their wallets and chose packaging that is fundamentally diverting plastic from landfill," said Jankovich.

"The RPR would enable consumers to see, at a glance, the exact plastic credentials of products they were purchasing.

"We need to turn this completely on its head and not talk about what might or might not be recyclable but what percentage of the packaging we are buying has been recycled.

"When consumers do this, shops and supermarkets will have no choice but to package their products in more responsible packaging, resulting in the waste collectors, recyclers and government fixing their woefully under-invested infrastructure and behave more responsibly."