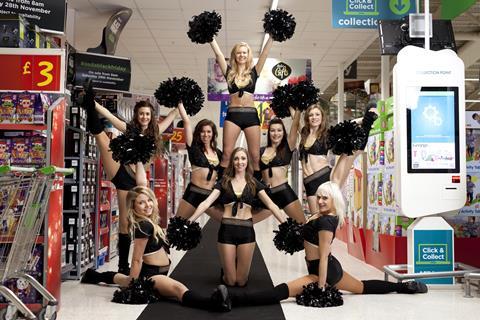 Like a passionate love affair, it was brief and unforgettable. But now, buried under a heap of recrimination and Polaroid flatscreen TVs, the romance between Asda and Black Friday is over. And it was Asda doing the dumping.
I'm not saying it was callous about it, but Asda doesn't even seem upset. "The decision to step away from Black Friday is not about the event itself," said Andy Clarke, reaching for the old 'it's not you it's me' routine. "Customers have told us loud and clear that they don't want to be held hostage to a day or two of sales," he added.
So Asda has walked away. It's not the most shocking thing to happen around Black Friday (that would be the deaths) but even so, the news that Asda was having a rethink was definitely up there for Black Friday surprises (including one of the biggest: that strangers are prepared to fight over a 37% discount on a TV in the middle of Asda).
Asda's retreat might be bad news for demented shoppers and anthropologists, but it is a very responsible move. Or maybe whipping up shoppers until they are prepared to trample others to grab a Dyson was plain irresponsible to begin with. Either way, it's very likely financial prudence also played its part in the decision.
"Asda's retreat might be bad news for demented shoppers and anthropologists, but it is a very responsible move"
Black Friday is called Black Friday because in the US it was traditionally the day retailers tipped their balance books into the black. So if it makes no money, or simply takes from Christmas sales, or further lowers the public perception of how low prices can go, what's the point?
Especially when you consider the hassle, the additional operational pressures, the bad publicity and the negative knock-on effect on grocery sales as shoppers are put off doing their actual grocery shopping because of the Black Friday chaos. There is also an apparent spike in shoplifting thanks to light-fingered opportunists taking advantage of it.
I wonder what Tesco must be thinking at this point. It bore the brunt of the chaos last year, copped a ticking-off from a very annoyed high-ranking police chief and there were reports checkout staff were left in tears after being ordered into action to control the rampant crowds. So this year it has big plans to keep things under control at its 250 Extra stores involving extra crowd protection, giving stores extra time to prepare for the crush and ensuring all management (including all store and retail directors) are on duty. It's a lot of work, so it's possible it is looking at Asda's decision to cancel and wishing it had done the same. Or maybe it thinks the way is now free for it to clean up?
Who knows, although if this year escalates out of control in similar ways to last year, don't expect it to bother next year. And why should it, when Tesco could just introduce 'Singles Day' to the UK instead! It's all the rage in China, where shoppers hammered their wallets online to the tune of £6bn in 12 hours on 11/11 (it's known as Singles Day because of all those '1's).
"If the UK does follow Asda's lead and fall out of love with Black Friday, what will replace it?"
Tesco may have a problem if they try, however. Alibaba, the Chinese online giant, claims to own the rights to Singles Day. Although earlier today The Guardian reported JD.com had complained to the Chinese government that Alibaba was monopolising the 11/11 opportunity. But Alibaba "shrugged off" the suggestion. "Today the chicken reported on the duck, accusing the duck of monopolising the lake," an Alibaba spokesman apparently told Chinese media, which must have cleared everything up.
So if the UK does follow Asda's lead and fall out of love with Black Friday, what will replace it? Even if the UK fell for Singles Day, the fact that 11/11 is also Armistice Day might raise questions of taste and judgement, just like Black Friday did, and we'd have to start looking for a fresh love all over again. Or maybe nothing will replace it at all, and it will linger, less passionately than before, but still there, sort of like a couple staying together for the kids, resenting each other a little more every November.
Either way, we can say this for sure – if it is dying a death then Black Friday was interesting and fun while it lasted. As sales go it offered great deals and thrills and spills for shoppers. But whether it will be missed is a different story altogether.