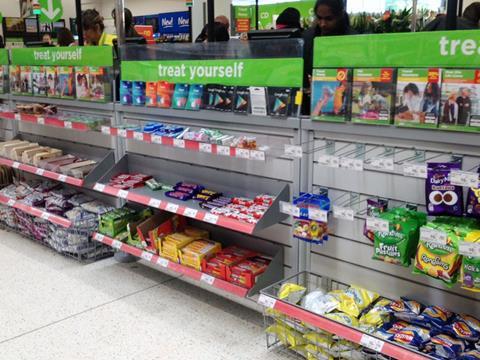 As the debate over childhood obesity and the sugar tax rages, chocolate, crisps and fizzy drinks are making their way back towards supermarket checkouts.

Last summer, data from retail analysts Assosia showed confectionery, crisp and soft drink brands were shifting promotional activity away from checkout areas by reducing till aisle featured space promotions.

But data for the latest four-week period shows eight of the top 10 brands that make greatest use of featured promotional space in the big five have ramped up promotions in both the till aisles and foyers.

"Money talks and location, location, location are two of the main things the top featured space brands are about," says Assosia director Kay Staniland. "School holidays provide an ever greater opportunity for impulse brands and categories."

Among the brands making the biggest use of the till aisles were Coca-Cola, which increased its deals in the space by 8.5 percentage points year on year to almost half (43.8%) of its total featured space promotions, and Walkers, with till aisle promotions up 12.2 points to 32.7% of the total.

Kellogg's also increased till aisle deals by 20.3 points to 27.9% of total featured space promotions, as it cut power aisle and back aisle by 12.1 points and 9.9 points respectively.

McVitie's and Nestlé slightly increased till aisle and foyer deals. Cadbury (-3.9 points) and Birds Eye (-7.2 points) were the only top 10 brands to reduce till aisle promotions, with both running none in the foyer.

Shoppers tempted by front-of-store offers got a better deal than last year, with the top 10 brands increasing average % savings in both till aisles (+0.7 points) and the foyer (+6.6), despite average % savings across total featured space promos falling another 1.9 points year on year. Across featured space, there were more deals from Cadbury (+2.6 points), McVitie's (+3.8), Walkers (+1.8), Coca-Cola and Heinz (+6.3), while Nestlé (-1.0), Birds Eye (-3.8%), Kellogg's (-1.8%), Hardys (-15.0%) and Colgate (-5.5%) all offered fewer deals.