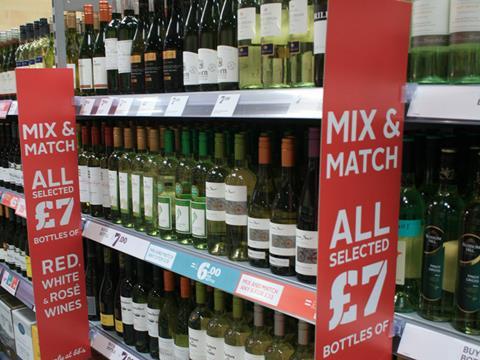 Supermarkets are decking the halls with promotional offers ahead of Christmas, but shoppers aren't getting as many good deals as they were last year - especially in the booze aisles.

Most of the mults are offering more featured space promotions than last month, with the exception of Asda - which has reduced the number of promotions by 1.33% [Promodynamic Retailers 52 w/e 4 December 2016]. Morrisons has increased the number of featured space promotions in stores by the most, up 8.7% month on month to 2,421, while Sainsbury's has the most deals at 3,131, up 4.1% compared with the previous four-week period.

On a year-on-year basis, only Morrisons, Sainsbury's and Waitrose have increased the number of featured space promotions, and average % savings have fallen almost across the board, again with the exception of Asda, where they are up 3.29 points to 29.9%.

The amount shoppers can save on featured space deals is falling because the mults are reducing the number of bogof and half-price deals and increasing the number of 'save' promotions - which have a lower average saving of 30%.

BWS has suffered the biggest drop in terms of the number of deals on offer, accounting for just under 20% of total featured space promotions compared with 22% last year. Average % savings on alcohol have also fallen by three points to 23%. "Waitrose is the only retailer to buck this trend by increasing BWS deals, which now account for 38.1% of its total promotional activity," says Assosia's Kay Staniland. However, even Waitrose has cut average % savings on beer & lager and spirits.

Meanwhile, Asda and Tesco are offering bigger savings on spirits, and Asda has increased savings on beer & lager. Sainsbury's has cut average savings on all alcohol deals. Overall, wine has suffered the biggest cut in savings.