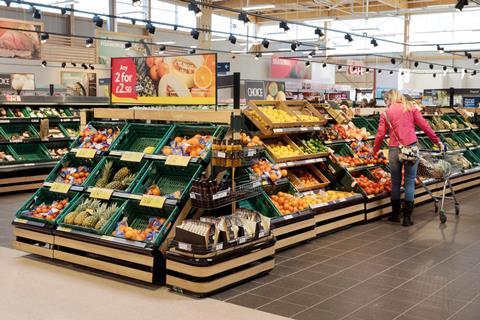 Tesco is undercutting the discounters with its new Fresh 5 promotion, which it claims will make it "easier and cheaper" for its customers to make healthy choices. So how do its prices compare with its big four rivals?

The supermarket's Fresh 5 deals kick off this month with vine-ripened tomatoes 230g, Jersey Royal potatoes 450g and apricots 320g, all down from £1 to 45p, as well as flat peaches (minimum four-pack) and a ­perfectly ripe mango, down from £1 to 39p.

Tesco's total price for the five SKUs has dropped from £5 to just £2.13. It would cost about £5.33 to buy a comparable selection in Asda, £6.60 in Morrisons and £5.70 in Sainsbury's [Edge by Ascential 29 May 2019].

It comes amid a wider push in Tesco in terms of the number of fresh produce promotions in its stores, the data shows.

From 1 January to 30 May 2019, it ran 201 promotions on fresh fruit & vegetables (excluding prepared salad and potatoes). In comparison, Sainsbury's had 160 promotions over the same period, while Morrisons had 132 and Asda had 159 [Edge by Ascential].
However, Tesco is not necessarily cheaper than its rivals for fruit & veg, the data suggests.

The Grocer looked at a basket of SKUs reflecting the UK's top 10 vegetable choices comprising: Maris Piper potatoes 2.5kg, salad tomatoes six-pack, a whole iceberg lettuce, closed cup mushrooms 400g, mixed peppers three-pack, brown onions three-pack, broccoli 500g, carrots 1kg and a whole cucumber.

We also analysed a basket reflecting the UK's top 10 fruit choices, comprising a five-pack of Braeburn apples, 500g seedless grapes, a six-pack of small bananas, 227g strawberries, 400g blueberries, 600g easy peelers, 150g of raspberries, a four-pack of conference pears, an orange and a lemon.

On 29 May 2019, the combined cost of these two baskets was £24.95 in Tesco, compared with £25.90 in Morrisons, £22.96 in Sainsbury's and £21.17 in Asda.

The data also revealed the price of these two baskets has increased by 2.1% year on year on average across the big four supermarkets.

Most of the fruit SKUs are cheaper than last year, including a 500g pack of seedless grapes, which is down 9p to £1.90 on average, and a pack of five Braeburn apples, which is 14p cheaper at £1.20.

However, berries are more expensive on average this year, with a 227g punnet of strawberries up by 1p to £1.88 on average, while a 150g punnet of raspberries is 2p more expensive at £1.88 on average. A 400g punnet of blueberries, meanwhile, is up by 30p to £3.17.

All of the SKUs in the vegetable basket are more expensive than last year. Onions have seen the biggest rise, up by 18p to 78p, while a whole cucumber is up 8p to 57p on average and a kilo of carrots is also up 8p to 67p.