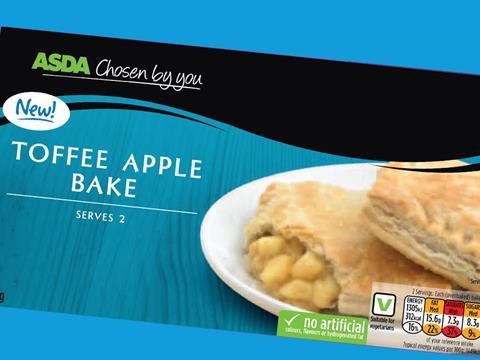 Who: Asda
What: Toffee apple Bakes
Where: frozen hot-eating desserts
When: Launched October 2014
How much: £1/200g
Why: Sold in a two-pack, these frozen bakes comprise puff pastry with a toffee apple filling and cook from frozen in about 25 minutes. Asda will hope these buck the trend in the frozen desserts category, where sales have fallen 8.6% by value year on year [Nielsen 52 w/e 11 October 2014].
Consumer verdict: Although some testers felt the packaging was "boring," the £1 price point helped maintain a reasonable level of pre-trial interest. However, levels did not increase after trial, with many testers criticising the product for having "too much pastry or not enough filling." The pastry was regarded by some as having a "light, crispy texture," but this failed to redeem the perception of poor overall product quality. The resulting ratings were close to or below the average for the category, with the exception of a good score for 'value for money.' The majority of testers felt there were better options available, and more than a quarter claimed they would never buy. However, some believed it would make a good freezer standby as a cheap family dessert.
Pre-trial purchase: 38%
Post-trial purchase: 38%
Better than what's out there: 33%
New and different: 54%
Overall score: 34/50

What is Fast Foodfax?
It is a subscriber service that has been running for more than 30 years, offering consumer assessments of new products and allowing comparisons with more than 17,000 products from our database. It is objective, impartial and totally independent, and each product is assessed using original consumer feedback from respondents across the UK. See here for further information.
Fast Foodfax is prepared by Cambridge Market Research , which works closely with The Grocer magazine on a variety of projects including the consumer judging element of the The Grocer's Own-label Food & Drink Awards and New Product Awards.
Tel. 01223 492 050 Email: Info@CambridgeMR.com