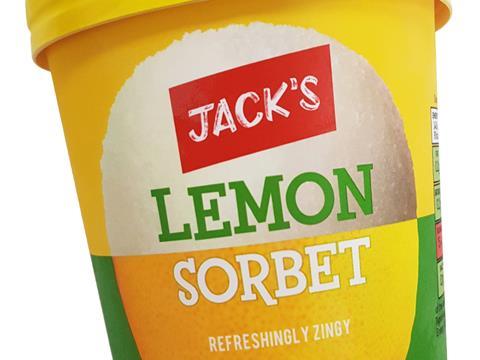 Who: Jack's/Tesco

What: Lemon Sorbet

Where: Frozen desserts

How much: £1.05/500ml

Why: Jack's, Tesco's answer to the discounters, opened its first store in September. A whopping amount of its products are own label: around 1,800 of the 2,600 SKUs carry the Jack's logo. Among them is this tub of "refreshingly zingy" lemon sorbet. It is part of an ice cream tub market up 9.9% this year in grocery to £500.7m [Nielsen 52 w/e 8 September 2018] thanks to a roasting summer and innovation in both indulgent and healthier lines.

Consumer verdict: The brightly coloured tub and attractive price enticed consumers pre-trial. Their interest remained high after tasting. The sorbet's "excellent flavour" led more than half to say they would purchase the product as a weekend treat, praising the "good size tub" and "good value for money". While some were put off by the "sharp flavour" and "artificial" taste, most shoppers clamed the sorbet was better than its competition, describing it as "great for after a heavy meal".

Pre-trial purchase: 57%

Post-trial purchase: 63%

Better than what's out there: 56%

New and different: 30%

Overall score: 45/50

Working in own-label? We've just introduced The Grocer Own-Label Accreditation Scheme. Under this new scheme all the products we review can apply for accreditation at any time, through a programme of continuous consumer testing and approval developed to help retailers and suppliers promote the best own-label products. Find out more here.