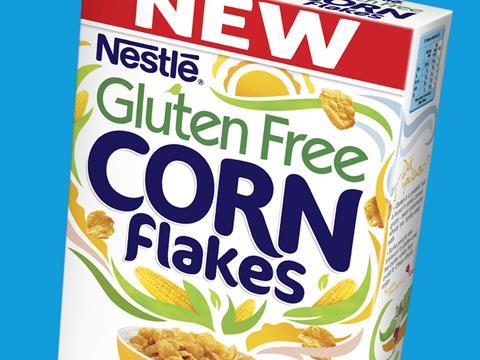 Who: Nestlé Cereal Partners
What: Nestlé Gluten Free Cornflakes
Where: Cereal aisle
When: Launched August 2014
How much: £1.99/500g
Why: With consumer and retailer interest in free-from food continuing to grow, more major brands are targeting the category. In the case of cereals, Nestlé Cereal Partners launched these gluten-free cornflakes in two variants - traditional ­(rsp: £1.99) and honey (rsp: £2.19) - last summer, and has already said it plans to expand its free-from offer. Rival supplier Kellogg's is this month ­making its debut in free-from cereal with an Organic Puffed Corn.
Consumer verdict: Tested among a non-targeted sample - rather than consumers who always ate gluten-free products - little difference was noted between this and 'standard' variants. The cornflakes achieved an overall score slightly above average for the category and many respondents said they would consider buying as a viable alternative to their current brands, with four out of to 10 claiming this variant was better than the competition. And, although 24% of respondents said they would never buy these, a similar proportion claimed they would buy at least fortnightly.
Pre-trial purchase: 35%
Post-trial purchase: 45%
Better than what's out there: 42%
New and different: 67%
Overall score : 40/50

What is Fast Foodfax?
It is a subscriber service that has been running for more than 30 years, offering consumer assessments of new products and allowing comparisons with more than 17,000 products from our database. It is objective, impartial and totally independent, and each product is assessed using original consumer feedback from respondents across the UK. See here for further information.
Fast Foodfax is prepared by Cambridge Market Research , which works closely with The Grocer magazine on a variety of projects including the consumer judging element of the The Grocer's Own-label Food & Drink Awards and New Product Awards.
Tel. 01223 492 050 Email: Info@CambridgeMR.com