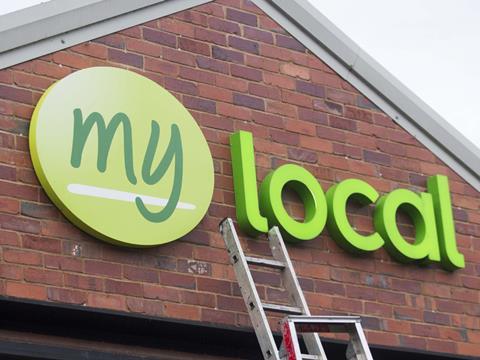 The Co-op has snapped up six My Local convenience stores for an undisclosed sum.
Stores in Croydon, Nottingham, Widnes, Blackpool, Stockport and Steeton will be taken over by the Co-op after My Local fell into administration and closed 90 stores last week.
"The Co-op Food business is moving forwards with a clear purpose and momentum, so we can deliver a compelling, convenient and co-operative shopping experience for millions of shoppers each day," said Co-op chief executive of retail Steve Murrells.
"Our acquisitions programme is fundamental to the success of this strategy. In the last two years we have opened close to 200 new stores, and in 2016 the Co-op is actively pursuing 100 new stores as well as carrying out refits in a further 150."
My Local operated 125 stores and employed 1,658 people across the UK. Directors concluded the sale of two sites before KPMG was appointed to manage the administration but most stores have since closed resulting in a significant number of redundancies.
Murrells added: "The acquisition of these My Local stores supports our focus on convenience store retailing and adds to a portfolio that offers the right range in the right location. Our strategy is clearly working, as is evident from our recent results and continued positive like for like sales growth."
My Local has been trading for less than a year after buying 130 M Local stores from Morrisons for £25m last September. The retailer is run by industry veteran Mike Greene and was backed by private investment firm Greybull Capital. At the end of June, Greene issued an apology to staff after the company finally fell into administration.
"I would like to thank our employees who have worked tirelessly since the launch to create a new, independent competitor in the convenience store market. It was never going to be easy. When we took over, the network was heavily loss-making and some stores had closed," said Greene.
"The last nine months has been one of the toughest retail trading periods I have ever experienced and My Local has faced intense competition. This is the first time in 20 years that the convenience sector is not growing strongly. Some long-established high street names have gone and many of the large chains are shrinking the size of their networks. In addition, the supermarkets are cutting prices to compete with the discounters, piling further pressure on prices and margins, making it harder to compete.
"Of course it is easy to blame market conditions. But the reality is that, while we more than halved the rate of losses, the management team has been unable to return the business to profitability. For that I am truly sorry. We will continue to support the administrators in their efforts to safeguard as many jobs as possible."
In a statement, the retailer said employees in stores which are sold will be transferred to the new owners and Morrisons has confirmed where no buyer is found and the store is closed, it will take back its former employees.
"Having explored a number of other options, the directors were unable to find a way forward and took the difficult decision to place the company into administration," said KPMG's Orton.
"Although the majority of stores have now closed, we are in active discussions with a number of interested parties in relation to both the remaining 32 premises that are trading and a small number of those that have closed. We are pursuing these opportunities as a matter of priority in the hope that we will be able to conclude successful sales and safeguard as many jobs as possible.
"We will also work closely with all employees over the coming days, in particular ensuring those who have been made redundant receive the necessary support they need."