The residents of Wadhurst in East Sussex are used to getting in their cars. Its railway station is a mile outside the town, on an unpaved country lane, and the nearest major supermarket is a Sainsbury's, seven miles' drive away in Royal Tunbridge Wells. However, residents of this affluent market town no longer have to get in the car to do a big shop, as local chain Jempson's is now open on the high street.
"We've had a complete mix of shoppers in so far," says store manager Stuart Brindley. "Mums, pensioners, and schoolchildren. It's been mainly villagers, rather than people from further afield, and they've mainly arrived on foot."
The Wadhurst store is the third 'Jempson's Local' opening from the small East Sussex chain. Founded as a bakery by George Jempson in 1935, Jempson's also operates several cafés in the county, a full-size supermarket in Rye, and its flagship superstore, plus a pharmacy and Post Office, in Peasmarsh.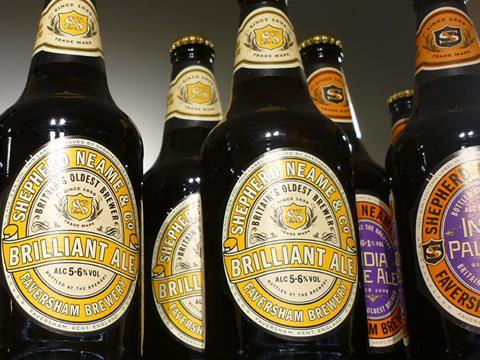 Jempson's is still a family-run operation, owned and managed by Stephen and Andrew Jempson - George's grandsons. Opening on 4 September, Wadhurst Local is 4,500 sq ft and stocks about 20,000 lines - which Brindley says is "slightly more than the other Locals." The exterior of the building is in keeping with the high street's architecture - an attractive jumble of white clapboard cottages and darker Tudor buildings.
Jempson's baking heritage is obvious as soon as you walk in. The bakery display is opposite the front doors, with a blackboard-style sign offering "French sticks for £1." The wooden display unit holds fresh white and wholegrain loaves, bloomers and rolls on one side, with a sign saying they are "baked daily at our Peasmarsh bakery." The other side of the unit houses own-label cakes - a curious mix of the traditional (Battenberg, French horns) and the modish (red velvet cakes). To the left of the bakery section is probably the store's most stylish-looking area, the Good To Go section, decorated with a wall of white metro tiles. There is a self-serve coffee machine offering cappuccinos and lattes for £1.50, and a hot food cabinet.
Contemporary look
The overall feel of the store is contemporary without being alienating - with shiny grey floors and white walls. The fresh produce section to the right of the entrance is small but attractive, with a colourful display of fruit and veg in Jempson's-branded wooden crates. The focus isn't just on local - there are mangoes and melons on display with the ears of corn and sacks of potatoes, but there are also several 'Local Hero' signs dotted across the store - one extolling the virtues of the nearby Dengate apple farm.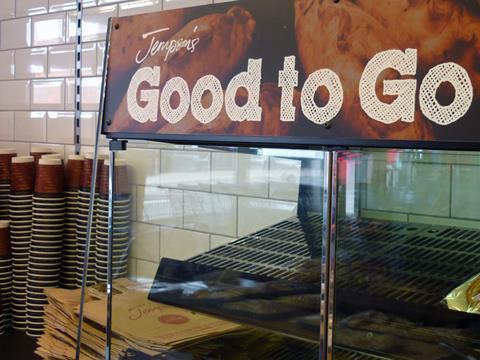 Other local products on offer include Kent crisps, Owlet fruit juices, Shepherd Neame ales, and Sussex Valley mayonnaise and sauces. There's also a freezer cabinet concession for Cook - the Kent-based premium frozen meals brand. However, while much of the fruit and veg is British, not much is flagged as local, and there is also a 'Peasmarsh to Paris' sign, advertising some of the produce sourced from over the channel.
Brindley says the reaction to the store from residents has been "really positive." Jempson's faces competition from a high street whose facilities belie the town's small size (it has about 5,100 inhabitants, including outlying villages). There is a butcher, greengrocer, a health food store and a One Stop. Not to mention the superstores - Asda, Sainsbury's and Tesco - just over the Kent border.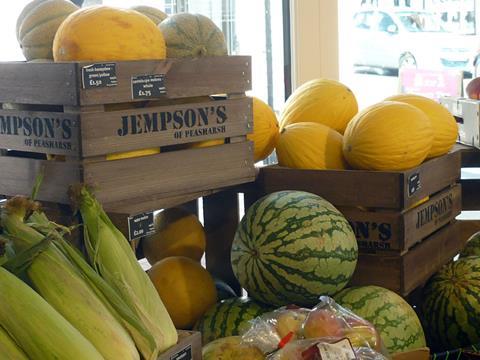 "It's nice to have it here so you can pop in," says Wadhurst resident Tracy Ryder-Richardson. "But there's rather a lot of tinned peas! They don't have the cannellini beans or lentils I was looking for, and I'll still go to the big Sainsbury's in Tunbridge Wells."
"We're still finding the right balance of products," admits Brindley. To this end, a blackboard-style sign invites customers to suggest items they'd like to see stocked, and also reads "gluten-free products needed."
It's early days for the latest Jempson's Local, and too soon to gauge the average basket spend says Brindley, but if the store continues to listen to residents and tailor its offering to their needs, it will soon justify the 'Local' part of its name.