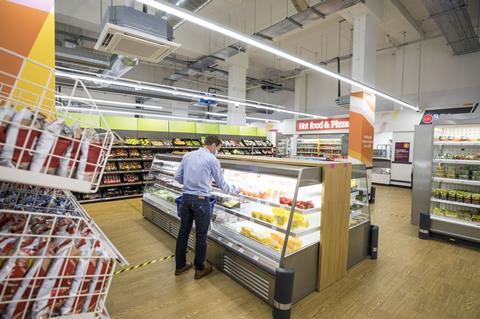 Sainsbury's has opened its next On the Go convenience store in London's Leicester Square.
The 4,500 sq ft branch opened today (13 August) and blends freshly made and prepared in-store food and drink with convenient ways to shop.
Its range includes freshly baked pizza from an in-store oven, drinks from a self-service coffee machine and orange juicer, and a 'grab and go' section featuring fresh pastries, fruit and snacks. This comes alongside a selection of sushi products from Sushi Gourmet and grocery lines, as well as the click & collect service for Argos and Tu clothing.
Sainsbury's said its range has been tailored for local inner-city residents, workers and tourists, while more space has been allocated to its checkout area "for a faster experience".
The new-format store follows Sainsbury's other On the Go branch in Mansion House, London. It will also open seven further city-based stores in a similar design across Edinburgh, Bristol, Glasgow and London.
Sainsbury's said the new stores aimed to bring "big innovation in small spaces for local shoppers" at the time of the Mansion House store opening.
It added it had identified over 130 Local sites in busy urban areas that could be converted into On the Go branches.
"We're really looking forward to serving customers in the cultural capital of London's West End," said Patrick Dunne, director of property at Sainsbury's. "This store is a great asset to our estate and gives us prime position to serve tourists, workers and residents our renowned products."
Graham Biggart, Sainsbury's director of commercial operations, added: "We're excited to be opening our latest format food-on-the-move store in the vibrant heart of London. We've tailored our ranges and store design to meet the needs of our customers, whether that's for a coffee and tasty breakfast snack, some lunchtime inspiration or healthy choices for a meal later. Our hot pizza and Sushi Gourmet counters will also make eating on the go even more convenient."