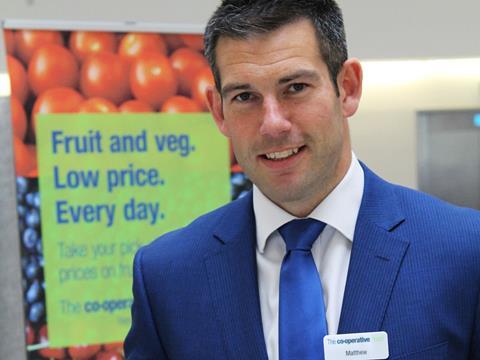 The Co-operative Group has given details of its expansion plans for Wales and the South West of England.
It is investing £11m in Wales this year with 10 new stores opening, refurbishment of more than a dozen others and recruitment of about 350 extra staff.
The society is also increasing its support for the Welsh food industry and strengthening its involvement in the communities it operates in.
In the South West of England it is ploughing £8m into the opening of at least 10 new stores and recruitment of 250 additional staff.
The stores in Somerset, Wiltshire, Dorset, Devon and Cornwall will add to the 300 it already has in the region, where it employs 5,000 staff.
"New stores, more jobs, innovative partnerships with local suppliers and a £125m investment nationally in lowering the price of everyday essentials is great news for customers and communities across the South West and beyond," commented The Co-op Group CEO Richard Pennycook. "It's a positive sign that we are getting on with the job of rebuilding the Co-op for our members."
Matthew Speight, managing director for The Co-op in Wales, is leading the charge across the border.
"The Co-op has a proud heritage stretching back over 150 years, and is building momentum for the future," Speight said. "Our aim is for each store to be at the heart of its community - we are investing in our people, products, in lower prices, and in making a difference in local communities."
Stores in Llanrwst, Penrhiwceiber and Tynant were the first to relaunch in 2016 after major makeovers, while the first new store should open next month in Tenby.
Speight said The Co-op's mission to transform its customers' shopping experience included taking on more than 350 new staff members to ensure stores delivered "consistently great" service even at the busiest times.
"Consumer shopping habits are changing, shoppers are moving away from doing one big shop to buying what they need when they need it, conveniently.
"With a store in every postal area, in the heart of communities, The Co-op is uniquely placed and industry data is showing that our strategy is taking us in the right direction."
Speight's appointment just over a year ago followed senior roles with other big retailers including Aldi, where he was a regional finance and administration director, and Tesco Express where he was an operations director.
In addition to improving stores, he is now driving The Co-op's support for Welsh businesses with the appointment of Simon Dryell as ranging manager for Wales.
Dryell has already given contracts to Welsh businesses including Penderyn Whisky, Village Dairy, Krunchie Foods, Edwards of Conwy and Conwy Brewery. The Welsh food industry was further supported around St David's Day, with resulting sales of Welsh produce soaring by 55% year on year.
It is tailoring the products each store stocks to what is available locally and working with smaller suppliers to resolve logistics problems that have blocked their supply routes to The Co-op stores in the past.
It hopes to boost its community credentials further when it appoints its 75th in-store community pioneer later this year to foster involvement in community life, working with The Co-op members, schools, volunteers and charities.
Last year, The Co-op trialled its price investment strategy in Wales when it cut the prices of hundreds of fresh fruit & veg lines and introduced its 'fresh three' promotion. It was then rolled out UK-wide, resulting last week in the society announcing a multimillion-pound investment to lower the price of more than 200 lines of its own-label British meat and poultry.
Its annualised investment in lowering prices is due to top £200m, with reduced prices on more than 1,000 lines by the end of the year.
According to latest figures from Kantar Worldpanel on 8 March, The Co-op is the fastest-growing non-discounter food store.
It has grown its Loved by Us and Truly Irresistible own-label sales by 7%, with sales of fresh and chilled produce growing fastest. It was also confirmed as the most frequently visited major supermarket.