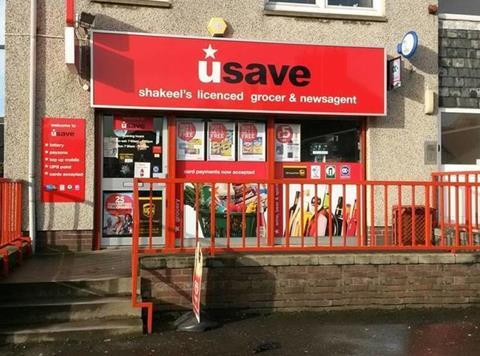 United Wholesale Scotland is set to open the 200th store trading under its U Save fascia.
Launched in April last year, U Save is an entry-level symbol aimed at Scottish CTN retailers with a small store footprint. Store numbers have risen rapidly over the past 10 months and the group will hit the 200 mark this month.
The business also operates 300 Day-Today and Day-Today Express convenience stores between Stirling and Dumfries and three cash & carry depots.
"Day-Today has three tiers: top end, large convenience store and the smaller express store. We were rejecting 70% of the retailers applying for the Day-Today symbol because they couldn't meet the criteria," United Wholesale Scotland MD Asim Sarwar told The Grocer.
"Either they didn't have the money, their shop wasn't big enough or they had another Day-Today in the area. We needed to come up with something they could fit into."
Membership is free for the U Save fascia and terms include adhering to high store standards and a 70% purchase agreement.
United also plans to expand its current ambient distribution service to carry chilled, fresh and frozen produce to its symbol retailers.
Investing just under £1m in the project, United is currently trialling deliveries using multi-temperature vehicles with nine of its symbol customers and aims to go live with the service in March.
"It's the last piece of the jigsaw for us because we're a pretty fully blown symbol operation," said Sarwar. "We were previously relying on Nisa and Kerry Foods to deliver fresh and chilled on our behalf but none of the customers were happy with the £100 charge Nisa has brought in and a lot of the others can be quite expensive."
United bought M9 Cash and Carry last year, which it added to its two existing depots, and will open its fourth site this year. The 68,000 sq ft site in Newbridge is set to open in August and will be the group's first depot in Edinburgh.