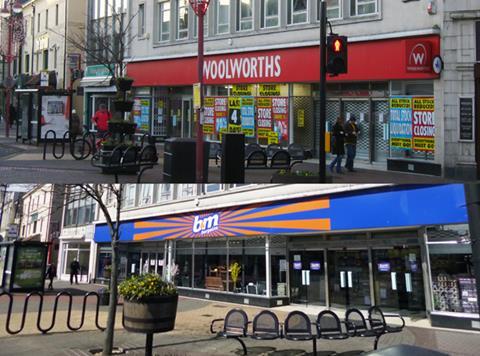 Almost without exception the vacant Woolworth lots have been filled. Only six of the 807 remain empty. And one sector in particular has piled in.
Woolworths stores: under new management
93: Poundland (including Dealz)
69: Iceland
60: 99p Stores
54: B&M Bargains/B&M Home Store
32: The Original Factory Shop
25: Tesco
25: Heron Foods
24: Home Bargains
23: Poundstretcher
23: Wilkinson
"Woolworths' demise gave enormous impetus to the growth of Poundland, 99p Stores and other discounters," says retail analyst and Woolies aficionado Graham Soult. "Partly in terms of filling a gap in the market, but Woolworths' collapse also freed up space that had been occupied for many decades. There were many smaller towns where big and prominent enough units for the likes of Poundland, B&M or Home Bargains simply weren't available."
The winning combination has allowed many discounters to expand from their heartlands into new territories, with B&M Bargains aggressively pushing into the South and Wilkinson making inroads in Scotland and the South West where it hardly had any presence before, says Soult.Soult also believes the prominent locations offered up by the death of Woolworths helped close the "credibility gap" in the eyes of shoppers who may have once viewed pound shops with snobbery and suspicion.
But of all the discounters, Soult believes Poundland is the business that has most benefited from Woolworths' demise.
Poundland is the biggest occupant of ex-Woolworths locations, having snapped up 93 sites - more than 10% of the total available. Ex-Woolworths stores make up 19% of its 500-strong store estate.
To put it another way, since 2008, Poundland has more than doubled in size, opening 300 stores, and almost one in three were in ex-Woolies premises.
It's now set for a £750m flotation in March.
"Poundland was already growing and doing well before Woolworths disappeared, but I suspect we wouldn't have been looking at the company floating quite this soon if Woolworths had still been around," suggests Soult.