A blend of innovation and tradition complete the Waitrose Christmas range this year, with a vast array of its selection featuring modern twists on traditional Yuletide treats and dishes. It has also boosted several seasonal vegan and gluten-free lines and has chosen a bitter orange and juniper combination as a signature flavour across several products. Here's our pick of what you can expect this year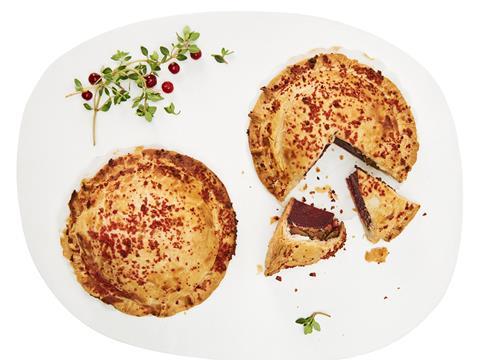 Beet Wellington
RSP: £7/2
A modern take on a classic, these pies tap into the ever-increasing vegan, vegetarian and flexitarian market. They contain marinated beetroot with a rich mushroom duxelle, and are encased in vegan puff pastry and garnished with striking beetroot breadcrumbs.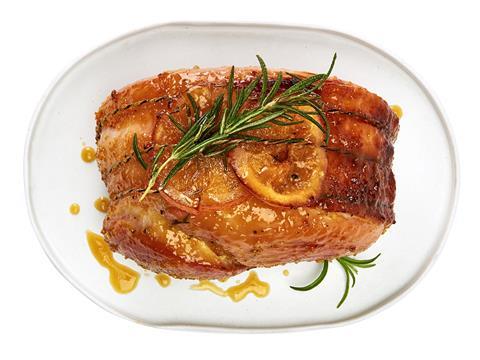 Juniper Smoked Gammon with Bitter Orange and Juniper Glaze
RSP: £12.99/kg
Part of the range from Waitrose's executive chef Jonathan Moore, this dish is a succulent main for a Christmas dinner with a wonderful blend of bitter orange and juniper glazed over it. "This exquisite and unique pairing will bring a modern and festive twist to an array of dishes at Waitrose this Christmas," said Moore of the flavour pairing.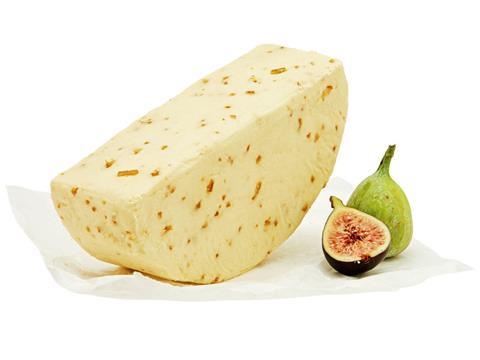 Yorkshire Wensleydale with Caramelised Orange and Gin
RSP: £13/kg
The signature flavour combination appearing again, this zesty cheese is an innovative addition to a cheeseboard with its warm blend of sweet, pungent orange and a subtle dash of tart gin.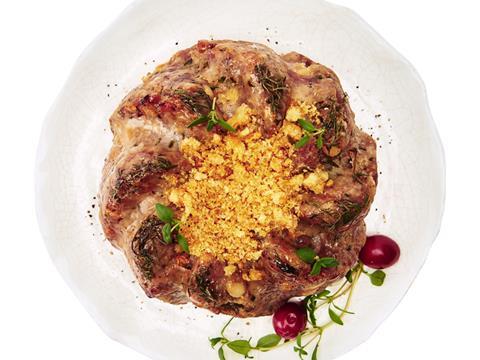 Heston from Waitrose Christmas Stuffing Bundt
RSP: £9.99/475g
Topped with an apple and brandy drizzle and pork crackling crumb, this stuffing screams luxury. It features British oak-smoked pork, bacon mead, pine nut and brioche sausage meat, and bursts with chunky pieces of apple.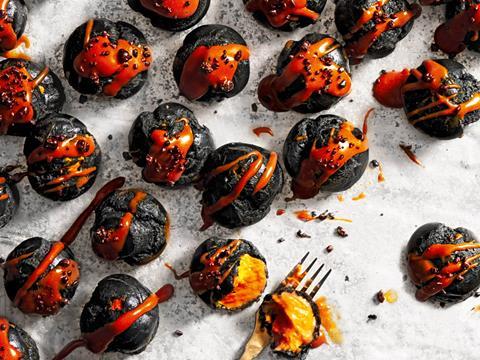 Heston from Waitrose Profiter'coals
RSP: £13/500g
The charcoal trend has made its way to dessert, and is the most striking of Waitrose's selection. This dessert has been created to give the illusion of glowing embers on a chilly winter evening through black profiteroles filled with a flame-coloured mandarin orange crème pâtissière. It is also drizzled with a warmed smoked orange caramel sauce and dusted with popping candy.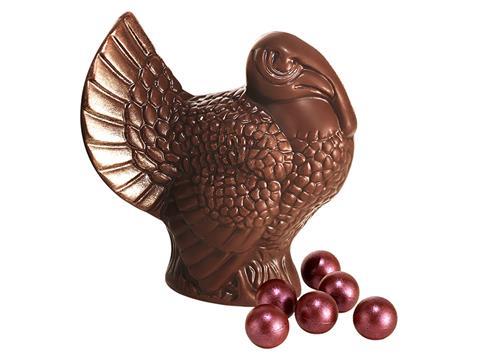 Bronze Feathered Chocolate Turkey with Cranberry Truffles
RSP: £8
Designed for children and adults to enjoy together, this chocolate treat boasts luxurious milk chocolate with tangy cranberry truffles forming the turkey's eggs. Waitrose has launched this as a gift or something a little different for dessert.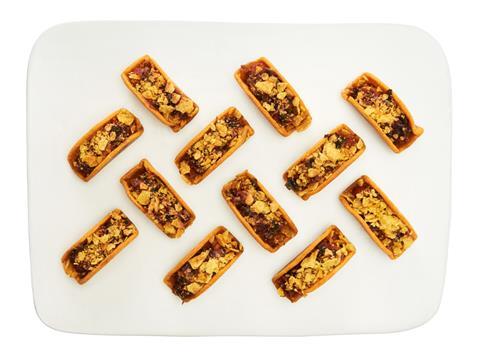 Pulled Jackfruit Tacos
RSP: £7/12
These sweet and smoky starters are a vegan take on the taco, and offer something a little different for vegan and carnivore Christmas party-goers alike. The pulled jackfruit has the consistency of pulled pork, is blended with black-eyed beans and garnished with pickled onions and tortilla crumbs.
Read more Christmas 2018 range previews