Christmas lunch can be gluten-free (and delicious) too...
This article is part of our digital feature on free-from.
A plump and juicy, well-stuffed turkey, roast potatoes and all the trimmings: Christmas dinner is arguably the most important meal of the entire year. But, for those avoiding gluten it can be a hard one to swallow. After all, festive favourites are often laden with the very ingredient they are trying to avoid.
Until now…
"For Coeliacs and gluten-free lifestyles, consumers will be delighted to hear that a traditional Christmas dinner with all the trimmings is not off the menu," says Sam Benjamin, brand manager for No G."As with all poultry, meats and fish, turkey is naturally gluten free, as are fresh vegetables. Stuffing, gravy and sauces can all be made or bought gluten free, and taste just as delicious."
Retailers are catching on and increasing their ranges of gluten-free seasonal products. But Benjamin says there is still work to be done. 
"With the increased availability of gluten-free products, we are seeing greater expectation for the best flavours and choice. There are many great gluten-free alternatives out there in the market," he says. "The retailers need to recognise this is an area which is growing rapidly and that the customers need to be provided with high-quality gluten-free products. There is an industry move towards gluten free but it has been a slow one."
Looking at future opportunities, he believes tapping into occasions prior to the big day could provide a sales boost."I'd love to see more canapé options for Christmas. We have a huge amount of feedback from our customers around this time of year, as they attend office parties, family gatherings, carol-singing etc, all of which have lovely buffet-style treats, none of which are gluten free. It's something we've been challenged to work on, too. It would give a real seasonal boost at a time of year when sales can be a bit slower as lifestyles change and people become more lenient with their diets."
To ensure those sticking to their gluten-free diets can join in the festivities, No G has created a gloriously gluten-free Christmas menu.
Dive in here…
STARTERS
Mini gluten-free Stilton soufflés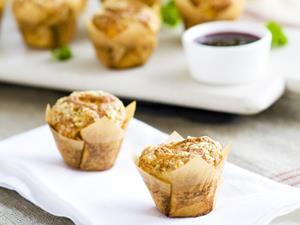 24 servings
Step 1 – soufflé base
40g unsalted butter
40g rice flour
310ml milk
150g grated Stilton cheese
1 tsp Dijon mustard
Pinch of cracked black pepper
1. Melt the butter in a pan on a low heat.
2. Add the flour and gently cook for 2 minutes.
3. Add the milk and whisk for 5 minutes until you have a smooth paste.
4. Add 100g of the Stilton, mustard, salt and pepper and continue to whisk until all ingredients are incorporated.
5. Remove from the heat and allow to cool for 30 minutes.
Step 2
10 large egg whites
Pinch of salt
1. Crack the eggs into a bowl and separate the whites from the yolk.
2. Discard the yolks and add the egg whites and salt to a stand mixer.
3. Whisk on a moderate speed until stiff peaks form.
Step 3
1. Preheat the oven to 180°C.
2. Mix the base mixture with the half of the whipped egg whites and stir well. Then fold through the remaining egg whites.
3. Transfer this mixture to a piping bag and fill 24 mini paper cases. Aim for 20g per case.
4. Sprinkle each with the remaining Stilton.
5. Bake in the oven for 25 minutes and leave to stand for 10 minutes before serving.
6. To serve, try watering down some cranberry jelly for a lovely sweet drizzle.
Gluten free thyme and bacon scotch egg
Makes 10 scotch eggs
Full ingredients list:
500g minced pork, 10%-20% fat
40g rice flour
2 tsp salt
½ tsp black pepper
½ tsp mixed spice
1 red onion
1 tbsp vegetable oil
1 small sprig of thyme
300g smoked bacon lardons, cooked
1 large tbsp honey
20g dried gluten free breadcrumbs
Splash of water
12 medium eggs
100ml milk
80g plain gluten free flour
Rice flour for dusting
Breadcrumbs
Step 1
500g minced pork, 10%-20% fat
40g rice flour
2 tsp salt
½ tsp black pepper
½ tsp mixed spice
1. Place all the ingredients into a food processor.
2. Blitz until you form a sticky paste.
Step 2
1 red onion
1 tbsp vegetable oil
1 small sprig of thyme
300g raw smoked bacon
1. Chop the onion into small chunks.
2. In a frying pan, sweat down the onion and thyme until soft.
3. In a separate pan, cook the lardons until crisp, and pour off the excess oil.
Step 3
30g honey
20g dried gluten-free breadcrumbs
40ml water
10 medium eggs
1. Mix the mince meat paste, lardons and onions into a bowl. Then add the breadcrumbs and water and stir until the ingredients are evenly mixed.
2. Place the mixture into the fridge and allow it to firm up for an hour.
3. While you wait, soft boil 10 eggs - cook for seven minutes in boiling water and then submerge in ice water.
4. Peel the eggs and set aside.
Step 4
2 medium eggs
100ml milk
80g gluten free flour
Rice flour for dusting
Breadcrumbs
1. Make a simple batter by whisking the eggs, milk and flour together.
2. Take one egg and dust in rice flour, then take around 90g of the meat and form a ball around the egg, making sure there are no gaps.
3. Roll the ball in the batter mix and breadcrumbs.
4. Fry for 7 minutes and serve.