This article is part of our 2016 Soft Drinks Digital Feature.
George Osborne's sugar tax is the icing on the cake for bottled water. With the soft drinks market reeling from the levy high-sugar players are set to face as a result of the Budget announcement, the move could well fuel further growth for soft drinks' champion category.
Sales are already overflowing with all of the top 10 plain water brands in value and volume growth as shoppers ditch sugar-laden soft drinks in favour of something more natural.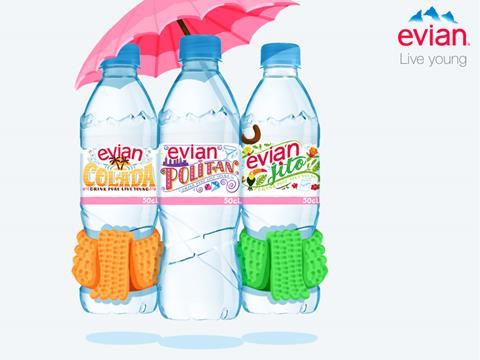 Demand for tasty alternatives to calorie-packed carbonates has led to a boom in flavoured water, blurring the boundaries between soft drinks and water to create whole new categories, such as water with added, functional benefits.
"The debate on sugar is being reflected in consumer behaviour as shoppers switch into categories they perceive as healthier," says John Letford, head of category development at Danone Waters. "The younger age segments are particularly engaged with bottled water and we've seen a significant shift in the water share of beverage consumption."
Evian remains the bestselling plain water brand with value sales up 3% to £144.5m on volumes up 3.1% [IRI 52 w/e 30 January 2016], but it's the plain sparkling water brands that are achieving the greatest gains. San Pellegrino and Badoit are both enjoying double-digit growth because shoppers who have switched from sugary soft drinks are prepared to pay more for drinks with less sugar than they have been in the past.
Value sales of Nestlé's San Pellegrino brand, which at £1.25 per litre sells for more than twice the market average, are up 17.9% to £25.5m on volumes up 19.5%. Meanwhile value sales of Badoit, which is owned by Danone Waters, are up 20.9% to £5.4m on volumes up 20.6%, thanks to NPD including the 'fizzier' Badoit Rouge variant.
Double-digit growth can also be seen across flavoured water, which is dominated by Danone Waters, thanks to a raft of NPD from its Volvic Touch of Fruit and Juiced lines.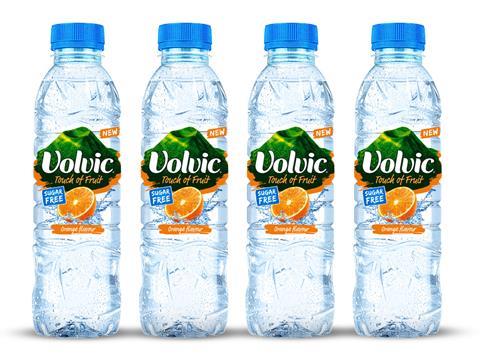 The company entered the flavoured sparkling water category for the first time in 2015, reinstated a tropical fruits flavour under its Touch of Fruit brand, and added a third sugar-free variant to the range. It also added three new flavours to its Volvic Juiced range.
To tie all the activity together Volvic is making its first foray into TV sponsorship in 2016 with a 'megabrand' campaign on Channel 4 running from March to December – Volvic's largest campaign to date.
Volvic's plain, Touch of Fruit and Juiced water lines are sponsoring Unstoppable Moments on 4 including a new Guy Martin series, The Island with Bear Grylls and reality survival series Eden. The deal also includes E4 shows such as How I Met Your Mother, The Inbetweeners, new episodes of The Goldbergs and 2 Broke Girls.
In light of March's Budget announcement, which gives soft drinks players two years to prepare for the sugar tax, Volvic's campaign couldn't have come at a better time.
In association with: