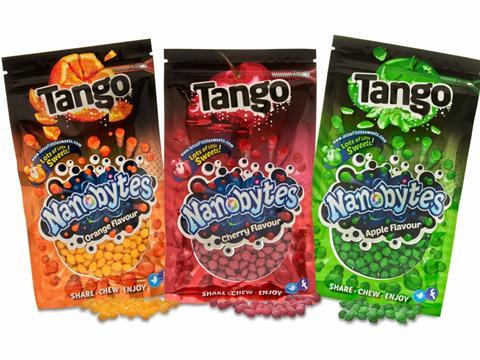 Top story
Licensed confectionery manufacturer Bon Bon Buddies has agreed a rescue plan with creditors after a "sustained decline in support from retailers" and Brexit-related cost increases resulted in mounting debts.

The struggling Welsh sweet maker confirmed a Company Voluntary Arrangement with creditors last month to ease debt repayment as part of a turnaround plan. It has hired insolvency specialists KSA Group.

"The fall of the pound after the Brexit vote saw our costs rise by 22% overnight, while changes in the retail sector have led to the most challenging trading conditions in our 25-year history," said chairman Chris Howarth.

"This has been compounded by a sustained decline in support for licensed character confectionery from UK and European retailers.

"These conditions led the board to carrying out a complete restructure of the business and our creditors agreeing to a CVA, which has resulted in the business executing a turnaround plan."

The CVA deal was approved by 95% of company creditors, including largest licensee The Walt Disney Company.
Bon Bon Buddies slumped to a £47k pre-tax loss in the year ended April 2017, down from a £2m profit the previous year. The supplier saw sales slip 8% to £40.8m.
In 2016, the confectioner had seen sales surge 13% on the back of rapid international growth, including new distribution models in the Nordics and Germany, while pre-tax profits doubled.
Find the full story on The Grocer's finance page later this morning
Morning update
The crisis on UK high streets is set to "intensify" as store openings failed to match closed retailers, a new report says.
UK shops closed at a rate of 14 a day in the first half of the year, according to analysis of 500 high streets by accountancy specialist PwC and the Local Data Company.
The data revealed that shops continue to close at a must faster rate than store openings in a period which saw a number of household names collapse or seek emergency rescue deals.
A record low of new stores, 1,569, opened in the period, the report said, because of plunging confidence, while closures rose to 2,692 between January and June 2018.
Shoppers witnessed recognisable retailers Poundworld, Maplin and Toys R Us all collapse during the period.
The study concluded that the half-year was the worst for town centres in the past five years.
The year to date has proved tough for retailers battling rising costs, including rents, business rates and increases in the national living wage.
Last week, Chancellor Philip Hammond announced a £1.5bn package aimed to support the high street with business rates relief for small retailers and town centre infrastructure spending.
Lisa Hooker, consumer markets leader at PwC, said: "The continued rate of store closures reflects the new reality of that many of us prefer to shop online and increasingly eat, drink and entertain at home.
"The high street is adapting to an overcapacity in retail and leisure space resulting from these channel shifts."
The FTSE 100 has dropped this morning, falling 0.6% to 7,097pts, as markets reacted to the Federal Reserve's decision not to change interest rates.
Early risers this morning include Greene King (GNK), up 2.2% to 507.2p, Sainsbury's (SBRY), up 1% to 327.2p and Domino's Pizza Group (DOM), up 0.9% to 299.8p.
The fallers today include Devro (DVO), down 3.3% to 163.4p, PayPoint (PAY), down 2.6% to 784p, and Smurfit Kappa Group (SKG), down 2.5% to 2,404p.
Yesterday in the city
The FTSE 100 followed a number of other European markets, to edge up slightly, increasing by a modest 0.3% to 7,140p.
Ahead of its proposed mega-merger with Asda, Sainsbury's (SBRY) recorded a 20% rise in underlying profit, driving a 1.5%jump in share price to 324p.
Group sales rose from £14.6bn to £15.1bn in the period – a rise of 3.5%.
The top performer was Coca Cola HBC, which fizzed to a 5.1% rise to 2,376p, after reporting 4.5% sales growth, ahead of consensus.
Sucralose producer Tate & Lyle (TATE) rose 0.9% to 692.6p after it posted a small increase in adjusted profit before tax despite falling sales in the first half of the year.
Other risers included Wincanton (WIN), up 4.6% to 225.5p, JD Wetherspoon (JDW), up 4.3% to 1,187p, Fevertree Drinks (FEVR), up 4% to 2,955p and Marks and Spencer (MKS), up 3.8% to 312.3p.
The fallers included Treatt (TET), down 3.5% to 444p, Smurfit Kappa Group (SKG), down 1.8% to 2,466p, and Gusbourne (GUS), down 1.8% to 81p.