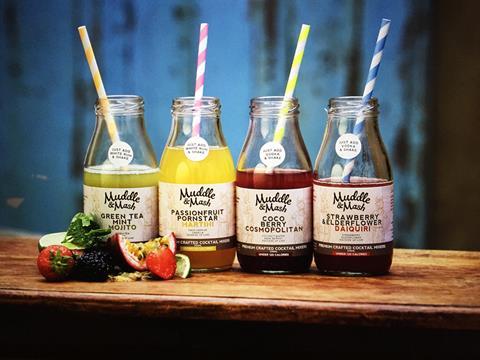 Two UK drinks brands, mixer supplier Muddle & Mash and craft distributor London Cellar, have collapsed.

High-end cocktail mixer manufacturer Muddle & Mash has closed its doors after profitability steeply declined, while 15 jobs have been saved by a rescue deal at London Cellar after it was forced to call in administrators.

Muddle & Mash ceased trading before Christmas after it decided its contracts were not sufficient for the company to continue and production costs increased. The company "boiled down" but hoped it might be able to start up again following discussions with Asda, before the sugar tax earlier this year was the "nail in the coffin", the administrator said.

Muddle & Mash was created by Claire Nuttall, founder of The Brand Incubator, and 2015 Top New Talent award winner Louise Lloyd, founder of Popcorn PR, as a premium alternative to cocktail mixers such as Funkin'.

The mixers contained only fruit and natural flavourings, and were designed for spirits to be added, allowing the drink to be shaken and drunk from the bottle.

According to Brand View, the supplier had two products - a Berry Coco Cosmopolitan 750ml mixer and a mint tea mojito 750ml mixer - listed in Tesco until December 2016. The company hired Edwin Kirker of Kirker & Co as a liquidator on 29 June 2018.

The administrator said the company had discussions with Asda prior to Christmas last year, but decided to fold after these failed to materialise.

"The main issue was there wasn't enough business to account for high production costs, coupled with the sugar act - the sugar act was the final nail in the coffin. It gradually boiled down last year. It didn't come to an abrupt halt," commented Kirker.

"They did think they might have been able to get going again around about Christmas time because there was a potential order from Asda which didn't materialise. And then when the sugar act kicked off on April 1 that was the end of it."

London Cellar hired MacIntyre Hudson as administrators on 29 June and subsequently liquidated the company.

However, a rescue deal will now see the company focus operations on storage and delivery after its wholesale business failed to uphold a major contract. The staff and assets were purchased by Storage and Porterage, now trading as London Cellar. The new company is no longer operating with a wholesale model, instead focusing on storage and delivery.

The previous owners "made a very bad decision" on a wholesale deal "which they could not service" and left the original business unable to continue, said London Cellar's operations director, Adam Simmons.

"We are Storage and Porterage Ltd trading as London Cellar. We've taken over the business to basically save everybody's jobs and to continue delivering and distributing everyone's products around London," he said.

"Our model is no longer wholesale - we don't use that term. We are just storage and portage and we help small, medium and large businesses fulfil distribution around London and the South East."

London Cellar works with clients nationwide, including Weston's cider, Sambrook's Brewery and Porterhouse Brewing Company, to distribute in London.