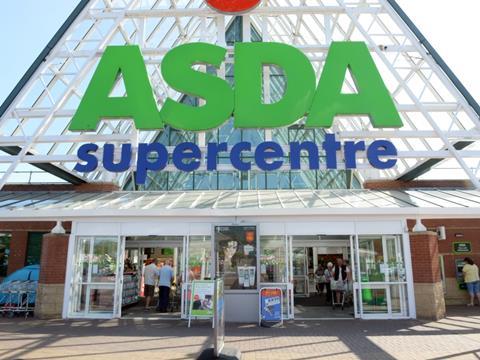 Asda's like-for-like sales grew 0.5% in the 10 weeks ending 30 June, it revealed today.
The result was an improvement on Q1, when Asda's like-for-like sales were flat, up just 0.1%, with total sales up 1.3%.
"I've been in this business for too long to measure success by quarters and we remain on a long-term journey"

Andy Clarke, Asda
The retailer today credited its Everyday Low Prices strategy for delivering sales growth, adding that click & collect had helped drive online orders.
"I am pleased with our performance in the quarter and our business has shown that it is well positioned to meet the demands of a challenging market," said Asda CEO and president Andy Clarke. "However, I've been in this business for too long to measure success by quarters and we remain on a long-term journey.
"Innovation, low prices and customer service remain at the heart of our business and over the coming months and years we will continue to implement and build on this successful strategy as we constantly look at new and improved ways to run our business."
In November, Asda unveiled a five-year plan based around a £1bn investment in lower prices, alongside improvements in the design and style of its stores.
Asda has weathered the storm pummelling the grocery sector slightly better than some of its rivals. Its market share held steady in the 12 weeks to 20 July at 17%, according to recent Kantar Worldpanel figures, while its sales were up 0.9%. Of its big-four competitors, only Sainsbury's fared better, growing sales 1.2% in the same period.
Restructuring
In July, Asda announced 1,360 redundancies among in-store management staff, following a 45-day consultation in which 4,100 posts were put under review. As part of the restructuring, Asda created 4,008 section leader posts – more junior roles than the section manager roles they are designed to replace.
Speaking today, Clarke described the restructuring as one of the "most difficult decisions of my career", but said the process would result in an additional 600 roles being created.
Store estate
Asda opened three new superstores and two supermarkets during the second quarter, with Clarke expressing confidence in the future of large store formats. The retailer will open three new stores in the third quarter, and is targeting 86 store remodels and 87 refurbishments in 2015.
Meanwhile it is pressing ahead with its commitment to click & collect, which Asda said now accounted for 10% of all online orders and was used by 20,000 customers a week. Extended collection hours on Sundays helped drive a 20% uplift on the day's orders, Asda said, and it expected click & collect to account for 30% of online orders within five years.
Walmart results
Asda's parent company Walmart today announced total sales excluding fuel up 2.8% to $119.3bn (£71.5bn). Walmart US total sales (excl fuel) rose 2.7% to $70.6bn, while Walmart International sales were up 3.1% to $33.9bn. However like-for-like sales (excluding fuel) at Walmart US were flat in the 13 weeks to 1 August.