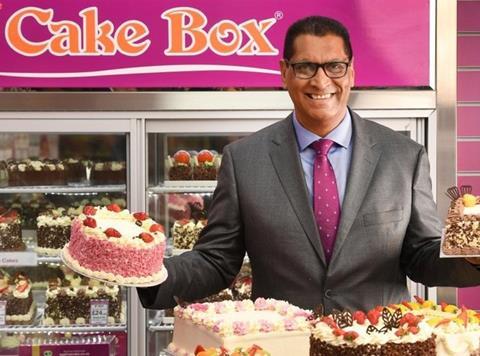 Top story
Cream cake retailer Cake Box saw adjusted profits surge 34% in its first half-year results since launching its IPO on the AIM market in June.
The egg-free cake brand, which pocketed £17m with its launch on the index in the summer saw sales jump 44% to £8.3m for the six months ended 30 September 2018, compared to the previous year.
Sales grew on the back of 15 franchisee openings over the period, the company said
EBITDA and adjusted pre-tax profits each grew 34%, with profits rising to £1.9m. This was driven by margin improvements, the company said, as new ovens installed over the period helped to provide better yields.
However, like-for-like sales growth in franchisee stores slowed dramtically to 4.4% from 9% in the previous year.
After the raft of new openings, the retailer now has a 101-store portfolio, with a "strong pipeline of franchisee openings in the second half".
Online sales also surged 86% to £2m over the period, as overall franchisee turnover rose to £14.1m, from £10.9m in the previous year.
"I am pleased to report a strong performance since our IPO on AIM in the summer. These results reflect the robust growth opportunity presented by our franchisee store roll-out strategy," commented non-executive chairman Neil Sachdev.
"I look forward to further progress in the remainder of our financial year. We celebrate 10 years of Cake Box with our staff and franchisees in 2019."
Cake Box CEO Sukh Chamdal added that outlook remained bright on the back of an "encouraging" start to the current half-year period.
He said: "Our performance during the first eight weeks of the second half has been encouraging and we have already opened four new stores.
"The Group is well placed for further progress and the Board remains confident of another successful year of growth.
"It's very exciting to be announcing our first set of results as a public company. The Cake Box brand has continued to go from strength to strength and we have made good progress since floatation with our strategic priorities of growing our store estate, investing further in our new products and developing our digital marketing."
Morning update
Convenience food group Greencore (GNC) has completed the sale of its entire US business to American contract manufacturer Hearthside Food Solutions for £817m.
In a trading update, the supplier confirmed that the deal, announced on 15 October, was completed yesterday (25 November).
Greencore was criticised for the move, after it exited North America less than two years after committing to the region with the £594m acquisition of Peacock Foods.
It said the proceeds of the deal will be used to strengthen its balance sheet and plans to declare a special dividend of 72p per share.
The sale came after Greencore was forced to restructure its US arm after poor performance in the area led to the company posting a profit warning in March 2018.
AIM-listed restaurant discount company BigDish has responded after its value halved over the past two months to 2p.
The company's CEO Joost Boer said that the business had seen the share price change after "thin volumes".
"We note the recent share price volatility on the back of thin volumes but believe the overhang in the market has now been removed and we look forward to future positive market updates," commented Boer.
The EU's positive response to Theresa May's deal yesterday has helped to spark an upturn in the FTSE 100, which has jumped 1.1% to 7,027pts in early trading.
The early risers include Fevertree Drinks (FEVR), up 2.1% to 2,500p, Hotel Chocolat Group (HOTC), up 1.7% to 320p, and Domino's Pizza Group (DOM), up 1.3% to 270.7p.
The early fallers include Restaurant Group (TRG), down 1.2% to 232p, Imperial Brands (IMB), down 1.1% to 2,439p and British American Tobacco (BATS), down 1% to 2,703p.
This week in the city
A number of UK-listed suppliers are set to update investors over the coming week, as people hope for greater clarity over Brexit.
Tomorrow, meat giant Cranswick (CWK) will issue its interim figures, with surging international growth expected to continue to bolster its sales.
The same day, ingredient supplier Treatt (TET) will report its full-year figures. Last month it said it was performing in line with full-year profit targets.
The monthly BRC shop price index will be issued on Wednesday, to show changes prior to Christmas.
On Thursday, Robinson's maker Britvic (BVIC) is expected to see a still rather than fizzing performance as it issues its full-year results.
The same day, Hotel Chocolat (HOTC) will update investors at its Annual General Meeting.
Pub owner and brewer Greene King and payment service business PayPoint (PAY) will both also release their interim figures on Thursday.
Friday is a particularly quiet day with no major results announcements in the sector, in the UK or overseas.