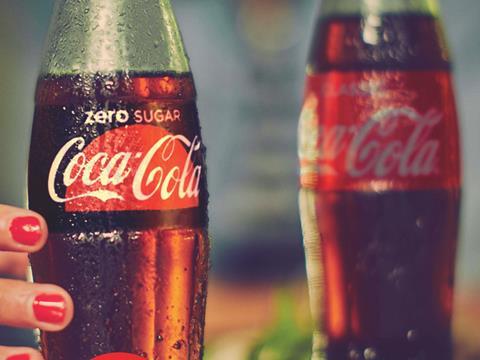 Top story
Coca-Cola European Partners (CCE) will today tell investors that revenue is growth for the year is expected to be in the "low-single digits" but that the recent UK soft drinks levy will add 4% to its costs.
At the Deutsche Bank Global Consumer Conference in Paris, the company will affirm its growth prediction for the 2018 financial year.
The bottling company and distributor for Coca-Cola said operating profit and earnings per share will both record growth between 6% and 7%.
These figures are comparable to its annual results from 2017, the company said.
It however added that current revenue guidance of low-double digit growth "excludes the impact of incremental soft drink taxes" introduced on 6 April this year.
The tax, which affects sugary soft drinks, is expected to add approximately "2% to 3% to revenue growth" but will also add around 4% to growth in costs.
Despite Brexit related currency fluctuations, the company added that exchange rates are expected to have only a "negligible effect on earnings per share for the year.
Chief executive officer Damian Gammell and chief financial officer Nik Jhangiani will deliver the update early this afternoon.
CCEP will affirm full-year 2018 guidance including revenue growth in a low single-digit range, with both operating profit and earnings per share growth of between 6 percent and 7 percent.
"Each of these growth figures is on a comparable and fx-neutral basis when compared to 2017 comparable results.
"This revenue growth guidance excludes the accounting impact of incremental soft drinks industry taxes. These taxes are expected to add approximately 2 percent to 3 percent to revenue growth and approximately 4 percent to cost of goods growth.
"At recent rates, currency translation would have a negligible impact on 2018 full-year diluted earnings per share."
Morning update
Deliveroo announced plans yesterday evening to rapidly expand across the UK, increasing its restaurant numbers by around 50%.
The move, set to pit the delivery service against Just Eat, will see 5,000 more restaurants added to the service in the UK by the end of the year.
Deliveroo is expanding through starting to partner with restaurant which use their own delivery fleets. Previously the company had only listed restaurant which utilised the company's 15,000 strong team of couriers.
The company said its also plans to offer these restaurants use of its couriers and expects to increase recruitment for its delivery team as a result.
It will "dramatically extend" its reach across the UK with the change in strategy, it said, utilising company's own delivery services similarly to Just Eat.
Just Eat itself has seen a strong period of growth, increasing sales by 49% for the first quarter of 2018, buoyed by its acquisition of Hungry House in January.
Deliveroo founder and chief executive Will Shu said: "We are giving restaurants with their own fleets of riders the chance to be on our platform and to use our rider network whenever they need it.
"This is a major development for the company that will mean thousands of new restaurants delivering new orders to new customers and it's part of our mission to become the definitive food company."
Deliveroo's new initiative called, Marketplace+, will launch in July.
More than 133,000 businesses are still waiting for an appeal of their business rates valuation from 2010 to be resolved, it has been revealed.
More than 1 million businesses have challenged their business rates bill since 2010, with figures this month from the Local Government Association show more than 10% are unresolved.
The LGA said councils have been forced to divert £2.5 billion away from local services over the past five years to cover the risk of business rates appeals.
Calls have been made for a review into the process for appeals ahead of a Westminster Hall debate on the issue today.
"Ongoing delays in tackling business rate appeals from 2010 are heaping further financial uncertainty and pressure on our local services at a time when every penny counts," said Cllr John Fuller, vice chairman of the LGA's resources board.
The FTSE 100 has taken an early dip, falling 0.25% to 7,684pts, ahead of the UK inflation announcement at 9.30am today.
This morning's early risers include Premier Foods (PFD), up 1% to 39.6p, Greencore (GNC) up 0.9% to 186.7p and AG Barr (BAG), up 0.7% to 682.8p.
This morning's fallers include Just Eat (JE), down 6.1% to 798.2p as it gets hit by Deliveroo's growth plans, Dominos Pizza Group, down 1.7% to 355% and Tate & Lyle (TATE), down 0.9% to 664.2p.
Yesterday in the city
The FTSE 100 fell back by 0.4% yesterday to 7,703p after it was pulled down by losses in the oil and housebuilding sectors.
Marks & Spencer (MKS) had a positive day, moving up 2.2% to 304.3p after a tough fortnight.
Yesterday's other risers included CARR's Group (CARR), which went up 2% to 149.5p, Majestic Wine (WINE) up 1.3% to 453.5p ahead of its annual results on Thursday, and Hotel Chocolat Group (HOTC), up 1.3% to 395p.
Ocado (OCDO) had a rare fall following another strong jump at the start of this week when it saw broker upgrades, yesterday dropping back 4.1% to 1,065p.
Other fallers over the day included McBride (MCB), down 4.1% to 135.2p, Wincanton down 3.4% to 264.5p and British American Tobacco (BATS), which fell 1.8% following a trading update.