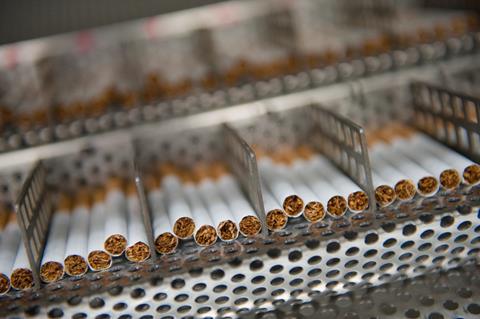 Top story
British American Tobacco (BATS) said its first half-year trading was in line with expectations but warned that currency exchange rates would inhibit growth.
The global tobacco giant added that adjusted revenue and profit growth is set to be weighted to the second half of the year, as a result of items affecting comparisons with 2017's first-half.
Exchange rates would decrease earnings per share by 9% for the half, and 6% for the year, said the company in its trading update.
The Dunhill cigarette maker made the statement in the run up to its first-half results announcement on 26 July.
The business is "performing well" and "in line with expectations", with figures expected to be skewed towards the second half of the year, it said.
Global volume is expected to fall 3.5% for the year across the industry, it said, affirming that company is outperforming industry competitors.
BAT "anticipates good performance in the US", and highlighted strong volume growth in Pakistan. Bangladesh, Romania, Canada and Germany remain strong, but sales conditions are challenging in Russia, South Africa, Malaysia and France, it said.
The company also highlighted the growth of its heating tobacco product Glo in Japan, despite a slowdown in the category nationally. It is also on track for further Japanese and international rollouts this year. In vaping, the company "continues to grow" and will launch the Vype ePen3 in the UK in Q3.
"The business continues to perform well, in line with expectations. As previously announced, adjusted revenue and profit growth, on a representative basis, is expected to be skewed to the second half," the company said in its trading update.
"We expect our market share to continue to grow strongly, driven by the GDBs (Global Drive Brands).
"If exchange rates stayed unchanged for the remainder of the year, there would be an adverse translational impact on operating profit, on a representative basis of 8% for the first half and 6% for the full year.
"Good adjusted constant currency EPS growth, is expected to be impacted by a significant currency translation headwind of around 9% for the first half and 6% for the full year, assuming exchange rates remain unchanged."
Morning update
It was confirmed yesterday that Poundworld has plunged into administration following the collapse of last minute rescue talks, putting around 5,100 jobs at risk.
Talks with potential buyer RCapital collapsed over the weekend and Deloitte has now been appointed as administrators for the stricken discount chain.
The future of the company's 335 stores is up in the air after US private equity owner TPG was unable to find a buyer.
Deloitte, which had been coordinating efforts to find a solvent deal, confirmed that the retailer would continue to trade while a buyer for all or part of the business was sought, with no immediate redundancies or store closures.
"Like many high street retailers, Poundworld has suffered from high product cost inflation, decreasing footfall, weaker consumer confidence and an increasingly competitive discount retail market," a statement from Deloitte read.
The collapse of talks with RCapital came after a potential deal with Alteri Investors, which specialises in challenging retail propositions, fell through last week.
Poundworld lost £17.1m in the year to 31 March 2017, up from £5.4m the year before, following restructuring costs and impairments on fixed assets.
Clare Boardman, joint administrator, said: "The retail trading environment in the UK remains extremely challenging and Poundworld has been seeking to address this through a restructure of its business. Unfortunately, this has not been possible. We still believe a buyer can be found for the business or at least part of it and we are keeping staff appraised of developments as they happen. We thank all employees for their support at this difficult time."
A TPG spokesperson said: "This was a difficult decision for every party involved. We invested in Poundworld because of our belief in how the company serves its customers and the strength of its employees.
"Despite investing resources to strengthen the business, the decline in UK retail and changing consumer behaviour affected Poundworld significantly."
Before the latest developments, 117 stores already faced threat of closure under the terms of a CVA restructuring plan revealed by The Grocer last month.
On the markets this morning, the FTSE 100 has eased after a sharp initial jump in this morning's trading, moving up 0.3% to 7,740pts.
Ocado (OCD) is showing no signs of stopping its good run following broker upgrades yesterday, and has moved up 1.9% to 1,132p. Other rises include Coca-Cola HBC (CCH), up 1.3% to 2,623p, Associated British Foods (ABF), up 1.1% to 2,804p and Marks & Spencer (MKS), up 1% to 300.7p.
Fallers this morning include Tate & Lyle (TATE), down 1.9% to 666p, Domino's Pizza Group, down 2.9% to 373.9p and McBride (MCB), down 0.6% to 140.2p.
Yesterday in the City
The FTSE100 drove up over the day as the weak pound bolstered the blue-chip index, as US stocks made gains throughout the day.
Ocado (OCDO) showed no signs of slowing its rise in value, shooting up 11.1% to 1,111p as broker upgrades by Goldman Sachs and Bernstein Research saw the delivery company's value surpass J Sainsbury's market value.
Marks & Spencer (MKS) also recorded a boost, moving up 2.7% to 297.7p, on the back of a testing couple of weeks.
Other risers from the day's trading include forecourt retailer Applegreen (APGN), up 2.7% to 565p, SSP Group (SSPG), up 2.5% to 671.6p and British American Tobacco (BATS), up 2.5% to 3,746p.
The day was not so positive for convenience retailer McColl's (MCLS), which slid 5% to 228p.
Other fallers from yesterday include Carr's Group (CARR), down 1.7% to 146.5p, PZ Cussons (PZC), down 1.1% to 232.8p ahead of its interim results on Thursday, and Hilton Food Group (HFG), down 1.1% to 910p.