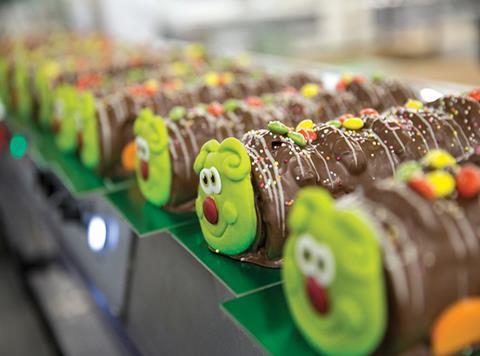 Top story
Finsbury Food Group expects annual sales to be slightly lower than last year, as its second half performance took a hit from the coronavirus pandemic.
The listed bakery manufacturer has guided for revenues in the year ended 27 June to be £306.3m, down from £315.3m last year.
Following a "strong first half performance" the company's revenues rose 4.7% to £159.4m, however, performance in the second half was impacted by the outbreak of the coronavirus pandemic, with sales down 9.8% to £146.9m. Turnover in the group's core division, UK Bakey, was down 2.6% year on year, while overseas sales dropped 4.9%.
The second half sales were a combination of "good momentum and strong trading" in January and February, followed by "significantly weaker trading at the outbreak of the pandemic" in March and "depressed but progressively improving sales" through April, May and June, the company explained.
"The implementation of lockdown effectively meant that demand in the foodservice and food to go sectors, which together accounted for approximately 20% of total Group revenue in FY19, reduced to almost nil overnight before gradually recovering to 39% of prior year levels for Q4," the company added.
"Retail, the largest part of the group, remained relatively resilient albeit impacted by consumer shopping behavioural changes during lockdown. While celebration cakes sales declined, with families having less opportunity to celebrate with family and friends during lockdown, we saw increased demand for certain everyday product ranges, particularly our round cakes and buns and rolls.
"The steady monthly sales improvements we have seen since March have resulted from many individual adaptations. Within retail we have gradually reinstated full product ranges as, initially, some complex products could not be manufactured until social distancing measures were implemented in our bakeries and some products were delisted by customers to prioritise store cupboard essentials. Foodservice and food to go volumes have started to recover following a gradual re-opening of some customer sites."
Initially, the board decided to temporarily close its foodservice buns and rolls business in response to reduced demand. The facility has now reopened in June.
Looking ahead, Finsbury Food expects many of he changing consumer behaviours to endure, especially where they have accelerated pre-existing trends.
Others are "likely to reverse" as the easing of lockdown restrictions sees a measured return to out of home eating, a focus on health and wellbeing products such as artisan, gluten free and vegan, and a return to growth of the 'snacking on the go' trend of recent years.
"That said, demand patterns in the months ahead remain uncertain, particularly in the foodservice channel and the ongoing Brexit uncertainty and we therefore remain unable to provide market guidance at this time," the business added.
"However, barring a significant return to lockdown, the group anticipates a gradual recovery as consumers readjust shopping and consumption behaviours both in and out of home."
Morning update
Carr's, the Agriculture and Engineering Group, has revealed that trading from the 19 weeks ended 11 July remained in line with the company's expectations.
The company continued to trade through the pandemic with "no material financial impact", Carr's said, with its Agriculture division trading ahead of expectations.
In the UK, farmers are maintaining normal livestock operations and a marginally higher demand for feeds, supplements and fuels has enhanced the business revenues. In the USA, lower cattle prices attributable to the coronavirus have adversely impacted sales of supplements.
The Engineering division meanwhile, has been affected by some temporary interruption to nuclear and defence projects during lockdown and by the oil price decline which has led to a reduction in oil and gas investment.
Nonetheless, Carr's decided to deferr its interim dividend to October 2020, when a single interim dividend of 2.25p per share will be paid to shareholders.
"The group remains well placed owing to its strong and diverse businesses, robust financial position and the ongoing demand across the majority of its markets for the provision of essential products and services," Carr's added.
The FTSE 100 started the day up 0.8% at 6,228.57pts.
Early risers saw Marston's open up 4.6% at 48.81p, Naked Wines up 2.9% at 389.50p, Pets at Home up 2.3% at 232.12p.
Opening in the red, Applegreen fell 1.6% at 329.50p, Imperial Brands down 0.7% at 1,433p and Premier Foods down 0.6% at 87.60p.
Yesterday in the City
The FTSE 100 closed marginally higher at 6,179.75pts.
Risers saw Bakkavor close up 6.7% at 69p, Premier Foods up 4.8% at 88.10p, Tate & Lyle up 4.14% at 654p and McBride up 4% at 62.40p.
Fallers included Majestic Wine, down 3.1% at 378.50p, SSP Group down 3.9% at 239.40p and Greggs down 4.4% at 1,516p.