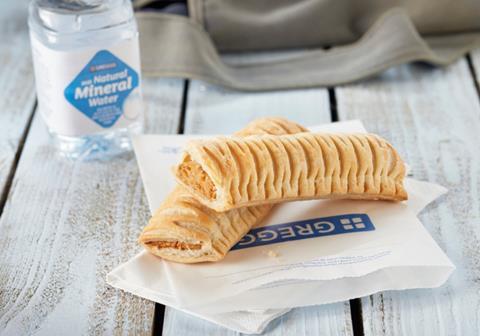 Top story
Greggs (GRG) has kept its annual expectations unchanged after reporting "continued very strong sales growth" for its third quarter.
The on-the-go baker said it expects to deliver an "even stronger customer proposition and further growth in the years ahead" on the back of selective investments and strategic initiatives.
"We continue to expect that year-on-year sales growth in the balance of the year will reflect the strengthening comparatives seen in 2018, and our expectations for the full year outturn remain unchanged," it added.
Total sales jumped 12.4% for the 13 weeks to 28 September, while company-managed shop like-for-like sales increased 7.4% across the same period, mainly driven by growth in customer numbers.
For the nine-month period to 28 September, total sales increased 14% while like-for-like sales were 9.4% higher that the previous year.
Operationally, Greggs said it was progressing trials to open a number of shops late into the evening offering an extended range of 'post-4pm' deals.
The baker was also "encouraged" by customer demand for its delivery service trials and added it was developing the operational processes to service the delivery channel.
In the year to September, Greggs has opened 56 net stores, with 90 openings and 34 shop closures. The baker now operates a total of 2,009 shops having passed the 2000-shop landmark in August. For the year as a whole, Greggs expects a total of 90 net openings, 40 of which to be with franchise partners.
Like many other UK businesses, Greggs said it was preparing for the potential impact of Brexit by building stocks of "key ingredients and equipment", that could be subject to disruption to the flow of goods into the UK.
Greggs shares opened 0.8% lower at 2,073.88p.
Morning update
As it gears up to release its interim results on Wednesday, analysts expect Tesco's (TSCO) sales to flatline amid strong comparatives and mounting Brexit uncertainty.
Analyst's consensus expects Tesco's sales excluding fuel to rise 0.1% for the six months to 24 August remaining broadly flat at £31.7bn.
"The summer of 2019 was always going to be a challenge for the major UK supermarket groups when set against almost perfect trading conditions from 2018," Shore Capital said.
"For Tesco UK those comparatives have bitten, in our view, alongside the slightly negative impact of a more focused and resourceful Sainsbury's (post Asda), the attrition of new space opening by the German discounters and a very rational internal approach to managing the volume/value mix."
Before exceptional items, Tesco's operating profit is tipped to hit £1.33bn, up from £1.12bn a year ago.
Meanwhile, IG Group expects Tesco's pre-tax profits to come in at £944m compared to £564m last year, as the grocer's cost-savings initiatives – including the reveal of 9,000 jobs cuts in January followed by a further 4,500 in August – start to pay off.
With just over a month left till the UK leaves the European Union, market analysts will also be on the lookout for further details from the UK's biggest supermarket on its Brexit strategy.
Tesco's CEO Dave Lewis has been very outspoken about the problems of leaving the EU without a deal, claiming it could result in tariffs and border delays that interrupt supplies of some products.
IG chief market analyst Chris Beauchamp said: "For UK supermarkets, the Brexit issue will not go away. Companies must continue to plan for the possibility of major disruption, and be aware that a sudden rupture could hit consumer spending and cause a drop in sterling that would push up prices of imported goods.
"It is this fear that is holding back Tesco shares, which have otherwise done quite well so far this year, gaining 20% versus around 9% for the FTSE 100.
"Tesco shares are not expensive, and indeed at present are fairly-valued. But Brexit presents one major reason for caution, while a second is that the company has yet to articulate a compelling plan for growth beyond sprucing up its core retail arm."
Focus will also linger around the performance and future of discount chain, Jack's - after last week Tesco axed one of its stores reverting it to a Tesco store "customers know and love".
The future of the company's Polish business, which has been reportedly put up for sale, will also be a key element analysts will want answers to.
Tesco shares opened 0.8% higher trading at 242.90p.
Sainsbury's (SBRY) has announced changes to its operating board, with Argos CEO John Rogers stepping down on October 31, to become CFO of advertising firm WPP.
Argos' retail and logistics teams will report to retail and operations director Simon Roberts, while Argos' commercial team will be led by commercial director Paul Mills-Hicks.
Sainsbury's CEO Mike Coupe said: "John has worked alongside me for over fourteen years and has made an outstanding contribution to the business. He leaves Sainsbury's with our best wishes for the future."
Sainsbury's shares were trading 1.5% higher at 223.00p early Tuesday morning.
On the markets this morning the FTSE 100 opened marginally higher at 7,411.22pts.
Early risers feature Marks & Spencer (MKS) up 1.4% at 186.95p as it prepares to host an investor morning to provide insight to analysts and investors into some of the change programme already underway.
Fallers include Glambia (GLB), down 1.5% at 11.86p, and Greencore (GNC) trading 0.8% lower at 224.30p.
Yesterday in the City
The FTSE 100 closed 0.2% lower at 7,408.21pts.
Fallers included Reckitt Benckiser, closing 3.8% lower at 6,352.00p and Marks & Spencer (MKS) down 1.9% at 184.45p.
Among the risers British American Tobacco (BAT) and Imperial Brands (IB) closed up 2.3% and 3.5% respectively recovering from eralier losses following the US's crackdown on vaping which saw billions wiped off their market caps.