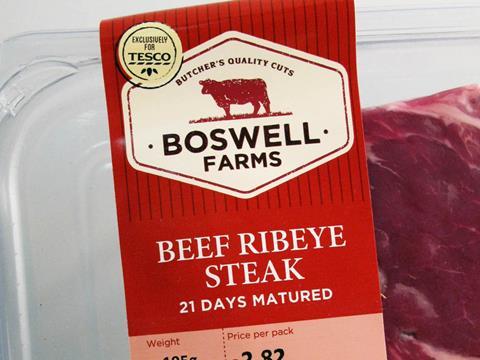 Top story
Hilton Food Group (HFG) has posted a double digit rise in annual revenues on strong volume growth, while reassuring the market it is well positioned to cope with the challenges caused by the coronavirus outbreak.
The packer of red meats for Tesco said 2019 saw a significant expansion of operations as it sought to build a significantly bigger and more diversified business.
Overall volume, which includes its 50% share of its Australian, Portuguese and Dutch joint venture activities, increased by 7.8% to 371,715 tonnes, with some 69% of the group's volumes produced in countries outside the UK.
This volume growth grew overall revenues by 11% (or 10% on a constant currency basis) to £1,81bn.
In the UK it increased its participation with Tesco UK to supply 100% of its retail packed red meat requirements and extended its Huntingdon facility to reflect this as well as buying SV Cuisine to add slow cooked products to the range that we offers via Tesco.
Seachill, now rebranded as Hilton Seafood UK, saw a "strong performance" in 2019 including a full year in the supply of shellfish and the launch of a new coated fish range together with supply into Australia.
In Europe, it opened a fresh convenience foods facility in Poland, while it has signed an agreement to pack red meat for Ahold Delhaize in Belgium via a facility due to open in September 2020.
Operating profits of £54.7m were 12.4% higher than last year and 13.8% higher on a constant currency basis driven by the opening of a new facility in Brisbane, Australia, growth of its UK seafood business and a good performance by the new Dalco joint venture.
Operating profit margin in 2019 was maintained at 3%, but the operating profit per kilogram of packed food sold increased to 14.7p from 14.1p driven by changes in the group's product and geographical mix.
Hilton's said operating performance since the beginning of 2020 has been "in line with the board's expectations" as it continues to explore opportunities for further geographical expansion in both domestic and overseas markets.
It said that the coronavirus outbreak has generated "significant uncertainty" over its impact and longevity.
However, Hilton said: "We have so far coped well with the challenges and are confident that through our local operating model and financial strength we are well placed.
"We are dependent on our key suppliers to maintain a continued supply of raw material and packaging materials and we are in daily contact with them to manage availability and identify key critical product lines which must be delivered and those that could be postponed. There have not been any significant issues experienced to date."
Executive chairman Robert Watson commented: "In 2019, we successfully executed our strategy of continuing to grow and diversify our offering with the opening of our biggest factory yet in Brisbane, Australia, a move into other high growth proteins including vegetarian and sous vide, building on our existing retailer partner relationships and investing in our facilities.
"We continue to grow volumes and profit and explore opportunities to develop our cross-category business in both our domestic and overseas markets.
"Whilst the Covid-19 outbreak will test our established business continuity programmes, to date thanks to the dedication and resilience of our teams who have responded superbly, we have risen to the challenge."
Hilton shares are up 4.1% this morning to 1,026p.
Morning update
WH Smith (SMWH) has raised £165.9m of emergency cash through the placing of 15,802,768 new ordinary shares raised into the market yesterday.
The fundraising, run by Barclays, BNP Paribas, HSBC, JP Morgan Cazenove and Santander, placed the new shares at a price of 1,050 pence per share.
As part of the marketing for the new shares, WH Smith yesterday revealed a trading update for its travel and high street stores.
It said its UK travel business has seen a "significant decline" in passenger numbers as a result of travel bans. Consequently, all of its stores at airports and railway stations are temporarily closed, albeit it continues to serve NHS staff from our 140 stores located in hospitals across the UK.
Internationally, it said it has seen broadly similar trends to the UK with all large airport stores closed.
In its high street business, its 203 stores with Post Offices continue to serve local communities by providing vital postal and banking services at this time.
Total group revenue in March 2020 was down 25% year on year. However, as a result of the high number of store closures, in the latest week of trading to 4 April 2020, revenues across the Group were down around 85% year on year.
On this basis, in the month of April as a whole, WH Smith expects revenue to be down by approximately £114m (down 90% year on year), with a reduction in operating profit of approximately £39m compared to last year.
"It is clear that Covid-19 is having a very significant impact on our business," the company stated. "However, what is uncertain is the duration of the pandemic and as such the effect it may have on the group's financial performance."
"As a result, we are working on the basis of a pessimistic scenario which assumes that 95% of our store estate remains closed with gradual re-openings."
With respect to the remaining part of the second half of the financial year from April until 31 August 2020, its scenario planning assumes revenue could be down between 80% and 85%.
Estimates for operating profit reflect the benefits of extensive management actions that are being taken to reduce costs and as such would result in a drop-through to operating profit in the second half of approximately 45% of lost revenues for that period.
WH Smith said it is taking a broad range of mitigating actions to manage its cost base and cash flow and estimates being able to reduce group cash operating costs by around 60% (around £200m) as well as cutting capital expenditure by around £29m
As well as the share placement yesterday, WH Smith announced it has secured a package of new bank financing arrangements which further strengthen the balance sheet. This includes a new £120m 12 month (plus seven month at the option of the group) committed banking facility from BNP Paribas, HSBC Bank and Santander UK, which is in addition to its existing facilities.
Elsewhere, Treatt, the manufacturer and supplier ingredients for the beverage, flavour, fragrance and consumer product industries has said the coronavirus outbreak has not affected its business, but that annual sales will be down due to a collapse in citrus raw material prices.
Treatt, which supplies into the manufacturers of cleaning products (such as liquid hand soaps and floor cleaning products), said "there has not been any adverse effect on the trading performance of the Group due to COVID-19 and the group is currently trading in line with the board's expectations".
Its facilities in China have remained open on a reduced staff rota and staff have now all returned to work.
However, the sharp fall in citrus raw material prices in the last financial year to continue to impact upon revenue in the first half of the current financial year.
Consequently, whilst in-line with expectations, revenue for the period is expected to be approximately 5.1% lower as compared with the same period in the prior year (5.6% lower in constant currency).
Whilst citrus remains a significant part of the Group's business, there was good growth in reported revenue from fruit and vegetables (up 9.4%), tea (up 47.5%) and health and wellness (incl. sugar reduction) (up 19.9%).
Building work on its new facility in the UK has "inevitably" slowed as a consequence of the COVID-19 pandemic. "We now expect that our UK relocation may not take place until 2021 but at this stage it is not possible to confirm a new definitive timescale."
The company stated: "The business is both trading well and is financially robust; we are encouraged by our order book and current demand as we move into our peak seasonal period. Also, and as expected, citrus raw material prices are firming once more, which should result in a stronger performance from our citrus category in the second half of the financial year.
"Whilst it is difficult to determine the likely impact of COVID-19 on the demand for the Group's products in the coming months, our early experience has shown demand to be robust and at this time, trading remains in line with the board's expectations."
European and US grocer Ahold Delhaize has announced that, together with its local brands, it has deployed more than €170m coronavirus relief and support efforts so far.
These efforts range from health and safety measures for associates and customers, to enhanced benefits for frontline associates, to charitable donations to support local communities.
"In this time of acute need we see people coming together across all our communities to help each other through this pandemic," said Frans Muller, Ahold Delhaize President and CEO.
"Ahold Delhaize and all our local brands in the U.S., Europe, and Indonesia are taking substantial measures to ensure the safety of both associates and customers in response to the significant challenges created by the COVID-19 pandemic. Fighting this requires everyone's support and I am pleased with our efforts to date."
Muller continued, "I want to recognize the resilience and courage demonstrated by all the medical and emergency professionals working on the front line. Our own sector has also proven to be vital at this time – supported by associates across all our brands, in our supply chains, and at our support offices.
"Their determined efforts and the care and teamwork they exhibit every day fill me with pride. I am both impressed and humbled by their actions in this time of great need. Finally, I am grateful to customers in all the communities we serve for respecting social distancing guidelines and local health regulations that help protect not only themselves but our associates as well."
On the markets this morning, the FTSE 100 is up another 3.4% to 5,771.8pts building on yesterday's recovery.
Risers include Treatt, up 11.4% to 468p, Greggs (GRG), up 10% to 1,749p, Marks & Spencer (MKS), up 9.6% to 109.7p and SSP Group (SSPG), up 9.3% to 299.6p.
The few fallers so far today include Ocado (OCDO), down 2.2% to 1,358.5p, Hotel Chocolat (HOTC), down 1.1% to 270p and Reckitt Benckiser (RB), down 0.6% to 6,124p.
Yesterday in the City
The FTSE 100 started the week on the front foot, rising 3.1% yesterday to 5,582.4pts.
There were numerous strong risers in the grocery sector, including supermarket suppliers producers Bakkavor and Greencore (GNC), which rose 17.7% to 76.4p and 11% to 160.2p after significant drops in March due to the loss of food to go business.
Convenience chain McColl's (MCLS) rocketed 21.9% back to 33.7p after experiencing its own heavy losses in recent weeks.
WH Smith (SMWH) was up 8.3% to 1,094p after announcing a £120m refinancing and share placement to raise cash from investors.
Other stocks on the rise included Coca-Cola HBC (CCH), up 10.2% to 1,836p, DS Smith (SMDS), up 7.5% to 273.9p, FeverTree (FEVR), up 7.2% to 1,206p, Marks & Spencer (MKS), up 6.5% to 100.1p, Cranswick (CWK), up 6.4% to 3,680p, Associated British Foods (ABF), up 6.4% to 1,850.5p and C&C Group (CCR), up 6.3% to 196.6p.
The supermarkets were amongst yesterday's fallers, with Sainsbury's (SBRY) down 3.4% to 206.1p, Morrisons (MRW), down 1.8% to 182.4p and Tesco (TSCO), down 1% to 221.6p.
Other fallers included Hotel Chocolat Group (HOTC), down 7.5% to 273p, Science in Sport (SIS), down 6.5% to 29p, Nichols (NICL), down 4.2% to 1,150p and Reckit Benckiser (RB), down 1.5% to 6,160p.