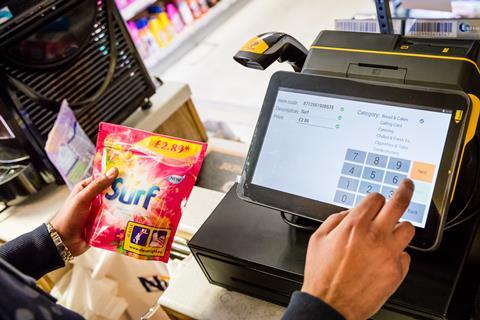 Top story
Paypoint has seen card transactions increase around 75% in April and May as shoppers are urged to ditch cash to prevent spreading the coronavirus.
The company reported card payment transactions up 75% between April 1 and 17 and 74% between April 18 and May 17 year-on-year. By comparison, for the full year to March 2020 card transactions were up 21% on the previous financial year.
But the coronavirus outbreak saw a reduction in ATM transactions falling almost 40% in April and 33% in May, Top-up transactions down 20% in April and 19% in May and parcels dropping 55% and 23%.
"Whilst it is still too early to have visibility on the longer-term consequences that will ensue following Covid-19, the impact of consumers avoiding cash and remaining at home has significantly reduced ATM transactions and parcel volumes," the company explained.
"Card payments have benefited as consumers tended to use their local convenience stores more and in replacement of going to restaurants and entertainment venues. Bill payment transactions have reduced as energy companies have provided pre-pay consumers with credit, services including transport have significantly reduced, clients have encouraged digital payments and consumers increased their average top-up amounts."
However, Paypoint has continued to provide its services to the community while its network continued to function during the pandemic.
To support its customers, Paypoint has also decided to wave the yearly inflation increase to its service fees, which will this year remain consistent with last year's amount.
"This will be coupled with a permanent move to service fee billing in arrears, benefiting retailer partners' monthly cash flows, and the option for those forced to close their stores to claim a service fee refund for the closure period," the company added.
These comments were made alongside Paypoint's annual results for the year ended March 31 which showed revenues up 0.8% to £213.3m.
Pretax profits increased 3.8% to £56.8m, primarily due to a £2.1 million "variable pay benefit" resulting from the decision to cancel management bonuses due to Covid-19 and the release of share-based payment accruals. Without the "benefit" profits were up by £0.9m to £54.7m.
"The past year has been a resilient one for PayPoint. We delivered growth in net revenues and profit before tax for the year. The Covid-19 crisis began to escalate late into our financial year with limited financial impact in the results we are reporting," CEO Nick Wiles said.
"We took swift action across our business in response to the unfolding crisis. Our priority through this crisis is to keep our people safe and well, while providing the necessary support to our clients and retailer partner network, as we continue to serve some of the most vulnerable in our communities. We are proud of the way our people and business have stepped up to the challenges and to provide broader help in this time of crisis.
"We are focused on ensuring that the business is flexible and able to rapidly respond to the dynamic marketplace and trends which will inevitably be accelerated by the Covid-19 crisis."
Morning update
McColl's has appointed Giles David as CFO with effect from next week.
David has been CFO of Casual Dining Group since 2017 and has over two decades of experience in senior finance roles across retail, hospitality, property and telecoms.
CEO Jonathan Miller said: "Giles is a highly experienced CFO with a real understanding of customer-facing businesses, and I'm delighted he's joining McColl's. This is a very busy time for our business with increased customer demand, as we work hard to serve customers in neighbourhoods across the UK, and we're really looking forward to having Giles on board and benefiting from his expertise."
David said: "As a leading neighbourhood retailer, McColl's is playing an invaluable role in serving local communities at this time. It will be a privilege to be part of that work, and as we look to the future, I believe we have a real opportunity to deliver on the group's strategy to drive growth in the years ahead."
The FTSE 100 opened up 0.6% at 6,178.40pts.
Early risers saw Paypoint open up 5.4% at 761p, Greggs up 3.4% at 1,847.48p, McBride up 3.2% at 60.05p.
Marston's rose 3% on opening to 58.75p while C&C Group was up 2.9% at 203p.
Fallers included Applegreen down 5.7% tp 300p, Diageo down 1.7% to 2,867.91p and Hilton Food Group down 3% to 1,292.15p.
Yesterday in the City
The FTSE 100 closed up 1.3% at 6,144.25pts.
Greencore surged 11.4% to 143p after rival sandwich maker Adelie was put into administration, potentially opening up the opportunity to significantly increase its already dominant share of the UK sandwich market.
Britvic ended the day up 6% to 763.5p after posting a rise in sales and profits in the first half and reassuring investors it remained in good shape to handle the challenges of the coronavirus crisis.