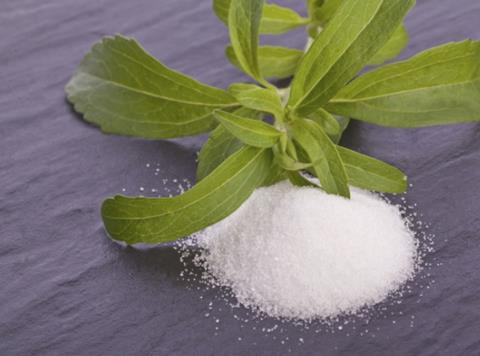 Top story
Stevia producer PureCircle (PURE) has posted a 5% drop in sales and an escalation of first half losses after reformulation and writedowns hit its performance.
The sugar alternatives producer has reported a 5.2% decline in sales to US$50.7m in the six months to 31 December, driven by "phasing os some deliveries to customers compared to the prior year".
Sales in the first half included a "meaningful" contribution from next generation stevia sweeteners, however they also showed some cannibalisation of base business as customers reformulate first generation stevia sweeteners to new products.
Despite lower sales, gross profit increased by $0.2m to $19.9m due to favorable product mix and positive impact from lower material cost.
However, during the period there was a significant inventory write down to net realisable value of $24.2m primarily relating to by-products generated from early generations of stevia leaf as such products will no longer be produced as a result of the switch to next generation Starleaf stevia variety.
As a result the group posted a net loss of $22.1m, compared to a net loss of $4m in the same period last year.
Group CEO Magomet Malsagov said: "In H1 we continued to successfully implement our new strategy of transforming the business to produce and sell superior tasting natural stevia sweeteners, scaling breakthrough products and commercialising new technologies.
"Our results include sale of meaningful quantities from next generation stevia sweeteners based on Reb M both directly extracted from leaf and via conversion of first generation stevia sweeteners such as Reb A as customers are switching and reformulating to Reb M due to the superior taste profile.
"The reformulations have led to some cannibalisation of base business and the results of the first six months should be seen in this context. Over and above new business we anticipate cannibalisation of the base business to continue through calendar year 2019. We expect margins to strengthen as both reformulations and new launches will primarily be based on high margin products.
"Our pipeline of projects with new products continues to grow in both existing and new channels. We are seeking to further capitalise on the superior taste delivery of our new generation products through a significantly expanded go-to-market team. We believe this combination will position PureCircle to successfully execute its new strategy over the next few years."
PureCircle shares are flat at 246.7p so far today.
Morning update
UK-listed pizza delivery company Domino's Pizza Group has reported a "mixed year" amid a "challenging environment for the casual dining market".
The company's system sales rose 9% to £1.26bn in 2018, with UK system sales up 7.1% and up by 4.6% on a like for like basis.
Republic of Ireland system sales rose by 5.2% and by 4% like-for-like sales, while pro forma international system sales were up by 7.7%.
Altogether, group statutory revenues were up 12.6% to £534.3m.
However, group underlying profits before tax fell back 1.1% to £93.4m in the period, even excluding charges of £31.5m largely relating to international impairments and costs related to its UK supply chain transformation and integration.
Including these exceptional charges, profit before tax slumped 24% to £61.9m.
During the year the group opened 81 new Domino's stores across the Group, with 58 in UK.
It said its 2019 UK store pipeline similar to 2018 at the same time last year, although actual openings likely to be lower than 2018 given ongoing franchisee discussions
Looking forward, it expects continued UK growth while its international business is targeting break even.
CEO David Wild said: "2018 was a mixed year. In the UK and Ireland, which account for around 90% of the business, we extended our excellent track record of growth and cash generation, responding well to the very challenging environment for the casual dining market.
"Our franchisees opened 59 new stores, creating more than 2,000 jobs and sold a record 102 million pizzas. We also continued investing for future growth in digital and by successfully completing our new Supply Chain Centre in Warrington, our most significant investment to date, which supports our target of 1,600 stores in the UK.
"Internationally, we have experienced some growing pains which have hampered our overall financial performance. These are all good markets, with more than 100 million population, good appetites for pizza and little, if any, global brand competition. This is why we have strengthened our management teams and are committing disciplined capital to support future development. We expect an improved performance from International, with the business targeted to break even this year.
Carlsberg has made a number of changes to its senior team in Europe.
Lars Lehmann has been appointed to Carlsberg Group's executive committee (ExCom) as executive vice president for the Eastern European region.
The move will see Jacek Pastuszka will change from EVP Eastern Europe to Western Europe, while current Western Europe EVP Chris Warmoth reverts to group strategy as EVP.
Ted Akiskalos, currently MD of Carlsberg Sweden, will replace Lehmann's current role as MD of Carlsberg Malaysia.
"I would like to congratulate Lars on his appointment to ExCom – and wish him, Jacek, Chris and Ted every success in their new roles and responsibilities", says Carlsberg Group CEO Cees 't Hart.
On the markets this morning, the FTSE 100 has fallen back 0.4% to 7,100.2pts so far today as the pound has strengthened on renewed hopes Theresa May could squeeze her Brexit deal through parliament tonight.
Early risers include Domino's Pizza Group, up 1.8% to 237.2p on this morning's results, Marks & Spencer (MKS), up 1.4% to 269.9p, Greggs (GRG), up 1.2% to 1,750p and Morrisons (MRW), up 0.9% ahead of its annual results tomorrow morning.
Fallers include McColl's (MCLS), down 9.4% to 75.6p, Unilever (ULVR), down 2.2% to 4,023.5p, Diageo (DGE), down 1.3% to 3,014.5p and Reckitt Benckiser (RB), down 1.1% to 6,073p.
Yesterday in the City
The FTSE 100 stared the week on the front foot, rising 0.4% to 7,130.6pts on Monday.
On a day of little market news for grocery and fmcg firms risers included PayPoint (PAY), up 2.7% to 881p, Greencore (GNC) up 1.7% to 200.6, Coca-Cola HBC (CCH), up 1.5% to 2,612p, Nichols Beverages (NICL), up 1.3% to 1,520p and Devro (DVO), up 1.3% to 184.4p.
Fallers included Hotel Chocolat (HOTC), down 3.6% to 345p, McColl's (MCLS), down 3.5% to 83.4p after its recovery last week, Bakkavor (BAKK), down 3.1% to 130.6p, Greggs (GRG), down 1.7% to 1,730p and Finsbury Food Group (FIF), down 1.4% to 73p.
PureCircle (PURE) fell 1.3% to 246.8p ahead of its half year results this morning.