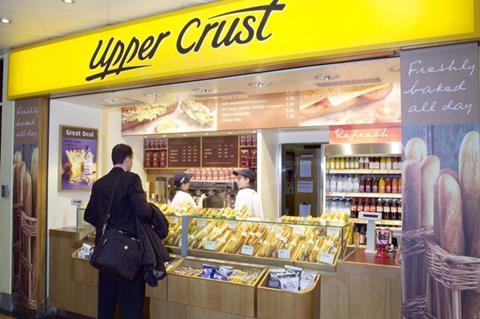 Top story
Food & beverage concessions operator SSP Group (SSPG) has warned the coronavirus impact will see group revenues reduced between £125m and £135m as travel halts across Europe and Asia.
The company said it has seen an "unprecedented and rapidly escalating" impact of the virus on the travel operating environmental, especially in airports.
UK and European like-for-like revenues as a result, are currently running between 80% and 85% lower year on year. In North America revenues are down 80% while in the rest of the world - including Asia Pacific, Middle East, India, Brazil and Eastern Europe - sales dropped 60%.
The company's financial expectation is that March revenues will be 40% to 45% lower year on year, with an impact on group revenues of up to £135m and operating profits falling between £50m and £60m.
For the six months ending 31 March, SSP expects revenues down 3%, with like-for-like sales falling 8%.
To respond to the crisis and protect profit and cash, the company has temporarily closed some units, reduced opening hours and ceased its opening programme for the second half of 2020.
Some staff has been temporarily laid-off and senior management salaries have been "significantly reduced".
From a financial point of view, SSP will defer the payment date for its 6p final dividend, will not pay an interim dividend and has suspended its £100m share buyback programme.
"Clearly the duration of COVID-19's impact, including on global travel is very uncertain at this stage as are its consequences for our financial performance for the full year. Looking into the second half of the financial year, SSP's central planning assumption is that recent trading conditions seen through March 2020 will likely deteriorate further," the company said.
The company has also agreed a new bank facility of up to £112.5m and proposed equity raising via placing of new shares, which will provide sufficient liquidity even in the "most pessimistic trading scenario".
CEO Simon Smith said: "The COVID-19 outbreak is an unprecedented crisis and is having a severely negative impact on the travel sector. In common with the sector, we have seen a very sharp drop off in passenger numbers and this has heavily impacted SSP revenues.
"We've had to take significant action to reduce our costs while doing everything we can to limit the impact of this on our colleagues. However, we have had to close a number of units given the extent to which passenger numbers have decreased. These decisions have not been taken lightly and I sincerely hope that we can re-open our units and welcome back our teams as soon as possible.
"We also welcome the actions announced by HM Treasury to support individuals and businesses though the COVID-19 crisis. This together with the management action we are taking, and the additional funding arrangements announced today will put us in a strong position to manage through this crisis and be in the best shape possible to return to growth once the market begins to recover."
SSP Group shares opened up 7.4% at 253p, but are around 64% down so far in 2020 as a result of the virus outbreak.
Morning update
Hilton Food Group (HFG) has delayed publication of its annual results at the request of the Financial Conduct Authority.
The company said it was ready to publish the results on 26 March and it was pleased to report it performed "slightly ahead" of expectations, with strong year on year sales and volume growth.
Hilton's trading outlook remains positive, the company added, with growth prospects underpinned by expansion in Australia, Central Europe and New Zealand.
During the coronavirus outbreak, the business said it remained focused on the wellbeing of its employees and working with key suppliers to meet the rising demand for protein-based products.
Hilton Food Group shares opened 1.3% higher at 948p.
Stock Spirits Group (SSG) has started producing hand sanitiser at its facility in Pilsen, Czech Republic, to "lend its help" to mitigating the spread of the ongoing coronavirus outbreak.
The company is in discussions with Polish state institutions to do the same at its production facility in Lublin, Poland.
It has already produced 90k 200ml bottles of hand sanitiser which has been donated to both the Czech government for distribution to medical personnel and the emergency services, as well as to the retail sector for use by staff working in food stores, bakeries and other staple food producers.
Stock Spirits has also donated a large quantity of raw spirit to Czech municipalities to help with their own disinfectant manufacturing efforts.
Poland and the Czech Republic are Stock Spirits' two largest markets, representing about 80% of the company's business. Normal levels of manufacturing in Pilsen have been unimpacted by hand-sanitiser production, and it is anticipated that the same would be the case in Lublin.
CEO Mirek Stachowicz said: "We are glad to be in a position to offer our help to governments, medical services and businesses in the Czech Republic and Poland in their efforts to combat the spread of COVID-19. We will continue to do everything that we can to help at this critically important time."
Stock Spirits Group shares opened up 2.8% at 151.33p.
Cleaning products manufacturer and supplier McBride (MCB) has cancelled its dividend despite seeing strong since the beginning of March.
The company said order levels for products such as bleach, anti-bacterial and disinfecting sprays, laundry and dish cleaning products, increased across most regions since the beginning of March, when the true effects of the coronavirus pandemic began to show.
It was not clear, McBride added, whether the demand increase was due to additional use from customers or short-term stockpiling.
The company's factories remain currently open and operational, however capacity to operate at full production was reduced by labour attendance, material supply and distribution challenges.
"As Europe progressively 'locks down' we may see further restrictions on our ability to operate factories to match demand levels," the company said.
"We are working on output optimisation through measures such as recruitment of additional labour, customer prioritisation, range simplification and haulage optionality."
Short-term revenue improvements were likely to be tempered by reduced factory efficiency, McBride added. It is currently reducing discretionary spend and as part of "prudent management of cash" it cancelled its 0.8p interim dividend.
McBride shares opened up 3.2% at 60.90p.
The FTSE 100 started the day up 1.4% at 5,522.95pts.
Risers included B&M European (BME) up 3.8% at 307.30p, Greggs (GRG) up 2.8% at 1,496p, WH Smith (SMWH) up 6.1% at 998p, Ag Barr (BAG) up 3.3% at 485p and C&C group (CCR) up 5.8% at 163.40p.
Fallers saw Unilever (ULVR) start the day 1.6% lower at 3,935p, Tesco (TSCO) down 1.2% at 214.20p and Ocado (OCDO) down 3.4% at 1,208.50p.
Yesterday in the City
The FTSE 100 showed the green shoots of recovery yesterday, closing up 7.5% at 5,367.45pts.
Risers saw British American Tobacco (BATS) close up 6.1% at 2,526p, Diageo (DGE) up 6.8% at 2,367p and Coca Cola HBC (CCH) up 8.9% at 1,773p.
Supermarkets were all in the green except Tesco (TSCO) which closed down 0.2% at 211.70p. Marks & Spencer (MKS) closed up 6% at 97.20p, Morrisons (MRW) up 178.85p, Sainsbury's (SBRY) up 1.3% at 202p.
Among the fallers Reckitt Benkiser (RB) closed down 3% at 5,683p, Associated british Foods (ABF) down 1.1% at 1,609.50p and Ocado (OCDO) down 1.6% at 1,245p.