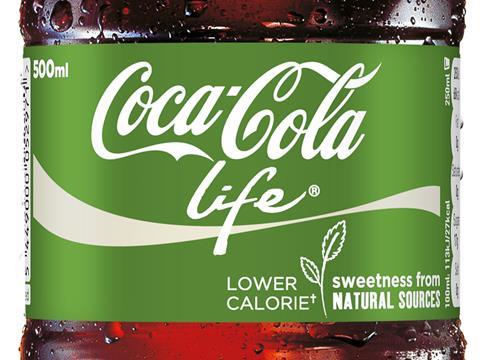 Coca-Cola Life has racked up sales of £26.5m in its first year on shelf, according to Nielsen data for the year to 26 September 2015 - a much slower start than Coca-Cola Zero nine years ago.

Sales of Coca-Cola Zero - then Coke Zero - were reported to have topped £46m in the nine months after its launch in summer 2006. Rolled out as a direct rival to Pepsi Max and supported with a £10m push fronted by Wayne Rooney, Zero was dubbed 'Bloke Coke' by industry observers.

"We are very pleased with Coca-Cola Life," said a CCE spokesman this week. Launched last September the drink's consumer appeal was different from other Coca-Cola branded products. "It's a truly differentiated proposition within the portfolio, designed to drive incremental growth in the category."

Kantar data showed more than half the volume switched into Life had come from regular carbonated soft drinks, added CCE. The stevia-sweetened variant has two-thirds the sugar of regular Coke.