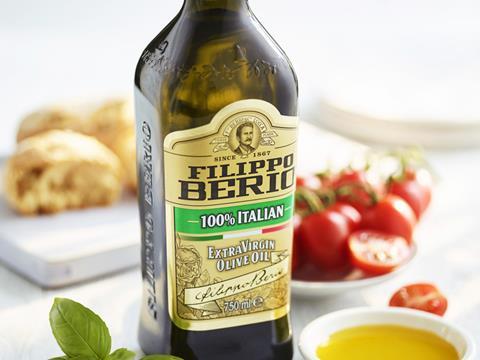 Premium olive oil supplier Filippo Berio saw a fall in profits despite 8% sales growth as it was impacted by increasing commodity costs and a weaker pound.
Sales at the oil and balsamic vinegar producer increased 8% to £41m for the year ending 31 December as it increased trade prices, despite also recording an 8% descrease in volume.
2017 was a "very challenging trading year" due to continuing price inflation, the company board said in its strategic report.
Olive oil production across the Mediterranean was hit hard by drought in 2017, driving up commodity prices and drastically reducing margins. This heaped yet more pressure on UK retail suppliers following the pound's Brexit-related crash in 2016.
Despite an increase in sales, large cost increases drove down profits, which fell by 9.7% to a pre-tax profit of £1.5m for 2017.
"Sales year on year are up by 8%. We have seen price inflation during 2017 driven by an increase in raw material costs and by a weaker pound during the second half of the year," said the board in its strategic report.
"This has required price increases to be passed onto the trade which has made for a very challenging trading year." Volumes declined by 8%, as a result of price inflation, it added.
Weaker consumer demand has been forecast for 2018, which the company said it will attempt to negate through continued marketing investment over the year.
"Profitable olive oil trading suffers through the economic cycle as consumer demand softens, and forecasts for 2018 are for weaker consumer demand. We will continue to invest in consumer marketing to reduce the economic impact on our business," it said.
"Olive oil as a Euro denominated commodity is subject to exchange rate fluctuations. With our parent company we constantly monitor exchange rates and maintain an appropriate level of forward cover to reduce exposure to fluctuations."
As a result of commodity increases, gross profit margin fell, with gross profit as a percentage of revenue deteriorating from 10% for 2016 for 8.9% for the last financial year.
The interim dividend paid by the company during 2017 substantially increase to £35.20 per share, from £16.12 per share in 2016.