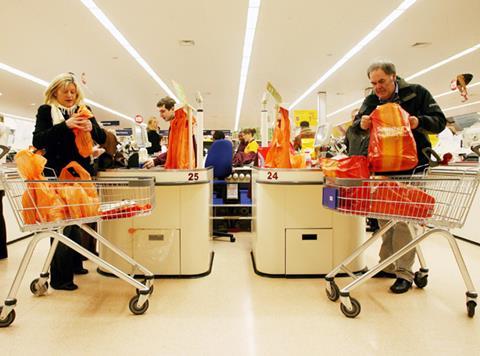 Top story
Grocery sales growth has fallen to its lowest level since March 2018 as the late Easter and Mother's Day hit year on year comparisons.
The latest grocery market share figures from Kantar show year-on-year supermarket sales growth of 1.4% during the 12 weeks to 24 March 2019 after the lack of Easter and Mother's day trimmed an estimated 0.5 percentage points off the overall growth rate.
Tesco (TSCO) grew by 0.5% to achieve market share of 27.4%, while Asda has built on two years of continuous growth and increased sales by 0.1% this period to become the second largest grocery retailer ahead of Sainsbury's.
Sainsbury's (SBRY) slumped by 1.8% and market share dropped by 0.5 percentage points to 15.3%, while Morrisons' (MRW) sales fell by 0.1%.
Fraser McKevitt, consumer head of retail and consumer insight at Kantar, commented: "Despite being overtaken by Asda in main store sales, Sainsbury's remains the biggest seller of food and drink out of the two retailers and these figures do not include Argos. Sainsbury's premium 'Taste the Difference' line is still a bright spot, with sales rising 4.4% and the brand growing sales of alcohol, poultry and dairy products in particular."
Aldi increased market share to 8% for the first time after 10.6% growth in the period, while Lidl was the second fastest growing suoermarket with sales up 5.8% to take its share to 5.6%.
McKevitt added: "Despite Easter being a full month away British shoppers have already splashed out £146 million on Easter eggs this year and 42% of households have bought hot cross buns. Some have used the longer lead up to Easter to embark on a spring clean, with sales of carpet cleaners up by 18% and accessories such as cloths and sponges up by 9% compared with this time last year."
Grocery inflation now stands at 1.5% for the 12-week period ending 24 March 2019. Prices have been rising since the 12 weeks to 1 January 2017, following a period of grocery price deflation which ran for 30 consecutive periods from September 2014 to December 2016.
Meanwhile, Nielsen also found that consumer spending in the grocery sector has continued to slow in March.
The period market the third consecutive month of slowing sales, with sales up 1.2% in the last four weeks, below the CPI rate of 1.9%, and compared to 2.5% this time last month.
This continued slowdown in spend can be attributed to several factors, Nielsen said, including the increased costs of living from rises in energy and fuel prices to the upcoming increase in council tax. Extended uncertainty over Brexit negotiations also appears to be causing shoppers to tighten their grocery budgets.
Nielsen's latest data indicates that consumers are looking to manage their grocery spend and are choosing to spend less at the 'big four' supermarket chains (Tesco, Sainsbury's, Morrisons and Asda). This contributed to a rise in sales at the discounters Aldi and Lidl, whose combined market share in the last 12 weeks amounted to a high of 16%.
Mike Watkins, Nielsen's UK Head of Retailer Insight, said: "The first quarter of 2019 has shown a continued slowdown in consumer spending on grocery, with the average household spend each week on groceries amounting to £71*, back to the level last seen in October 2017 (excluding March 2018, where sales were stronger due to the 'Beast from the East' which caused people to stock up, and an early Easter). This means that grocery spend remains broadly unchanged in the last 18 months despite inflation. We can see a change in shopping behaviour as well as a shift in sentiment as households shop around to make savings."
In the last 12 weeks, the combined market share of the top four supermarkets was 64.1%, compared with 65.6% last year
Morning update
Another quiet morning for grocery news in the City stands in contrast to the political chaos continuing to engulf the UK, with parliament no closer to finding a Brexit agreement to command a majority in the House of Commons after last night's voting.
The pound fell sharply after the vote, which was expected to find a majority for a customs union with the EU or the 'common market 2.0' plan. Sterling dropped to €1.165 and US$1.303 wiping out gains from earlier in the day.
On the markets this morning, palm oil producer MP Evans has revealed a slump in annual profits, partly driven by weaker global palm oil prices.
Whilst 2018 "marked another record year for crops and production", profit was lower than in 2017 in the face of a weak crude palm oil price, especially during the second half of the year.
Operating profit fell back to US$19.5m compared with US$34m as lower operating costs per tonne of production were not enough to outweigh the reduction in the price of CPO.
On a reported basis, profits slumped to $7.2m from $95m last year, given the $68m profit recorded in 2017 on selling the Group's Agro Muko palm-oil joint venture.
The average price of CPO in 2018 was US$598 per tonne, 16% lower than the US$714 in 2017. The fall in price was concentrated during the second half of the year as a widespread surge in production of CPO coincided with plentiful supplies of competing vegetable oils.
The price of palm-kernel oil, and hence that of palm kernels which the group sells, experienced similar pressures but without the mitigating use of the oil as a feedstock for biofuel production. As a result, the price received by the group for palm kernels in 2018 fell by 28% compared with the previous year.
MP Evans shares have dropped 5.3% to 650p on the news.
Elsewhere on the markets this morning, the FTSE 100 is up another 0.5% to 7,352.9pts.
Risers include Coca-Cola HBC (CCH), up 1.7% to 2,651p, FeverTree (FEVR), up 1.5% to 3,055p and B&M European Value Retail (BME), up 1.5% to 378.2p.
Fallers include Hilton Food Group (HFG), down 1.2% to 933p, AG Barr (BAG), down 1.1% to 816p and Sainsbury's (SBRY), down 0.9% to 232.5p.
Yesterday in the City
The FTSE 100 started the week on the front foot, climbing 0.5% yesterday to 7,317.4pts.
The pound rose back above US$1.31 on expectations parliament would vote for a softer version of Brexit, leading to falls in some major global fmcg groups.
British American Tobacco (BATS) dropped 1.9% to 3,135p, Compass Group (CPG) fell 1.2% to 1,782.5p, Diageo (DGE) fell back 1.1% to 3,103p and Unilever (ULVR) dropped 0.9% to 4,355p
Risers yesterday included McColl's (MCLS), up 4.8% to 76.1p, PureCircle (PURE), up 2.8% to 254p, Total Produce (TOT), up 2.5% to 146p, AG Barr (BAG), up 2.2% to 825p.
FTSE 100 climbers were Reckitt Benckiser (RB), up 1.4% to 6,470p and Marks & Spencer (MKS), up 1.3% to 282.5p.
Fallers included Stock Sprits Group (STCK), down 3.9% to 221p, Bakkavor (BAKK), down 3.7% to 120p, Finsbury Food Group (FIF), down 3.2% to 61.5p, Gusbourne, down 3% to 64.5p and Premier Foods (PFD), down 2.8% to 35.4p.