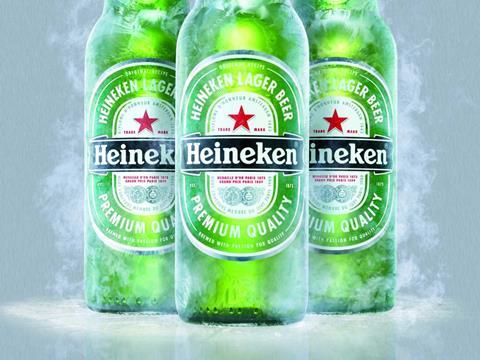 Top story
Heineken (HEIA), the world's second largest brewer, has forecast a drop in profitability after expanding quicker than predicted in Brazil alongside negative currency impacts.
First half revenues fell below market expectations, as the Strongbow and Fosters manufacturer recorded 4.2% growth to E10.8bn in sales in the half-year to 30 June 2018.
Operating profits dipped 2.9% from €1.8bn in 2017 to €1.75bn in 2018, while margins also slipped, from 17.5% to 16.3%.
Increased revenue was partially offset by higher expenses, increased input costs and adverse currency fluctuations.
The brewer linked its drop in profitability to its rapid expansion in Brazil, where it became the second-biggest brewer following its 2017 acquisition of Japan's Kirin.
Heineken recorded "strong organic growth" of 5.6%, with volumes up 4.4%. It saw just 0.9% organic growth in Europe, but was boosted by 14.7% growth in eastern Asia.
Across markets, sales of the Heineken brand grew 7.5%, with double digit growth in the UK and Brazil.
Internationally, Tiger and Desperados had double digit growth. The company said cider sales also increased double digits, with low single digit growth in the UK, nevertheless buoyed by the "relisting at a large retailer".
Volumes in craft and variety beer also grew double digits, through international brands such as Lagunitas, with particularly strong growth in the UK, Mexico, Italy and France.
"Top line came in strong in the first half, with organic net revenue growth across all regions, " said chairman and CEO, Jean-François van Boxmeer. "Europe was back to growth in the second quarter whilst the other regions maintained their positive momentum. The Heineken® brand grew strongly by 7.5%.
"In the second half, we expect a continuation of our revenue growth and an acceleration of our operating profit growth on an organic basis.
"For the full year, given the marked acceleration of our business in Brazil with margins still below group average and the negative impact from currencies, we now expect the operating profit margin to decrease by approximately 20 bps."
Capital expenditure across the business, in property, plants and equipment, rose to €2bn for the half-year.
Morning update
Own label meat supplier Cranswick (CWK) is "on line with expectations" after sales grew 3.2% in the first quarter.
The East Yorkshire business said it was boosted by positive performances across its product categories in the 12 weeks to 30 June 2018, offsetting the slight rise in pig prices.
The company is in a "robust financial position", it said in a trading update, having turned a net debt of £18m at the time in 2017, to £8m in net funds.
This is however a drop of £13m since March, following a number of investments by the pork and poultry specialists.
During the period, Cranswick commissioned the creation of a new continental foods facility in Bury, producing charcuterie and antipasti.
Work has also begun on its new poulty processing facility in Suffolk, intended to double current capacity when its is completed in late 2019.
The board of directors said its outlook for the current financial remains unchanged.
"Trading in the first quarter of the financial year has been in line with management's expectations," it said.
"With experienced management at all levels of the Group, a strong range of products, a well-invested asset base and a robust financial position, the outlook for the current financial year remains unchanged, and the Board is confident in the continued long-term success and development of the business," it said.
In the markets, the FTSE 100 slumped in early trading, falling 0.3% to 7,675pts on the back of recent falls in the Asian markets. But this week, eyes will be focused on the Bank of England as it makes its decision on business rates.
The early risers this morning included Morrisons (MRW), up 1.7% to 261p, Premier Foods (PFD), up 0.8% to 42.3p and British American Tobacco (BATS), up 0.7% to 4,145p.
The early fallers in this morning's trading include Domino's pizza group (DOM), down 2.1% to 321.9p, McColls (MCLS) , down 1.6% to 163.7p, Ocado Group (OCDO), down 1.5% to 1,116.5p and Diageo (DGE), down 1.2% to 2,803p.
This week in the city
On Tuesday, High street bakery chain Greggs (GRG) will be announcing its half year profits as it hopes to buck the trend on the high street.
It is joined by Just Eat (JE.), which also delivering its interim results. The delivery business took a dent in share value earlier this year when Deliveroo announced expansion plans so will hoping increased revenues put it back on track.
US consumer giant Proctor & Gamble is asset to announced its full year results for 2017-18.
Tuesday will also see the release of the UK consumer confidence report by GFK, to see how spending patterns have changed over the summer.
On Wednesday, packaging giant Smurfit Kappa Group (SKG) is expected to announce its interim results, and drinks business AG Barr (BAG) is set to make a trading announcement.
The BRC Shop Price Index will also be released on Wednesday.
In the US on Thursday, cereal-maker and Pringles manufacturer Kelloggs group will be issuing its interim results.
On Friday, another US giant, Kraft Heinz will be releasing its interim figures.