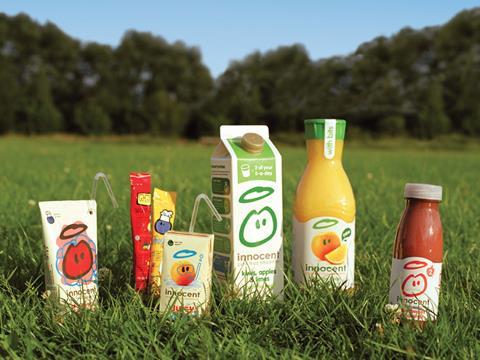 The consolidation of the Innocent juice and smoothie business impacted The Coca-Cola Company's financial performance in Europe last year.
The company said the consolidation of Innocent unfavourably hit operating margins because of the higher cost structure associated with finished goods businesses and because of Coca-Cola's level of investment in Innocent to continue building and expanding the company. The impact was reported with the announcement of fourth-quarter and full-year results.
The soft-drinks giant achieved 2% volume growth for the full year and 1% in the final quarter. Net operating revenues fell 2% in the quarter to $10.9bn (£7.2bn), excluding the impact of structural items.
Full-year cash from operations increased 1% to $10.6bn. Consolidated net income fell 17% to $71.bn for the full year. In Europe, full-year net operating revenues in Europe climbed 4% to $5.6bn.
Concentrate sales and unit case sales were "in line" for the full year in Europe. Still beverage volume grew 7% as the company captured value share in total still beverages as well as in the juice and juice drinks and sports drinks categories.
Muhtar Kent, chairman and chief executive, said: "We are making solid progress on the implementation of the strategic initiatives we announced in October as evidenced by some early positive signs in the quarter. "We remain resolutely focused on accelerating growth and taking advantage of opportunities to solidify our position in key markets and categories."
The company, however, continued to see 2015 as a transition year as the benefits from the announced initiatives would take time to materialise amid an uncertain and volatile macroeconomic environment.
"We remain confident that we have the right strategies in place, and our associates and bottling partners are embracing these initiatives and are enthusiastic about the opportunity ahead," Kent said.