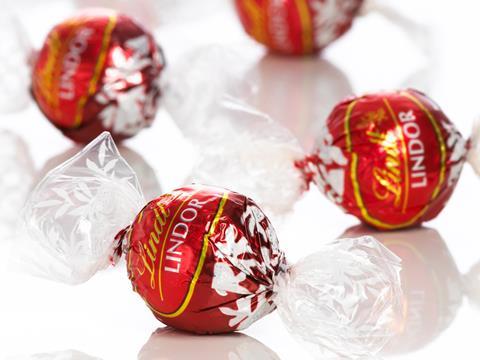 Soaring sales of Lindor chocolates have boosted Lindt UK's performance in 2018, with revenues jumping over 10% for the second consecutive year.
Sales at the UK arm of Swiss-listed chocolatier Lindt & Sprungli rose 11% to £190.7m in 2018 from £171.4m the prior year.
In 2017, revenues had seen the same double-digit increase.
The strong performance was mainly driven by significant growth in the sales of Lindor, Seasons and Snacking, the company said.
During the year, Lindt also unveiled Lindor Mint Truffles, a product developed especially for the UK market.
Meanwhile, gross margins rose to 38.8% from 37% due to cost reductions as well as an improvement in product mix.
On a pre-tax basis, profits increased 27% to £17.4m.
The company described the chocolate market as "highly competitive", but nonetheless in 2018 it increased its market share to 6.5% from 6.1% the prior year.
Lindt expected this competitiveness to continue over the coming years, but it was "confident" it would be able to maintain its current growth rate due to increased distribution and new product launches.
At a group level, for 2018 Lindt revenues increased 5.5% to CHF4.31bn (£3.55bn), the majority of which was generated by European markets.