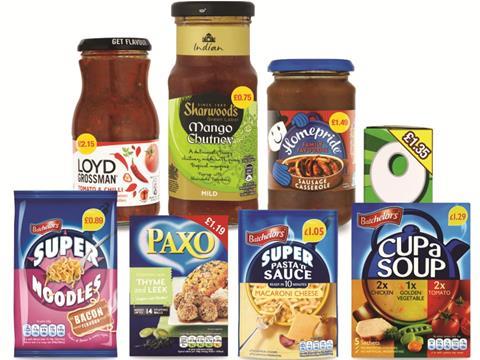 Premier Foods (PFD) has pushed forward its date for paying down its debts by a year, following better than expected growth in 2017-18.
The manufacturer of Batchelors super noodles, Mr Kipling Cakes and Bisto, has brought forward its next net debt target, which reduced to £496m from £532m a year ago, to March 2020.
Premier had been targeting net debt/EBITDA below 3x by 2021, but is now on course to meet this metric a year earlier than forecast.
CEO Gavin Darby said that the company has "the momentum to continue fantastic growth", with sales continuing to grow through the financial year. Sales grew by 3.6% across the financial year ending March 31, and spiked by 7% in the fourth quarter.
This surging performance in the most recent quarter was also evident in one of the company's previously struggling brands, Mr Kipling, said the CEO.
Mr Kipling turned a corner in the fourth quarter, he said, with sales improving on the back of TV advertising and the launch of new fruit slices, aimed at addressing healthier consumer eating trends.
The brand last year saw value sales dip 2% to £151.4m [Nielsen 52 w/e 9 September 2017], but saw growth in the fourth quarter.
"By the time we got to the fourth quarter the Mr Kipling brand was growing," said Darby.
"The brand grew in the fourth quarter and has continued to grow nicely in the new financial year. It was just a question of getting Mr Kipling back to the top of the priority lists."
Non-branded sales, at 13.9%, significantly outperformed branded sales growth, which was a more modest 1.6%. But Darby said this branded growth was also accelerating, as result of recent strategic partnership with noodle giant Nissin Foods and Cadbury-owner Mondelez International.
"The biggest and best example of growth driven by innovation is Batchelors. . It is one of our biggest brands and has seen quite steady decline, at around 12% at one point, and we have now up 11% for the year and it was accelerating," commented Darby.
"It is related to a lot of work we are doing in our partnership with Nissin, so we could launch super noodles pots, and we have way exceeded our sales forecasts to the point sometimes where we have been short of stock.
"We've been working for just over a year with Nissin and have had the partnership with Cadbury over 30 years but have extended it with Mondelez, to broaden in a number of countries. Those two accounted for 55% of our sales growth. There is a lot more growth in both of those – we have just started on them. Mondelez is a big growth opportunity outside the UK, and Nissin in the UK."
However, some analysts have suggested the company may struggle to continue growth while cost reductions continue, particularly if marketing is affected.
Profit growth of 5%, £6m, for the year, and 8% for the second half of the year are driven by volume leverage, cost savings and reduced marketing, according to Jefferies analyst Martin Deboo.
"Critics will alight on the reduction in consumer marketing, which has proved to be a sensitive issue in the past, not least with activists," he added.
"Our view is that consumer marketing should be managed to a competitive share of voice, not an A&P ratio, and note here mounting anecdotal evidence of a pullback in competitive investment across the UK foods space. Plus the accelerating branded sales numbers speak for themselves."
An acceleration in branded growth, of 5.6% in Q4 drove sales up to £819m for the year, £9m higher than estimates by Credit Suisse. The brokerage has thus increased its EPS estimate for the 2018-19 financial year to 3%.
Societe Generale analyst Arthur Reeves also said consensus for 2019 would be boosted by the results, but said there is "still plenty that could go wrong in our view".
"We would expect FY19 consensus to move up after these results. However, Premier still faces significant challenges to deliver profit growth while investing behind its brands and facing the negative threat of the Sainsbury/Asda merger," commented Reeves.
"The key driver of valuation in our view is how quickly Premier can pay down its net debt. Moving this a year forward is positive but there is still plenty that could go wrong in our view, and we would expect only a small reaction in the share price to these results this morning."