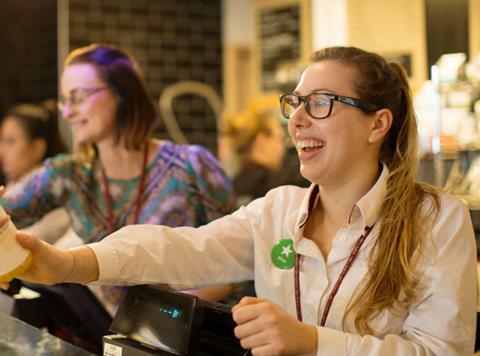 Sales at high street coffee and sandwich chain Pret A Manger jumped by more than £100m as it expanded globally in 2017.
The chain recorded a 13.2% increase in sales, to £878.5m, in the year ending December 2017, prior to its £1.5bn acquisition by JAB this May.
Pret A Manger opened its 500th store in 2017, as it opened 58 new locations internationally during the year. Increased store number drove forward sales, with like-for-like sales up 3.2% on 2016.
The high street coffee sector has continued to hot up, with the news coming shortly after Coca-Cola announced its £3.9bn deal to buy coffee shop rival Costa on Friday.
Pret was itself the centre of major deal in May, when it was sold by private equity owner Bridgepoint to JAB, which owns Krispy Kreme as well as grocery brands Douwe Egberts and Tassimo.
In 2018, the chain has seen a "positive performance despite challenging weather in the UK and US in the first quarter". In the year so far it has also expanded to the Netherlands and Denmark, with 31 new stores opened in total.
While the majority of Pret's 2017 openings were on UK high street, 27 of the new stores were international, with 16 in the US, 6 in Hong Kong, 4 in France and 1 in Singapore.
Its UK openings included a further two Veggie Pret, and more than half of sandwiches and salads in traditional Pret store were vegan or vegetarian, it said.
"This is another satisfactory set of results for Pret, and our 34th consecutive quarter of like-for-like sales growth," said chief executive Clive Slee.
"The brand continues to thrive around the world thanks to its simple recipe of freshly prepared food, served by genuinely engaged teams.
"We're looking forward to working closely with JAB who we believe will be excellent long-term owners of Pret. I would also like to thank Bridgepoint for their committed stewardship over the last 10 years."
In 2017, it also introduced a number of sustainability initiatives including doubling the discount on reusable cups to 50p, with discounts being introduced internationally as well.