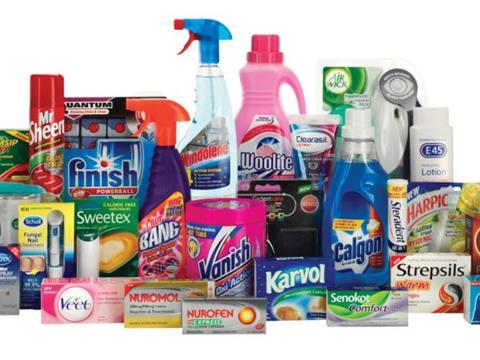 Household goods giant Reckitt Benckiser (RB) fell sharply as modest first quarter sales growth failed to meet analysts' estimates.
The group's shares slumped by more than 6% over the morning, plummeting as much as 9.2% after its quarterly results up to March 31 were announced.
Share prices have stabilised at 5,615.7p by Friday afternoon - down 2.9% - but the latest decrease followed a week-long decline in value. On Monday 16 April the shares were trading as high 6,029p.
Reckitt recorded like-for-like sales growth of 2% in the first quarter, behind analysts' estimates of 2.6%, driven down by the disappointing performance of Scholl.
RB has missed guidance figures for the last two years and market sentiment remains very negative, according to Societe Generale analyst Iain Simpson.
"Overall market sentiment on RB is still very negative and it has much work to do to rebuild its reputation for delivery," he said.
"As we go through this year delivering in line results with guidance confirmed and no nasty surprises should be enough to drive a rerating and close some of the c.15% discount to peers."
Total reported sales were up 23% to £3.1bn as headline revenues were boosted by the integration of Mead Johnson.
The fmcg business was downgraded earlier this week by broker Credit Suisse amid concerns a lack of product innovation and foreseeable sales growth will eat into earnings.
It recorded 6% growth in like-for-like sales in North America, while European sales sunk by 1%.
Some health brands, such as Durex, saw growth but this was more than offset by further "significant declines" at footcare brand Scholl and the underperformance of hygiene brand Dettol.
The health relief sector of the business performed well however, with strong performances for brands including Gavison and Strepsils helping to mitigate the situation.
Its Mead Johnson baby milk acquisition "continues to progress well" with proforma growth 6% for the quarter, driven by strong market growth in China.
"A solid start overall in Q1, operating under our new organisational structure. RB 2.0 is embedding well and we expect to see the benefits continue to materialise," commented Rakesh Kapoor, chief executive officer, on the results.
"Scholl is stabilising but significantly below the prior year and has reduced the rest of LFL Health performance by -200bps in the quarter.
"Our priority remains organic growth under our new focussed organisation structure. We have work to do in parts of our Health portfolio, particularly Scholl."
Reckitt confirmed it remains on track for its full-year net revenue target to 13-14% and like-for-like growth of 2-3%.