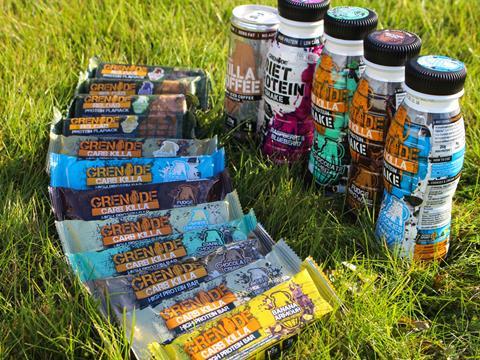 Sports nutrition brand Grenade has seen sales rocket 75% in its first year under new private equity owners.

The high-protein snack bar and drink maker delivered strong growth as health became more prevalent in consumers' decision-making, the supplier said.

Grenade increased sales to £29.1m for the year ended December 2017 from £16m the previous year, boosted by increased investment following its £72m acquisition by PE giant Lion Capital in March 2017.

The investment group picked up the majority stake from Grovepoint Capital and Grenade's founders, Alan and Juliet Barratt, who have continued to lead the business alongside CFO and sales director Tom Murphy.

The deal gave the business "the confidence to invest heavily" it said, as it pushed to increase international listings.

Sales outside of the UK increased 76%, growing to £9.3m in 2017, with roughly 32% of business came from international sales during the year.

"Our first focus is to be number one in the UK, but looking at our current ratio, we might increase our proportion of export business, because there is so much opportunity there," said Murphy.
"We have NPD coming before Christmas, but are really pleased with 2018 so far as well. We are around 50% up on last year and a lot of time and investment has gone into that.

"I think the deal [with Lion] has given us the confidence to invest heavily in people. We have invested in our headcount and looked to new international regions to help drive our progress.

"In the UK, we feel we are losing the image of just being a nutrition brand. According to IRI data, in countlines in supermarkets for single bars, we are the fourth best of the standard chocolate bars. It's only Kinder Beuno, Snickers and Wispa ahead, so we see those large confectionery businesses as key competitors."

Launched in 2010, the Solihull-headquartered business has grown rapidly as consumer demand for sports supplements and protein bars has exploded, with its products used by professional athletes, fitness enthusiasts and military personnel.

The majority stake in the brand was first snapped up by Grovepoint in 2014, valuing the business at £35m.

Despite rapidly increasing sales costs and distribution costs more than tripling, the health brand increased pre-tax profits to £5.4m in 2017, from £4.3m the previous year.