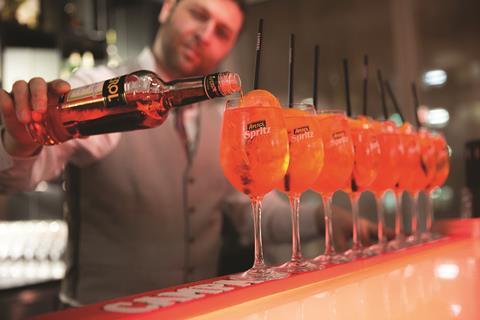 The surging popularity of Aperol Spritz drove 19% sales growth for Campari Group in the UK last year.
Aperol sales rocketed 56% in the year to 31 December 2018, as it was boosted by a strong summer performance for the Italian aperitif.
Eponymous brand Campari also soared in the UK, as the popularity of negronis helped to drive 39.3% growth.
Total UK sales jumped 19.1% as it was also aided by sales increases of 24.8% for the Bulldog Gin brand it acquired in 2017, 25.4% for Appleton Estate rum and 12.6% for Wray & Nephew Overproof rum.
The success of Aperol in the UK reflected the global picture, as sales of the spirit grew by 28.1% across all regions. It drove organic growth of 5.3% to €1.7bn for Campari Group over the period.
However, net profits declined 17% to €296.3m on the back of foreign currency effects.
Despite overall sales growth, Campari reported an 8.1% decline in sales of SKYY vodka driven by a "weakness in the US market" while sales of Cinzano also slipped 8.7%.
"We achieved a solid performance across all key indicators in terms of organic growth and margin expansion in full year 2018, consistently delivering on long term strategy," commented CEO Bob Kunze-Concewitz.
"Looking ahead into 2019, our outlook remains fairly balanced in terms of risks and opportunities as uncertainty around macroeconomic instability and currency volatility, particularly in emerging markets, remain.
"We expect the current underlying business performance to keep its momentum, while we continue facing headwinds from agave purchase price hike.
"Nevertheless, we remain confident in achieving a positive performance across the key underlying business indicators in 2019, driven by the continued outperformance of the high-margin global and regional priority brands in key developed markets."