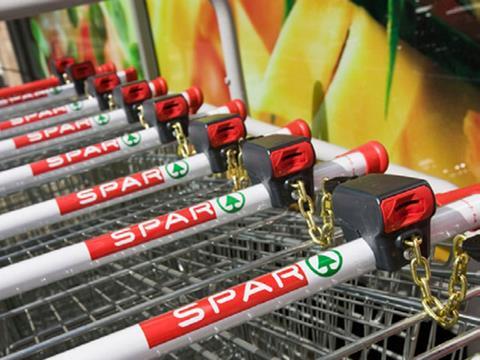 The total Spar business in the UK achieved a 2.1% uplift in retail sales for the year to 28 April 2018.

Accounts filed this week by Spar UK at Companies House reveal that the 2,613 Spar stores in the UK - including the 682 owned by the five regional Spar distributors - recorded sales in excess of £2.9bn.

The accounts relate to the central office of the Spar organisation. They said the business continued to focus on its key strategic goals of delivering competitive costs to retailers, developing high-quality own-brand ranges, developing innovative formats and offering a "compelling" promotional plan to provide the best proposition to retailers and customers.

Major features of the business plan included new stores, the development and rollout of new store concepts and new product lines.

It also included the provision of a wider chilled and fresh offering, developing and introducing new food-to-go and retail services, and seeking to continuously improve its ability to compete in the wholesale market.

"Spar continues to identify its opportunity to grow within the sector and to increase its market share," it said.
Spar reported that sales growth in the year to 28 April had come from stable store numbers and wholesale growth that exceeded retail growth in what was "a fiercely competitive retail market".

The group continued to identify its opportunity to grow within the convenience sector and to increase its market share, the directors said.

Pre-tax profit fell from £420,584 to £408,858. Turnover as principal and agent fell from £204.1m to £193.5m in the period. Turnover as agent to regional distribution companies for Spar-branded products fell from £142.5m to £127m. Operating profit fell from £434,906 to £420,915.

The strategic report, signed off by Jackie Mackenzie, the new interim joint interim managing director on behalf of the directors, noted that investment in the sector by the multiples remained a key driver of growth in the convenience sector. Recent merger and consolidation activity indicated the continuing attractiveness of the sector for multiples, it said.

"The convenience market is expected to grow by 3.5% per annum over the next five years, increasing from £40.1bn to £47.2bn, it said.

It was announced in November that Spar managing director Debbie Robinson was joining Central England Co-operative as chief executive in the spring.

She has been replaced on an interim basis by Mackenzie and Chris Lewis. Spar UK has engaged an executive search business to lead the hunt for a permanent successor to Robinson.