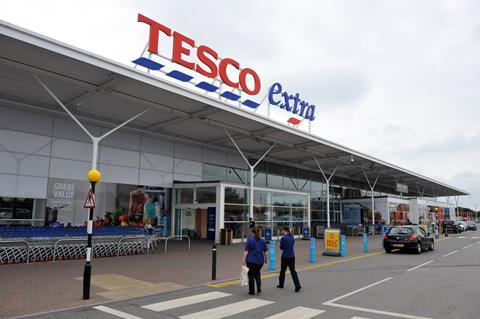 Top story
Tesco (TSCO) has reported "another year of strong progress" with the ninth consecutive quarter of growth and said it was "moving quickly" to deliver synergies and access new growth from the completion of the merger with Booker on 5 March.
The group posted a 28.4% increase in group operating profit before exceptionals to £1.6bn, up from £1.3bn on group sales up 2.3% to £51bn, excluding fuel sales of £6.5bn. Pre-tax profit soared 795% from £145m to £1.3bn.
UK like-for-like sales climbed 2.2% in the year, with fourth quarter like-for-likes up 2.3%.
The statement delivered to the Stock Exchange this morning anticipated a synergy benefit of about £60m in the first year, growing to a cumulative £140m in the second year and reaching a recurring run-rate of about £200m a year by the end of the third year.
The group would place increasing focus on growth in earnings and free cash flow generation, in order to deliver strong, sustainable returns for shareholders as it looked to capitalise on the enhanced opportunities for growth available, the statement said.
A brand new Booker 'Chef Central' concept store opened within the Tesco Extra Store at Bar Hill, Cambridge in February this year, primarily serving professional caterers but it was open to all customers.
The "Joining Forces" integration programme was well underway and the group was focused on delivering the synergies identified during the merger process, the statement said.
Booker quarter-four results showed a continued strong performance, with customer satisfaction up 0.3% to 85.7% and like-for-like sales up 9.9%. While Booker's full year results were still subject to audit approval, operating profit before exceptional items for the financial year to 30 March 2018 was about £195m and net cash about £120m.
Transaction costs of £26m relating to Tesco's merger with Booker were included in Tesco's UK & ROI operating profit before exceptional items in the 2016/17 financial year.
Further costs and fees of £21m arising in the 2017/18 financial year had been treated in a consistent fashion. A similar amount, consisting of stamp duty costs directly arising from the completion of the merger, would be charged to underlying profit in the 2018/19 financial year. As outlined in the merger prospectus, the group anticipated up to £145m of integration costs over three years, which would be treated as exceptional.
Tesco opened 24 new stores opened in the UK during the year and exited 22. The net increase comprised expansion in superstore and Express store numbers offset by closures of Metro and One Stop stores. In Asia, it opened a net 38 stores primarily in its convenience formats in Thailand, while in Central Europe it closed a net 26 stores during the year.
Capital expenditure for the full year was £1.1bn, excluding property buybacks. Going forward, it expected its annual capital expenditure to remain within a range of £1.1bn-£1.4bn.
Dave Lewis, chief executive, said more people were choosing to shop at Tesco and the brand was stronger as customers recognised improvements in both quality and value.
Group operating margin had improved to 3% in the second half. The business was generating "significant" levels of cash and net debt was down by almost £6bn over the past three years.
"All of this puts us firmly on track to deliver our medium-term ambitions and create long-term value for every stakeholder in Tesco," Lewis said.
"I am delighted to have completed our merger with Booker, and we are moving quickly to deliver synergies and access new growth, making the most of the complementary skills in our combined business."
The financial year saw 260,000 more people shopping at Tesco, the rollout of contactless Clubcard to 18m Clubcard members, it embarked on the relaunch of more than 10,000 own-brand products with 1,300 completed to date.
It also rolled out a same-day online grocery delivery service to 99% of UK postcodes, launched Wicked Kitchen, completed the rollout of Tesco Pay+ to all its UK stores with 458,000 app downloads to date.
Tesco continued to refine its general merchandise range, reducing SKUs by 16% as it focused on categories with more sustainable profitability.
It delivered 2.7% sales growth in its home category, following the launch of its new own brand Go Cook and Fox & Ivy ranges. These new brands had driven a 14% and 20% increase in customers to our cook and homeware ranges, respectively. Clothing performed well throughout the year with like-for-like sales growth of 2.6%.
All store formats and channels had achieved like-for-like growth, with its large store business growing at 1.9% and online grocery sales growing 5.1% with both higher order numbers and average basket size.
The group delivered 2.7% growth in its Express convenience stores, with a positive customer response to the changes it had made to tailor ranges and improve product availability.
Danielle Pinnington, managing director at shopper research agency Shoppercentric, said: "The change in approach from Tesco seems to be paying off. A strong Christmas showed how far things had turned around, and the more confident approach to advertising and communication continues to demonstrate a return to what they are best at.
"That said they've had a couple of recent slips that have kept social media busy: the proposed changes to Clubcard was not well received by loyal shoppers, nor was the meal deal shrinkflation which hit stores in this last week. So they need to be mindful that shoppers have so many easily accessible alternatives to Tesco. The business needs to cast a shopper perspective over all their plans, to make sure they don't lose touch and alienate the very people making such a difference to their bottom line."
Alastair Lockhart, insight director at shopper and retail marketing agency Savvy, said: "In large part Tesco's results today are a continuation of the retailer's recent progress. Sales are growing , profitability is improving and crucially Tesco has its confidence back and behaving like a market leader. From the shoppers' perspective stores are looking better, innovative products are hitting the shelves and the retailer's price position is sharper.
"What we're looking for now is further clarity on Tesco's plans for Booker as this is set to form the foundation for Tesco's development over the next few years. It will be interesting to see how Tesco's technology and processes can benefit Booker customers and symbol operators. And, perhaps more importantly, the merger gives Tesco access to the food services market, and therefore a new platform for growth."
Morning update
Hammerson (HMSO) has rejected a revised proposal from Klépierre worth 635p a share, comprising 50% in new Klépierre shares and 50% in cash.
David Tyler, chairman of Hammerson, said: "The board has considered the revised proposal from Klépierre carefully. At 635p, it is only a 3% increase on the previous proposal and continues very significantly to undervalue the company."
The board "strongly" advised shareholders to take no action. It said it remained open to discuss any proposal from Klépierre which "properly" reflected the value of the company.
On the markets this morning, the FTSE 100 fell 0.2% in early trading to 7,250.9pts.
Early risers include Tesco (TSCO), up 3.2% at 217p following its strong financial results, Devro (DVO), up 1.7% at 207.5p and Premier Foods (PFD), up 2.7% at 38p.
Fallers so far today include McBride (MCB), down 2.7% at 158.8p, Nichols (NICL), down 1.7% at 1,440p, SSP Group (SSPG), off 1% at 609.5p and Compass, down 0.9% at 1,488.5p.
Yesterday in the City
The FTSE 100 continued this week's climb – up 1% to 7,266.8p.
Market fallers included Marks & Spencer (MKS), down 1.3% at 264.5p, Glanbia (GLB), down 2.24% at €13.50, Coca-Cola HBC (CCH) lost a bit of fizz, down 2.74% at 2,626p and British American Tobacco (BATS), closed down 1.1% at 4,260.5p.
Stocks on the up included Dairy Crest Group (DCG), up 2.3% at 523p, DS Smith, up 1.9% at 487.7p, Fevertree Drinks (FEVR), up 2.42% at 2,750p, Greencore Group (GNC), up 4.7% at 142.4p and Wynnstay Group (WYN), up 2.4% at 412.5p.