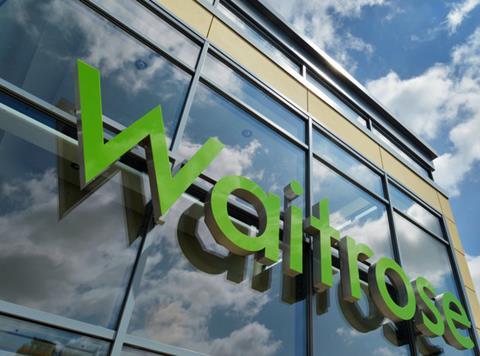 Waitrose has defied "exceptionally tough market conditions and continuing food deflation" to deliver operating profits up 3.9% in the year to the end of January 2016 to £232.6m.

The figure, on a 52-week basis, excludes the previous year's extra trading week and £10m property profit.

When centrally incurred corporate costs are stripped out, operating profits rose 6% year on year.

Gross sales climbed 1.1% on a 52-week basis to £6.46bn with like-for-likes down 1.3%.

Waitrose increased market share during the period by 0.1% to 5.5%, as measured by Kantar Worldpanel 12-week grocery data, and outperformed the market on sales for 80 consecutive months.

The supermarket said it now had 117 cafés, six wine bars, nine juice bars, 66 eat-in bakeries and three recently opened sushi bars. Together, these drove a 20% uplift in hospitality sales.

It continued to add services including foreign currency click & collect (available in 300 branches), and dry cleaning, now in 148 shops.

Some six million customers had now signed up to the myWaitrose scheme and 70% of sales were to cardholders.

More than a million customers had joined the Pick Your Own Offers scheme launched in June. Waitrose had also launched a new app, which had made it more convenient for customers to change their selection of the 10 products out of a choice of more than a thousand on which they would like discount.

Twelve new branches opened, including 10 supermarkets and two Little Waitrose shops. This included two relocations and one acquisition. Two of the new branches, Basingstoke and Horsham, were in combined premises with John Lewis shops while the King's Cross branch had the third Waitrose cookery school.

Major redevelopments of shops in Saffron Walden and Bayswater were carried out and it managed the planned closure of two convenience stores in Sutton Coldfield and Walton-on-Thames. It had also announced the planned closure of its convenience store in Tottenham Court Road.

Waitrose's first national distribution centre opened in Milton Keynes at the end of July, which it said would build capacity to handle 25,000 longer-life ambient products.

John Lewis Partnership reported pre-tax profit before exceptionals down 10.9%, attributed to higher pension charges and lower property profits.

"Excluding these, our profits were around 7% up on last year which, together with a strengthening balance sheet, represents good progress over the year," said chairman Sir Charlie Mayfield.