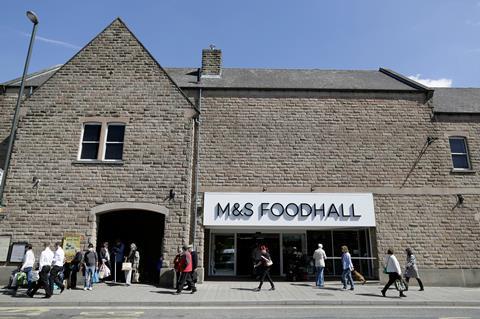 Marks & Spencer has announced its pre-tax profits fell 9.9% to £523.2m in the year ended 30 March 2019, as food sales dropped 0.6%.

The dent in profits owing to its store rejuvenation programme was expected, and CEO Steve Rowe said the "substantial changes" to its processes, ranges and operations "constrained" its performance. But there were several examples of positive progress, or "green shoots", highlighted in the results.

For starters, there was evidence of improvement in food sales, particularly in the final quarter. M&S had like-for-like revenue growth of 0.4% and volume growth of 1.8% adjusted for Easter timings in Q4, which it said reflected that its transition to trusted value and appealing to more customers was well underway.

Although its overall food results were nothing short of disheartening, there were signs of it heading in the right direction with the changes it has made - including introducing larger pack sizes for families and reducing prices.
Cutting costs across the business has been the driving force behind its volume uplift. M&S is aiming to save at least £350m by 2020/21, and delivered savings of around £100m this year by closing 35 under-performing branches, restructuring its retail management team (70% of which has changed over the past two years) and pushing to become digitally-led.

This also meant its operating costs declined by 1.2%, but it's not stopping there. It insisted challenging costs like this would become a core part of its strategy.

M&S's store closure programme is set to continue as part of its future-proofing plans, and it will "relocate or rationalise" 85 full-line shops and 25 Simply Food convenience stores by 2024.

But this wasn't about reducing retail space, it said. The retailer maintained this would remain "broadly level" following the shops shutting, and its focus was on revamping current branches and opening new ones that offer as much of its range as possible.

With this also comes the opportunity to give its 3% market share a boost and broaden its appeal in tandem. Rowe insisted, however, that differentiation was still at the business' heart, and these moves weren't about taking on the likes of Tesco but becoming more accessible to more people.

Alongside its results, M&S also revealed a one-for-five fully underwritten rights issue to raise about £601.3m to fund its joint venture (JV) with Ocado. This is designed to be made at 185p per new ordinary share payable in full on acceptance by no later than 12 June 2019.

Its 50% acquisition of Ocado's UK retail arm through this deal followed Ocado announcing it was ending its 19-year relationship with Waitrose in February.
M&S is looking to convert its in-store shoppers to online shoppers, as Rowe said 12 million of its customers currently did their online grocery shopping elsewhere. He is also trusting its customers will be led by its blend of quality and value, and pointed out the 80% overlap between M&S and Waitrose shoppers. Rowe insisted it would come out on top because of its lower prices, alongside shoppers' "preference for the Ocado brand over Waitrose".

This came in the same week Waitrose revealed plans to treble its online business to £1bn in the next three years by partnering with Today Development Partners to replace Ocado. Rowe said although there was "likely to be some friction" thanks to the deal, the market-leading technology M&S had access to through Ocado would allow it to thrive.

It is addressing its high food waste levels too, which M&S admitted "remain amongst the highest in the industry", as well as availability, which it said had not "significantly improved".

Through a trial of process changes introduced around a year ago called Project Fuse, it is pushing to better integrate its supply chain and make the improvements needed to reduce surplus food and boost availability. This will be made possible by deploying tools that help it remove excess stock trapped in stores where it does not sell, and holding it centrally, which will boost availability, it said.

M&S is using its Monks Cross, York store as a testing ground for the improvements, and rolling them out to 27 other branches. Doing so has freed up in-store staff's time, increasing their customer-facing time to 22% from just 6%, by simplifying the backroom processes M&S uses to prevent and address food waste and improve availability.

A spokeswoman for the retailer said the project allowed it to identify the root causes of any issues as well as solutions to them.

It comes hand in hand with M&S modernising and better integrating its supply chain, through its 12-year warehousing and distribution services contract with Gist that began in 2015.

M&S has made some tricky alterations as part of its future-proofing plan, but appears to be heading in the right direction to appeal to a wider range of shoppers. Rowe said: "We are deep into the first phase of our transformation programme and continue to make good progress restoring the basics and fixing many of the legacy issues we face. We can't flinch from making the changes in the business that we need to."