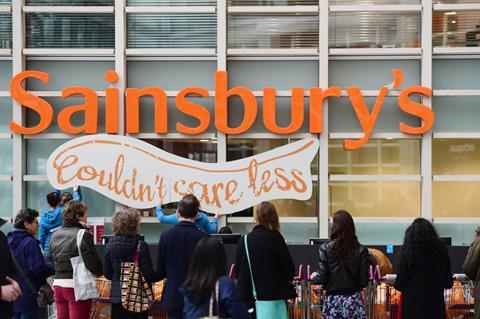 Embattled CEO Mike Coupe has insisted the future is bright for Sainsbury's and this week vowed to stay for "months and years", despite the failure of a bid to merge with Asda that cost £46m.

In another incident-filled week for Sainsbury's - in which Greenpeace protesters stormed its HQ - the CEO issued a robust defence of the doomed bid at its annual results, insisting the deal was now "ancient history" and promising that Sainsbury's "was doing all the things we need to do in terms of adapting our business to our changing customers' needs". Coupe committed himself to the business "for months and years into the future".

Not including the costs from the proposed merger (among a number of one-off items totalling £400m), Sainsbury's profits were up 8% to £635m, with sales up 2% to £32.4bn. With debt reduction and free cashflow ahead of target, Sainsbury's also increased the dividend by 8% to 11p per share, settling investor nerves.

As well as £220m in synergies from the integration of Argos into its stores - whose sales, he pointed out, were not reflected in the Kantar and Nielsen figures - Coupe hailed the performance of its grocery business as a highlight, despite sales growing only 0.6% to £19.4bn. (Total retail sales were up just 0.4% to £27bn.) In terms of channels, the convenience arm, with sales up 3.7%, was a "brilliant business" and plans to open 10 new convenience stores were only constrained by the availability of compelling sites, he explained.
Sainsbury's would also open two new supermarkets in 2019/20, he added, as well as 10 further Argos stores in its supermarkets (of which three are relocations), taking the number of Argos outlets in its supermarkets to 290.

Online grocery sales were up 6.9%, and had been accompanied by productivity gains, NPD and new same-day delivery services.

While admitting Sainsbury's was not competitive on staples, Coupe promised that Sainsbury's was still well positioned to reduce prices - with "work to be done on positioning and supply chains" - while cautioning that Sainsbury's would "not be able to do it as fast as we would have done with the Asda deal".

He also committed to a "significant step up" in investment in its core supermarket estate, with 400-plus supermarkets set for new formats, concessions or upgrades, alongside capital-light investments, such as rolling out its beauty trials concept to 90 stores.

Coupe also promised to look for new opportunities in wholesale following the failure of trials with WH Smith and Euro Garages, as well as its decision to withdraw from the bidding for Nisa.
"It's definitely an area of opportunity," said Coupe, while pointing out that it already supplies Booths in the UK, and Dairy Farm in the Far East. "We have an opportunity in our own ecosystem to sell other people's products that other people would not," he added, but it was equally important in targeting the sector "not to overinvest".

Coupe also defended criticism of the store restructure programme, insisting the service and availability woes it suffered in the summer and early autumn following the switch were in the past. Using data from its new 'Lettuce Know' app between August 2018 and April, five of the six metrics were at the highest level since the app was introduced at the height of the changeover, he said, adding that customer service over Easter was "the best ever".